Best PC controller 2023: the Digital Foundry buyer's guide to gamepads
The best first-party and third-party controllers tested.
While it may be the case that PC gamers usually opt for a trusty mouse and keyboard, grabbing a controller makes sense for a range of genres, from Soulsborne action games to racing titles and platformers. Running a quick search for the term 'PC controller' will bring up a shedload of options, but which ones are any good, let alone the best PC controller you could buy?
To help you out, we've tested dozens of the best gamepads on the market for weeks on end, sorted the wheat from the chaff and picked out the best options - for a range of budgets and gaming genres.
Best PC controller 2023
---
Best PC controller: Xbox Wireless Controller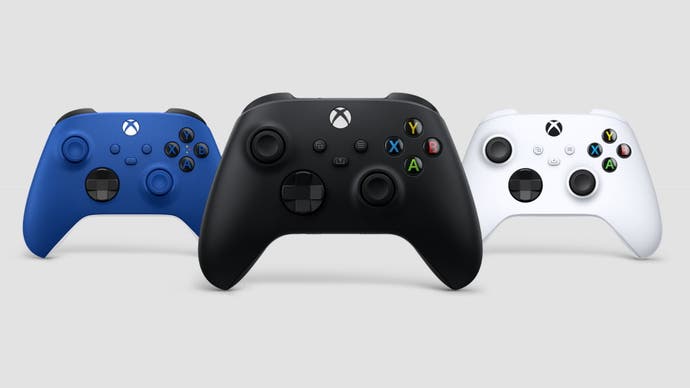 The best PC controller for most people is the £45/$49 Xbox Wireless Controller. This Xbox Series-era controller works well out of the box with the widest range of PC titles, offers wired, Bluetooth or 2.4GHz wireless connectivity and is available in a range of colours at a reasonable price. The Microsoft controller is also well-made, with responsive triggers and a large, comfortable shape.
However, the controller does have its downsides. Rather than charging via a USB cable, the Xbox Series controller takes AA batteries, requiring a £20/$25 Play and Charge Kit to support USB recharging. In addition, most PCs don't support Microsoft's low-latency 2.4GHz wireless out of the box, requiring a £66 adapter + controller bundle or $18 adapter.
Pros
Unparalleled support in PC games, without requiring third-party software
Low-latency 2.4GHz wireless connection plus Bluetooth
Available in a range of colours and styles
Cons
Eats AA batteries by default, with a rechargeable battery sold separately
Xbox Wireless Adapter has become hard to find at cost
Alternatively: For a cheaper Xbox-oriented alternative that's wired only, consider the £50/$53 Turtle Beach Recon. It works well across a wide version of PC games and boasts a surprising number of features for a £50 controller, including a pair of remappable rear buttons, multiple modes and textured grips. You also get convenient audio controls for anything you plug into the 3.5mm port, making it a savvy way of making a basic headset feel a lot more premium. If that mix of features sounds worthwhile, we'd recommend it over the standard Xbox controller - although giving up wireless is still tough!
---
Runner-up: Sony DualSense (PS5) Controller

While the Xbox Wireless Controller is our top choice, the £57/$69 Sony DualSense PS5 controller is another worthy option. It has great triggers, its longer-than-DualShock design fits all but the smallest hands and of course it has that symmetric design some folks prefer. It's cheaper to run than the Xbox controller too, as it can be recharged via USB-C - so no need to invest in rechargeable batteries or keep buying non-rechargeable ones. There's even a gyroscope, which is useful for playing some emulated games, and first-party Sony games on PC offer the correct button prompts - even if most games will show the Xbox ones instead.
The only minor inconvenience is that you need to install third-party software to get the controller working on Windows. Thankfully, software including DualSenseX and DS4Windows are free, easy to use and offer options not found on Xbox Accessories app. You can also use Steam's Big Picture mode, which supports the DualSense natively, for both Steam and non-Steam games.
Pros
Comfortable, high-quality controller with incredible triggers
Doesn't require batteries or a dongle to work wirelessly
Trackpad is convenient if your mouse isn't nearby
Cons
Requires third-party driver installation to work well
Button prompts often conflict with controller layout
Alternatively: Custom PS5 controllers are also available. The £219/$219 Scuf Reflex Pro is our top pick here, offering full customisation, remappable rear paddles and upgrades to triggers, thumbsticks and grip with extremely good build quality throughout. We also tested a ~$200 MegaModz DualSense with a custom shell, mechanical buttons and interchangeable thumbsticks. The controller feels fantastic to use, thanks to those mechanical upgrades, and it's nice to see a PS5 controller that looks so different from the standard colour options too.
---
Best premium PC controller: Xbox Elite Series 2 / Elite Series 2 Core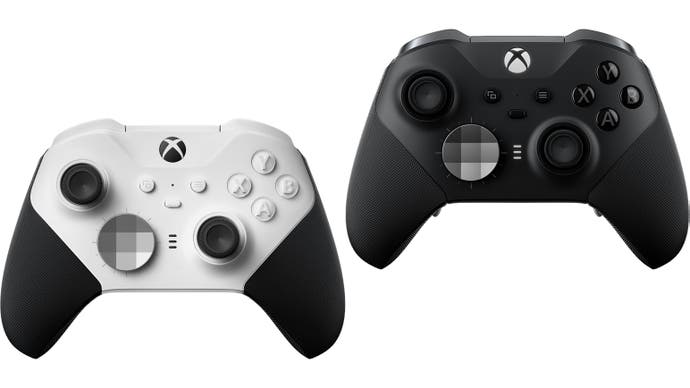 If you're willing to spend more on your controller, Microsoft's £139/$151 Elite Series 2 is the best controller we've tested thus far. Its controls are tight and responsive, with clicky face buttons and a generous grippy coating that ensures a great in-hand feel. There are plenty of customisation options too - you can add four paddles to the rear, swap out the sticks for four alternative options, adjust stick sensitivity and opt for a circular eight-way d-pad. The ability to toggle between three levels of trigger sensitivity with the flip of a switch is also impressive. There's even software like ReWASD that lets you rebind the paddles to keyboard commands.
The Series 2 also improves on its predecessor with a more modern design equivalent to the most recent standard Xbox One controller, including Bluetooth connectivity, a headphone jack and USB-C charging via the included stand or a USB-C cable. The rechargeable battery used here is arguably more convenient than the previous system that used AA batteries, but it's also not user replaceable. In total though, the generational changes here are overwhelmingly positive - and you can read more in our Elite Controller Series 2 review.
The £106/$108 Elite Series 2 Core is a distillation of the Elite Series 2, offering the exact same core features but leaving out the extras such as the charging dock and replacement sticks. This genius move means that you get an extremely responsive and well-built controller for a lower price and you can pick up the accessories later (£39/$39). For someone that used the default loadout on the Elite Series 2 99 percent of the time, this release makes a ton of sense.
Pros
Incredible levels of hardware and software customisation
Comfortable, precise feel with excellent tactile feedback
Includes creature comforts like Bluetooth and USB-C charging
Cons
Rechargeable battery isn't user replaceable
---
Best cheap PC controller: Turtle Beach React-R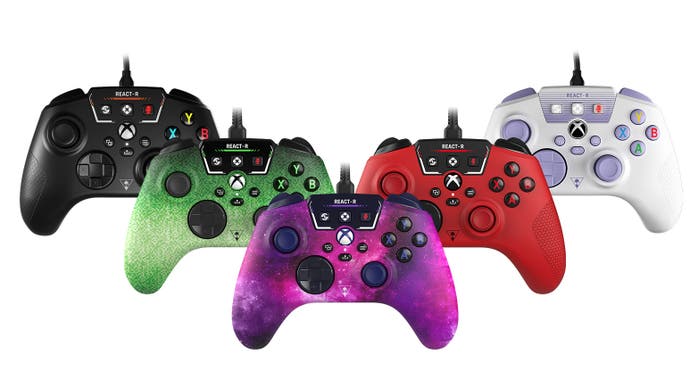 At £28/$30, the Turtle Beach React-R is one of the few name-brand controllers that comes in below the Xbox Series Wireless Controller or Sony DualSense PS5 Controller in terms of price. For that, you do get a surprising amount of functionality, including programmable rear buttons and convenient audio controls for superhuman hearing (an FPS-focused EQ), game/chat mix and microphone mute. These features work a treat, and the controller connects via a detachable 2.5m USB cable on both PC and Xbox consoles.
Build quality is reasonable throughout, despite the plastic design and bit of play in the triggers, while textured grips provide a comfortable fit for most hand sizes. Multiple colour options are also available, including standard black, red, an eye-catching SNES-inspired retro design in beige and purple, a pixellated green and a pink/purple nebula design.
However, there are some restrictions here too. The React-R is wired-only, which does at least make it lighter and removes the need to recharge or swap batteries. The responsiveness of the controls and the strength of the rumble are a touch worse than either the Series or PS5 controllers, making it more difficult to use in games that require precise inputs and detailed force feedback, such as more sim-oriented racing games. Still, for other genres these limitations are less of an issue and the React-R could make a lot of sense.
Pros
Great price for a brand-name controller, given its good build quality and useful features
Wired-only, so light design with no recharging or battery swapping required
Looks much better than your average generic cheap-o controller, with multiple colour options
Cons
No wireless connectivity, obviously
Buttons and joysticks lack a touch of precision, while force feedback is also less detailed
Alternatively: If you simply have to have wireless connectivity, the Trust GXT 542 Muta Wireless comes in at £25 to £31 and sports tri-mode connectivity: 2.4GHz wireless (via USB dongle), Bluetooth and USB, making it compatible with PCs, phones, tablets and Switch. It offers an unfortunate step downward in both ergonomics and overall quality of controls compared to the React-R, with a wider, less contoured PS-style chassis with mushier feeling (and short) triggers and buttons, but it does sport Switch-compatible motion controls, half-decent rumble and a choice of eight-way or four-pad d-pads. Beyond this, there are no additional features. I've yet to find a better wireless controller at this budget price point, for what it's worth!
---
Best Hall Effect controller: Nacon Revolution 5 Pro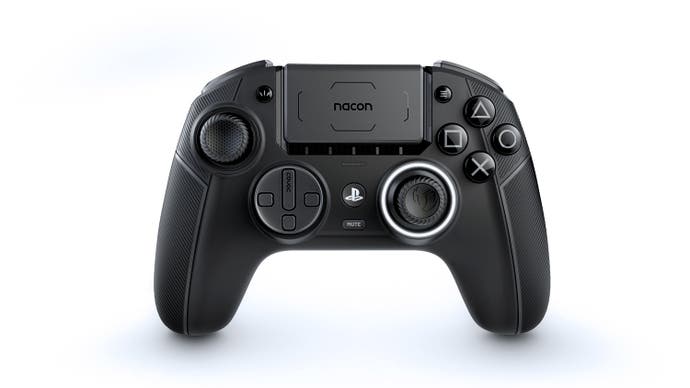 The €230/$199 Nacon Revolution 5 Pro is one of the first premium gamepads to sport Hall Effect sticks and triggers, which use magnetic sensors that don't degrade over time to the same degree that potentiometer-based sensors in traditional controllers do. This PC/PS5/PS4 controller boasts a huge list of other features too, with adjustable trigger depth, multiple weights and sticks in a nice semi-hard case, and a powerful Windows/macOS app for controlling it all.
While the Revolution 5 Pro compares favourably to the DualSense Edge in many respects, it lacks adaptive triggers and rumble in PS5 titles - though rumble does work on PC and in PS4 games. It also can't turn on PS5 consoles, requiring you to use another controller or press the physical on button, which is annoying but not a deal-breaker for me. Interestingly, the controller does support 2.4GHz wireless on PS5 or PC, making it one of the few third-party wireless options for PS5. There's also Bluetooth, used to connect Bluetooth headphones to your gaming platform of choice.
In terms of hand feel, the R5P is heavy and relatively wide, perhaps suiting medium and larger hand sizes, but it's well-balanced and comfortable to use. Each button, stick and trigger can be pressed with alactricity, and I found it easily precise enough for high-speed manoeuvring in Forza Motorsport or inputting combos in Tekken 7. It also sports an asymmetric (Xbox-style) thumbstick positioning.
Overall, a lovely controller that should outlast many of its rivals, though its high price keeps it outside the grasp of most players and Sony's restrictions on third-party gamepad functionality contribute to some confusing omissions from a player's point of view.
Pros
Hall Effect joysticks and triggers and high-quality controls throughout for longevity and precision
Balanced, heavy and well-built
Wired and wireless connectivity on PS5 and PC
Cons
No adaptive trigger or rumble support in PS5 games due to Sony's third-party restrictions is a bummer
One of the most expensive gamepads we've tested
---
Best cheap Hall Effect controller: Gamesir G7 SE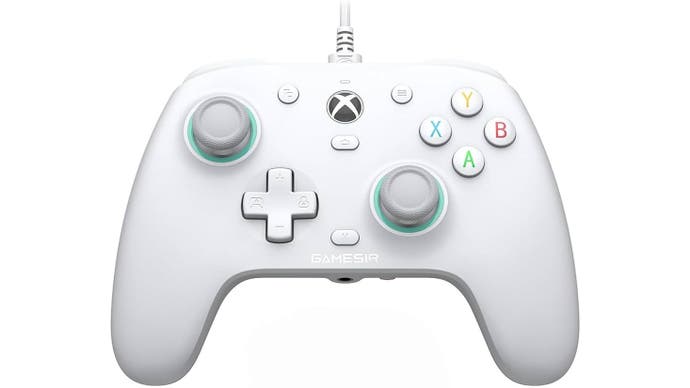 The £50/$45 Gamesir G7 SE is an affordable Xbox/PC gamepad with Hall Effect thumbsticks and triggers. Hall Effect sensors use magnets rather than potentiometers, so they don't wear out over time - and they don't need the huge central deadzones that traditional controllers require to keep working as they experience wear and tear, meaning Hall Effect sticks can also feel much more precise.
The G7 SE has some other great ideas too. There are convenient programmable rear buttons, which can be physically locked to prevent accidental actuation in games that they're not needed, a mic mute button, plus textured grips and triggers.
The controller is generally quite comfortable to use for most hand sizes, and the triggers, face buttons and d-pad all feel as precise as the first-party Xbox gamepad - while the sticks feel more precise, making this a net upgrade. If you're happy to prioritise longevity and durability over wireless connectivity, this is an awesome alternative to the standard Xbox controller that should last much longer.
Pros
Hall Effect joysticks and triggers, plus good-quality controls elsewhere, represent a net upgrade in responsiveness and longevity
Slightly cheaper than Microsoft's standard Xbox controller
Wired-only, so light design with no recharging or battery swapping required
Some nice extra features, including two programmable rear buttons and swappable magnetic face-plates
Cons
No wireless connectivity, obviously
---
Best third-party PC controller: Asus ROG Raikiri Pro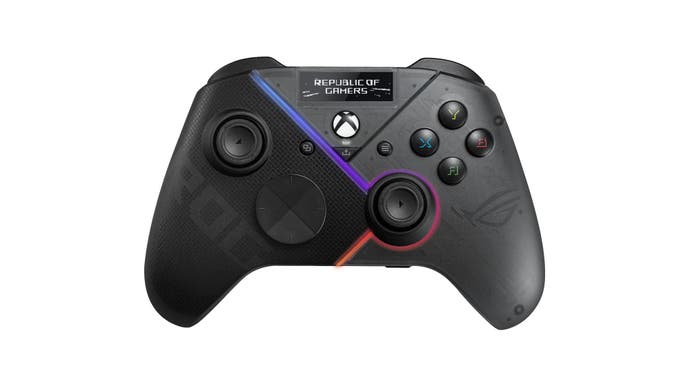 While Microsoft and Sony's long expertise with games consoles means that their controllers are the default option for many, there are also some great third-party alternatives worth considering. The £132/$169 Asus ROG Raikiri Pro is one of the best options, thanks to its clicky and satisfying face buttons, (optional) hair triggers and four extra rear buttons. Its modest dimensions are also comfortable for those with smaller hands, which isn't always a given.
The Raikiri Pro sports an OLED screen and RGB lighting, giving you information like battery levels and the current profile, and it can connect to PCs via 2.4GHz wireless, Bluetooth and USB, or Xbox consoles via USB only. (I particularly like that there's room for the 2.4GHz USB dongle inside the controller - something often eschewed.) There's even an ESS DAC built in to boost audio quality for headsets plugged into the 3.5mm port, along with a button to mute the microphone. The controller can be customised in Asus' Armoury Crate app, with button remapping, trigger deadzone adjustments and animation/lighting tweaks all possible.
Beyond a long feature list that helps to explain its premium price point, the Raikiri also just feels great to use for FPS and racing games alike, though the eight-way d-pad doesn't suit fighting games particularly well and ought to have been replaceable with a four-way alternative at this price point. Still, apart from the high price, this is a solid option - and I hope we see Asus expand what can be put on the OLED screen in future, as this could become a much bigger deal than it currently is.
Pros
Looks and feels great
Long list of useful features
The best-looking controller we've tested
Tri-mode connectivity for PC, wired for Xbox
Cons
Expensive
Eight-way d-pad not ideal for every game type
---
Most customisable PC controller: Scuf Instinct / Instinct Pro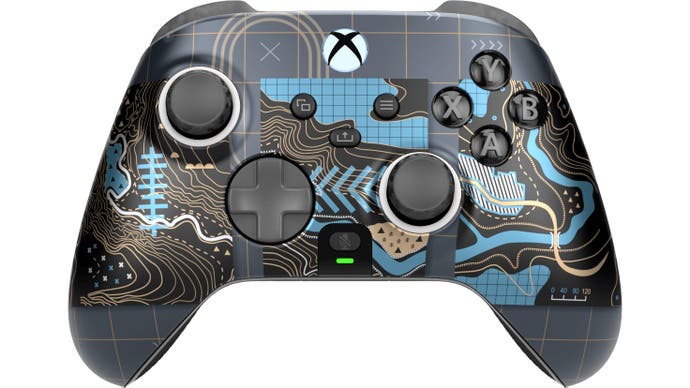 The £170/$170 Scuf Instinct and Scuf Instinct Pro are deeply customisable controllers for Xbox consoles and PC. I opted for a controller with an interesting topographical map theme in blue and gold, matching this with mono-colour face buttons, black sticks, and grey d-pad, shoulder buttons and triggers. There are tons of options here, with eleven elements you can tweak - including less cosmetic changes like ripping out the rumble motors for a lighter gamepad or opting for different shape sticks. (Scuf's earlier Xbox One era Prestige controller has even more colour options - the firm assured me that the Instinct series will have a similar number of options eventually). The Pro adds rubber grips and four rear buttons - fittingly, features that may prove handy for high-level play but are easily dispensed with to save some money on what is already an expensive proposition.
The Instinct series use the same circuit board as Microsoft's controllers and pair in the same way, so on PC you can use them wired via USB-C, via Bluetooth or via lower-latency Xbox Wireless with an Xbox Wireless Adapter dongle. It also means they benefit to Microsoft's latency improvements and can even be upgraded with new firmware as it's released. Both Instinct gamepads also feature three profiles, allowing you to customise the controller on a per-game basis by tapping a button, and a button for muting the headset.
Compared to the similarly expensive Xbox Elite Series 2 controller, it's hard to pick a favourite. The Elite Series 2 feels more substantial in the hand, with clickier buttons and more conveniently placed triggers, but the Instinct Pro is lighter, with even shorter-throw triggers and a smoother chassis. I think I would normally come down for the Elite Series 2, but that controller's reliability woes would give me some pause - and the Instinct Pro's customisable look makes it a distinct option in its own right.
Pros
Can be customised for a look and feel entirely your own
Instinct Pro variant offers hair triggers and extra grip
Works just like the official Xbox Series X/S controller
Cons
Extremely expensive once fully customised
Face buttons and d-pad aren't quite as good as the best controllers from Microsoft or Razer
---
Runner-up customisable controller: Victrix Gambit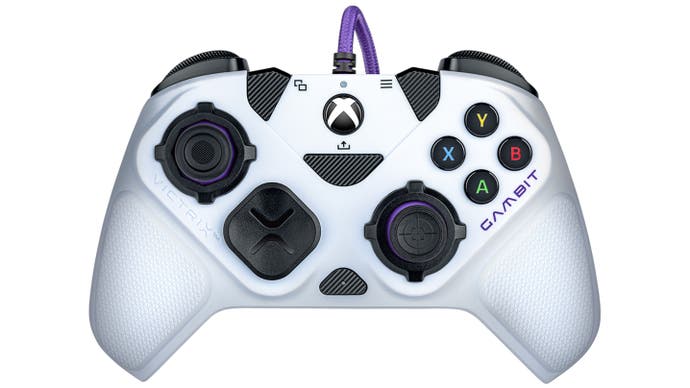 The £89/$90 Victrix Gambit is another nice option if you prefer a controller you can make your own, with some novel post-purchase customisation ideas. There's a choice of top plates, including a rubbery option for silent play, and circular or octagonal rings for each thumb stick. More standard are the offered d-pads (eight-way or four-way), thumb sticks (short or long), rear paddles (two or four) and the provided carry case. Each change I made had an obvious effect, and I was particularly impressed with the rubber top plate. The build quality here is excellent too, with satisfyingly smooth triggers and slightly tactile face buttons, although the placement of the start and select buttons takes a little getting used to.
This is a wired controller only, which is in my view totally fine for PC play but less suitable for gaming on the sofa. The cable is at least relatively soft and flexible, unlike some other controllers I've tried recently. Finally, Victrix boasts of a dual-core design that delegates input and audio to separate cores, reducing input latency, but I don't have the means to test this and the controller didn't feel noticeably better or worse than alternative options. I think there's enough here to justify the asking price!
Pros
Excellent range of customisation options included
Good build quality makes the controller a pleasure to use
Works just like the official Xbox Series X/S controller
Cons
Layout of some less-used buttons is unorthodox
Cool transparent body is hidden by the top plates
No wireless connectivity
---
Best of the rest: other controllers we tested
To keep our recommendations manageable, we've opted for six controller suggestions in the main article above. Here are some brief thoughts on the other controllers we've tested, including a few options that nearly made it into the top six.
Thrustmaster eSwap XR Pro Controller Forza Horizon 5 Edition: This is another strong controller when it comes to customisation, with hot-swappable components - you can freely swap the position of each stick and the d-pad, and the Forza Horizon 5 special edition even comes with a tiny, self-centring wheel that can replace the d-pad. (Cleverly, the missing d-pad controls are then mapped to the rear buttons.) This doesn't feel significantly more accurate than a thumbstick - or at least, nothing close to what's possible with a full-size wheel - but it's still a fun feature and a clever extension of the controller's other Forza Horizon branding.
While I didn't continue using the wheel long-term as I played through the Donut Media addition to FH5, I was struck by the build quality and responsiveness of the eSwap XR Pro. If you're happy with a wired pad and want something with a ton of extra features, including back buttons, this is a reasonable choice that'll be worth picking up once it drops down a bit from its £180/$180 launch price.
PowerA Spectra Infinity Enhanced Wired Controller: At £35/$34, this gamepad is about £15 cheaper than the official Microsoft Xbox One controller. You lose out on wireless connectivity and a tiny bit of build quality, but you gain edge and button lighting in seven colours, two programmable rear buttons and three-tier trigger locks. The trigger locks didn't work perfectly in our testing, with the most restrictive setting on both triggers resulting in different amounts of movement, but otherwise the controller delivers a reasonable gaming experience and looks good doing it. If the extra features are worthwhile for you and you're not interested in wireless connectivity, then this is a decent choice.
Nintendo Switch Pro Controller: This £49/$69 controller is a good first-party option with excellent battery life, but it is more expensive than many competitors, lacks analogue triggers and doesn't offer any compelling unique features beyond Switch compatibility and a cool see-through design.
Razer Raiju Mobile: While the $36 Raiju Mobile sports clicky buttons, good ergonomics and a built-in smartphone clip, its unusual default bindings on PC require manual remapping in each game. By contrast, the SteelSeries Stratus Duo works well on PC out of the box.
Microsoft Elite Controller (Series 1): The first-gen Elite was a great controller, but the Elite Series 2 and Series 2 Core offer more features and a better tactile feel at the same price. Only consider this one if you can find it in working order at a good price, or if the lack of a user-replaceable battery in the Series 2 is a deal-breaker for you.
Nacon Pro Controller 3: The design and build quality of this £72/$74 controller is subpar, with flabby shoulder buttons and lethargic sticks, but the real issue is the placement of the extra buttons. Rather than paddles, Nacon has opted for a quartet of small buttons built into the lower grips. This is convenient, in that you can reach these buttons comfortably, but they're all-too-easy to set off accidentally and hard to differentiate. That makes the NPC3 a hard sell in a competitive premium controller market.
So, there you have it. We will continue to evaluate new gamepads and controllers to keep our recommendations up to date, and we welcome your feedback in the comments below.