Microsoft Elite Wireless Controller Series 2 review: masterpiece
The best Xbox and PC controller on the market, but it'll cost you.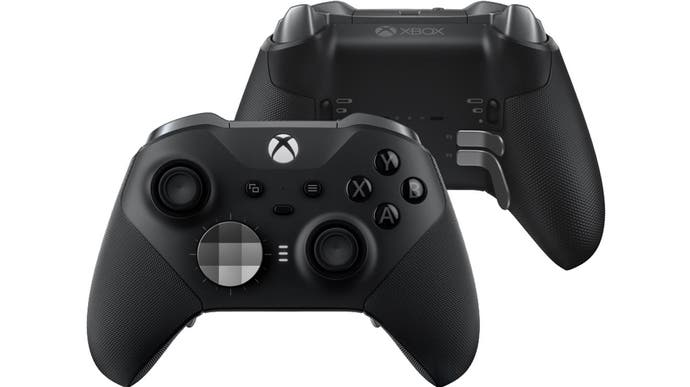 The Elite 2 is the best controller Microsoft have ever made, a triumph of engineering that sets a new standard for premium-grade gamepads on any platform. The new gen-two design includes more features, deeper customisation and clever creature comforts that make the Elite 2 a pleasure to use. Here's why we love it - even though it's not for everyone.
First off, let's address the price. At £160 in the UK and $180 in the US, the Elite 2 costs three times the price of a standard controller; and it's actually the same ballpark price as a brand new Xbox One S All Digital. That means it remains a luxury item that simply doesn't make sense for all but the most invested Xbox and PC owners. Thankfully, this price differential is at least reflected in the depth of the feature list and build quality of the controller, with that premium feeling starting from the moment you take it out of the box.
While the Elite 2 comes in the same soft shell case as its predecessor, the lump of foam that supported the controller before has been replaced by a convenient charging stand - which complements the new rechargeable (but sadly irremovable) battery nicely. Remove the fabric cover, and pins on the wedge-shaped charger will line up nicely with contacts on the back of the controller. You can even plug a USB-C cable in through a specially designed flap in the back of the case, allowing you to charge your Elite 2 while keeping it fully covered.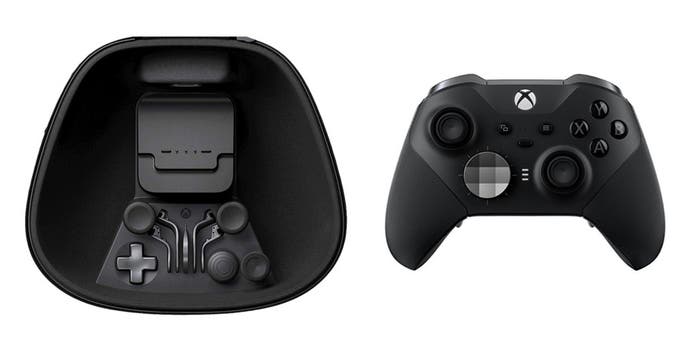 As well as the removable charger, you'll find a toolkit that includes four replacement thumbsticks, four paddles, a more traditional four-way d-pad and a curious item that looks like a guitar pick crossed with a SIM card removal tool. Pop off the thumbsticks, and you'll be able to use this to adjust the tension of each stick, with three levels to choose from: the standard loosey-goosey feel and two tighter settings that push the stick back to centre more assertively. The replacement thumbsticks are wild too, with a pair of taller, flatter and less textured alternatives, a double-height stick and one with a ridged, convex top. I swapped between these regularly throughout testing, eventually ending up with a flat stick for movement and the convex option for precision aiming. Combined with the clickier face buttons, this made for the most effortlessly responsive controller I've ever tested - and the depth of options here mean that it should work for a wide range of gamers.
As well as being an evolution of the Elite line, the Elite 2 also includes the changes made to Microsoft's most recent generation of standard Xbox controllers. This means Bluetooth connectivity is now on board, finally allowing an Elite controller to be used with mobile devices like smartphones and tablets - particularly useful for playing Xbox titles on the go with Project xCloud. It also gives a new connectivity option for Windows PCs that ameliorates the need for the £20/$20 Xbox Wireless Adapter - although the inherent latency of a Bluetooth connection means that serious PC gamers should still probably pick up the faster 2.4GHz wireless dongle if they can spare the cash. The unibody design from the new controllers has also been carried over, with a nearly flush Xbox button and a 3.5mm port for connecting headphones. It was weird buying the expensive first-gen Elite in 2019 and feeling that the standard controllers were more advanced in some ways, so it's great to see this resolved with the Elite 2.
Looking at the two Elites side by side, another difference is clear: the size of the textured grips. On the original Elite, this only extends down the back side of each arm of the controller, but on the Elite 2 the grippy texture is found on front and back, stretching up to meet the sides of the shoulder buttons to cover a much larger surface area. Even the triggers are textured in a similar way, helping to stop sweaty fingers slipping off in a frantic firefight. Comfort is at an all-time high here, which is good news for anyone that plays enough to justify a premium controller like this one.
The hair triggers have also been upgraded, with a new travel distance between the two extremes introduced by the original Elite. I didn't find this massively useful - full distance for racing and a hair trigger for action games like Nioh was already enough for me - but I don't mind the extra option as it doesn't detract from the design elsewhere. Finally, the two profiles of the first Elite have become three on the Elite 2, with the simple switch traded for an LED and button combo. There's even a new shortcut - hold down the profile button, and the controller will return to a bog-standard setup that disables the bottom triggers. That's useful if you're setting the controller down and don't want to accidentally slash a friendly NPC, or you're handing your mate the controller and don't want to confuse him with your unorthodox setup.
The original Elite controller failed to earn our unequivocal recommendation.
To actually set up your profiles, you'll need to venture into the Xbox Accessories app on Xbox One or Windows. From here, you can remap any button on the controller (apart from Xbox, Start and Select). Each button can also change its mapping when a shift button of your choosing is held, allowing the paddles to be used for eight different functions instead of four. Elsewhere, you can adjust each stick's sensitivity, set dead zones for each trigger, turn down or disable vibration in four zones and even adjust the brightness of the Xbox button. It's a sensible package, and one that allows deeper and more intuitive customisation than the first-gen Elite, which lacks Shift functionality and the ability to map buttons to system functions like starting a recording or taking a screenshot.
While nailing the physical design and delivering competent software are impressive feats that Microsoft should be proud of, they managed that last time around too - and despite these strengths, the original Elite failed to earn our unequivocal recommendation. After all, despite a price tag many times greater than a standard controller, users of the original Elite gamepad reported a litany of problems with the device - like grips falling off, shoulder buttons jamming and sticks drifting. Many users went through multiple replacements in the span of a year, suggesting these issues weren't restricted to the first batch of controllers, while others opted for third-party fixes like extra adhesive to solve what appear to be design deficiencies. Of course, some Elite controllers have stood the test of time. I picked one up to review twelve months ago, and I've had no issues whatsoever despite periods of heavy use in racing sims, Souls-like titles and party games. No one but Microsoft really has the data to say whether or not the original Elite has a higher failure rate than other gamepads, but a premium controller ought to be better constructed and more reliable than one that comes with the console, not less.
This chequered history meant that the Elite 2 faces a higher level of scrutiny. We haven't identified any build quality concerns with our particular unit, but a thread on the /r/XboxOne subreddit with 3000 comments and counting suggests that this iteration has its own gremlins, with a multitude of users reporting sticky face buttons and thumbstick drift that Microsoft has promised to investigate. These problems are covered under the controller's warranty, which runs 90 days in the US and Canada and one year in the UK, but choosing a major retailer that offers no quibble returns or replacements could be a wise move.
With luck, these quality assurance issues will be fixed and all future Series 2 controllers made will deliver the reliability that befits a premium option. After all, the Elite Series 2 is otherwise a standout controller with a deep feature list that provides a class-leading feeling of precision and control - a fitting choice for the next generation of Xbox consoles and PCs.