Best gaming microphones 2022: top USB and XLR mics for streaming
Tested and recommended by Digital Foundry.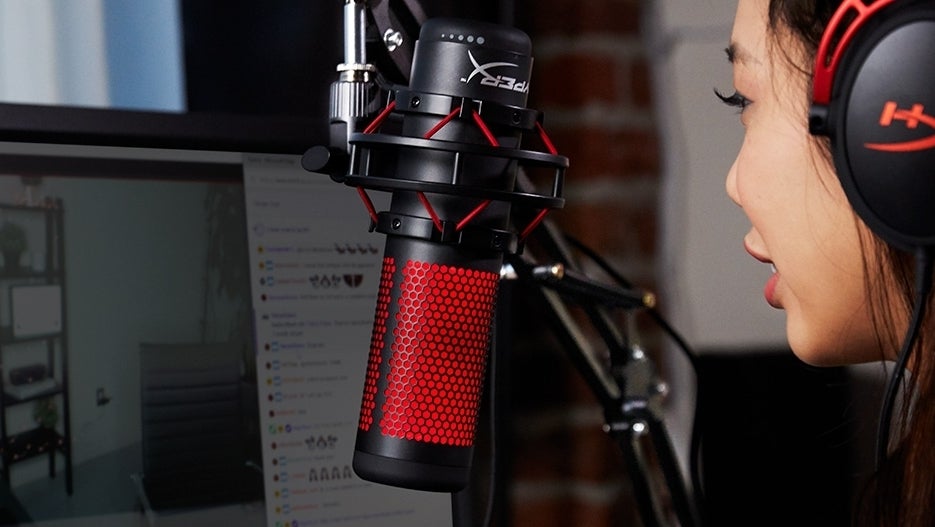 If you want to stream, podcast or record gaming videos for YouTube, then one of the first steps is picking up a good USB or XLR microphone. These mics can provide that extra bit of audio quality, noise reduction and control you need to be a successful content creator - things you won't often find on your standard gaming headset microphone. There are plenty of options on the market, so we tested the most popular USB and XLR mics available to find the best of the best.
We've split our picks into a few different categories: the best mics for streaming, the best for recording voiceovers or podcasts and the best cheap option. There's a separate category for XLR mics, as these are a different kettle of fish. We've also selected a handy attachable mic that trounces those built into most gaming headsets but remains just as convenient to use.
All of our choices retail for less than $200/£200, as we're focusing on affordable options for those new to content creation rather than truly professional-grade solutions which can cost hundreds or even thousands of dollars. Finally, we also picked runner-up options for a few categories to recognise good alternatives that may be preferred by some people.
With that out of the way, let's get into the selections. We'll start with a brief summary of our five favourites. Click the links below to jump to that entry, or just scroll down to read our selections in full.
Best gaming microphones 2022
---
Best USB mic for streaming: Elgato Wave 3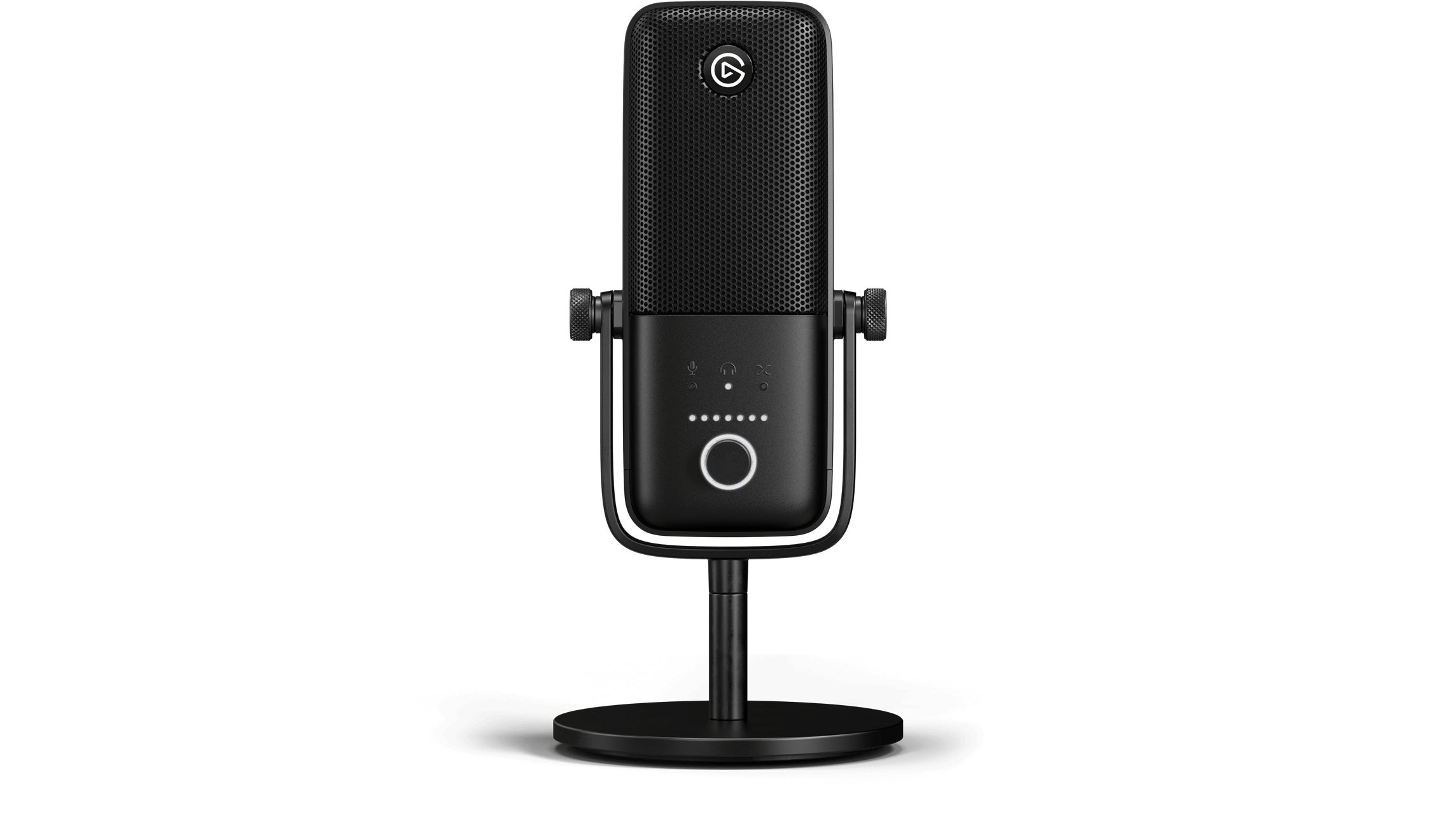 Best-in-class software and integration with good usability
Integrated eight-channel mixer is a rare feature well implemented
Clear, no-clip cardioid recording - but no other patterns
In our best streaming accessories article, we have separate categories for "best USB mic" and "best mixer", but you could make a strong argument for the Elgato Wave 3 to take over both categories. That's because this mic is also a virtual mixer, thanks to the Wave Link software which allows you to adjust the mix of the mic and up to eight additional audio channels. This is great for streaming, because it makes it dead-simple to make sure your game audio, your subscriber alerts, your music and anything else running on your PC or Mac sounds properly balanced. This also integrates into the Elgato Stream Deck - either the physical devices or the phone apps - so you can control your audio settings while streaming with a tap, which is neat.
Even if you don't need the mixing features, the Wave 3 also performs well as a straight-up USB mic. One of the big reasons for this is the inclusion of a "Clipguard" feature, which effectively swaps the standard recording channel for one 20dB lower if the mic detects clipping. Both channels run all the time, so swapping between the two sounds natural and it eliminates a common pitfall for streamers. There's still a 3.5mm jack on the back for zero-latency monitoring, which is always nice to have, and the Wave 3 is powered by USB-C.
While the software experience is best-in-class, the Wave 3's hardware has been developed cleverly too. A single dial on the front can be pressed in to switch between adjusting gain, headphone volume and the mic/PC mix, while a capacitive sensor on the top allows for a one-tap mute (indicated with a clear red LED). There are no different capture patterns here, as on the Blue Yeti, but for recording a single person's speech this is no problem.
The audio we recorded came out clear and distinct, with good clarity in the mid and high frequencies if lacking a little warmth. As this is a condenser mic, you'll still pick up the clatter of mechanical keyboards if the mic is too far away from your face or the gain level is set too high. Plosives are catered for via an included shield, but a proper pop filter may still be necessary depending on how much fire you're spittin'. Finding the perfect positioning is made easier if you swap the included desk stand for a proper arm mount, via the included adapter.
Overall, the Wave 3 is a great-sounding USB mic that is easy to use and offers some intriguing possibilities for streaming thanks to its anti-clipping and audio mixing features. The mic is more expensive than our previous picks though, at around $160/£160, so you may want to consider the $130/£130 Wave 1 instead. It offers the same features, only lacking some physical controls and 96kHz recording - neither of which are significant drawbacks.
Runner-up: Roccat Torch
The Roccat Torch is the second-best USB microphone we've found for streaming thanks to its detailed audio and well-implemented features. There are three recording modes on offer and a physical gain slider, allowing the mic to be adapted for one audio source or multiple voices with ease. There's even a 'whisper' mode, which adds extra gain if you want to be heard without raising your voice. Being able to mute your audio quickly can be indispensable, and here there are two ways of doing so - either clicking the volume knob on the base of the mic or waving your hand above the top of the mic. Pickup pattern, gain and mute all come with corresponding RGB effects, so you can see the current settings at a glance without the need for software. Other handy features include an internal pop filter that ensures p and b sounds don't result in an annoying pop and lag-free audio monitoring. The only real drawback is that the default stand is a little short, and you need to use two USB cables in the default configuration - one connecting the mic to the base, and the other connecting the base to your PC. I can see why Roccat has done this, as it allows the mic and base to be used together or apart, but doesn't look or feel as clean as most USB mics. Another bit of weirdness is the Roccat Neon software, which detects the Torch but doesn't provide any controls for it - just a black screen.
Oddly, the Torch doesn't appear to be available at time of writing, so you may want to consider another strong option - the HyperX QuadCast. It also has tap to mute and multiple pickup patterns, but is an all-in-one unit rather than having a separable mic and base.
Second runner-up: Røde NT-USB Mini
The Røde NT-USB Mini is a compact USB mic with a short stand but excellent audio quality for its £100/$100 price point. Rather than offering multiple recording patterns, as with the Blue Yeti, Røde have focused on capturing the best audio they can from right in front of the mic, with recordings typically emphasising the mid-range in a manner that's pleasant for acoustic instruments or - helpfully for us - human speech.
The focus on simplicity means this mic really is plug-and-play, with no gain knob to adjust or polar patterns to select, and it works on Windows, Mac, Android and iOS over full-size USB or USB-C. The NT-USB Mini does include one very helpful extra feature though - zero-latency monitoring via 3.5mm, which is great for dialling in your sound before you go live. The included desk stand is quite short, so we do recommend picking up a simple desk mount to make sure your dulcet tones are being captured rather than the mechanical clatter of your keyboard. Overall, a great low-profile microphone that's easy to use and sounds fantastic.
---
Best USB mic for recording and podcasting: Blue Yeti X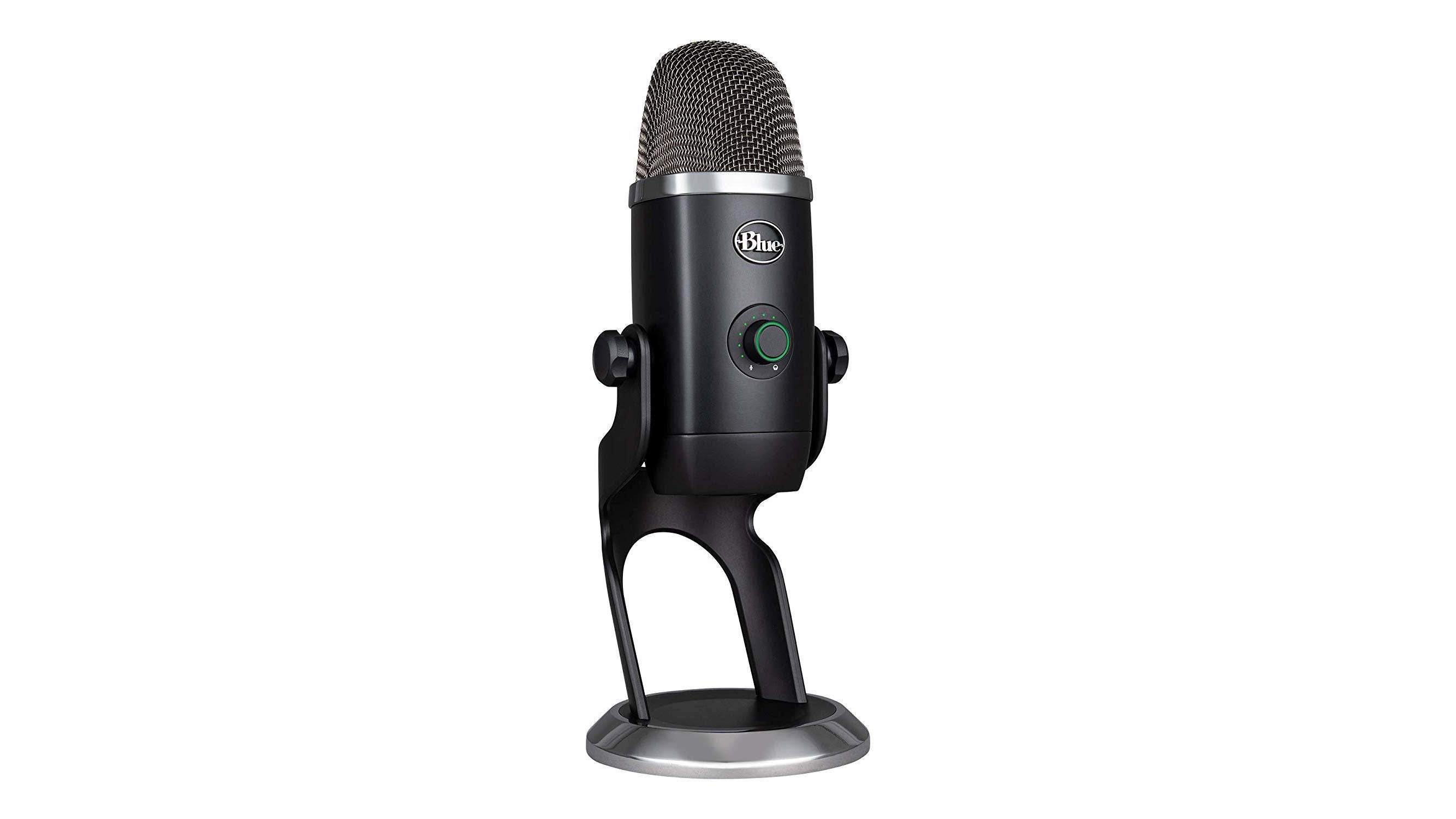 Choice of four recording patterns to suit a wide range of scenarios
Standout audio quality that requires little cleanup
Useful LED volume metre and extensive software options
Will pick up background noise like keyboards if gain is too high
New: available in World of WarCraft edition with voice presets and samples
When it comes to streaming and podcasting, the Blue Yeti series is perhaps the most popular microphone in the world. Whether plunked down on a desk to be held aloft by its chunky stand or held in place on a strong boom arm, the Yeti provides strong audio quality for a range of use cases thanks to its four different recording patterns: cardioid, stereo, omnidirectional and bidirectional. The inclusion of a 3.5mm headphone jack means you can also plug in headphones to monitor exactly what the mic is hearing.
The Yeti X is the latest edition and includes a new LED volume metre and multi-function control knob right up front, making it easy to adjust gain to dial in the perfect levels on the fly. On the software side of things, the Blue Vo!ce section in the Logitech G Hub includes plenty of options for adjusting tone and removing annoying sonic artefacts, including presets from popular streamers. Overall, the Yeti X is a solid improvement over the standard Yeti and even comes in a special World of WarCraft edition, but if you're working to a budget the original model is still worth considering.
The popularity of the Blue Yeti has also seemingly spurred the development of microphones that offer a very similar featureset and audio quality at a lower price. I'd normally advise that you stick with the name brand, but some mics we've tested at Digital Foundry HQ like the Movo UM700 come very close to the original Yeti in specs and features while costing around less ($100 vs $130 for the Yeti) - so they're worth picking up if you see a similar price difference in your region. The biggest disadvantage these microphones possess is their appearance, which is a little ungainly compared to the Yeti, but this is probably the least important quality of a microphone unless you really want to show off your new mic on stream!
Runner-up: Trust Gaming GXT 259 Rudox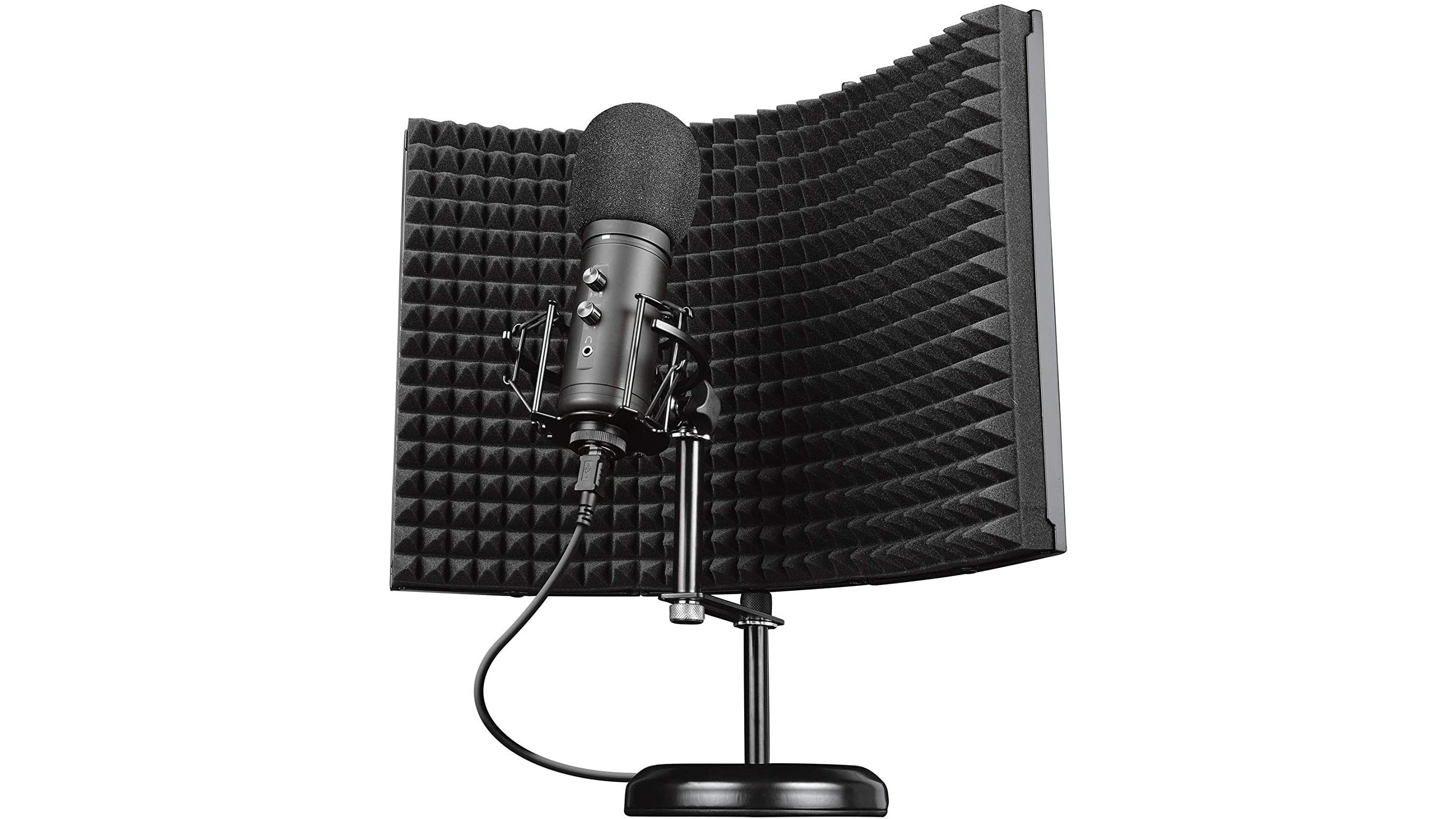 The Trust Gaming GXT 259 Rudox is an interesting alternative to the Blue Yeti X that really specialises in solo podcasting or voiceover. Instead of the four patterns on the Yeti X, you get just one here, but in exchange you get a combination mic stand and shield that make the mic very well suited to its singular role. The shield makes it harder to pick up ambient noise, ameliorating one of the biggest disadvantages of condenser microphones, and allowing lots of rich detail to be captured without distractions. The rest of the package - most notably direct zero latency monitoring and a good assortment of dials on the front and back of the mic - make it straightforward to dial in the sound you want. If you're in the UK and don't foresee yourself using this mic with more than one person or hanging it in front of a computer screen, then you'll doubtless benefit from the GXT 259's more focused design over the Yeti X.
Second runner-up: Epos B20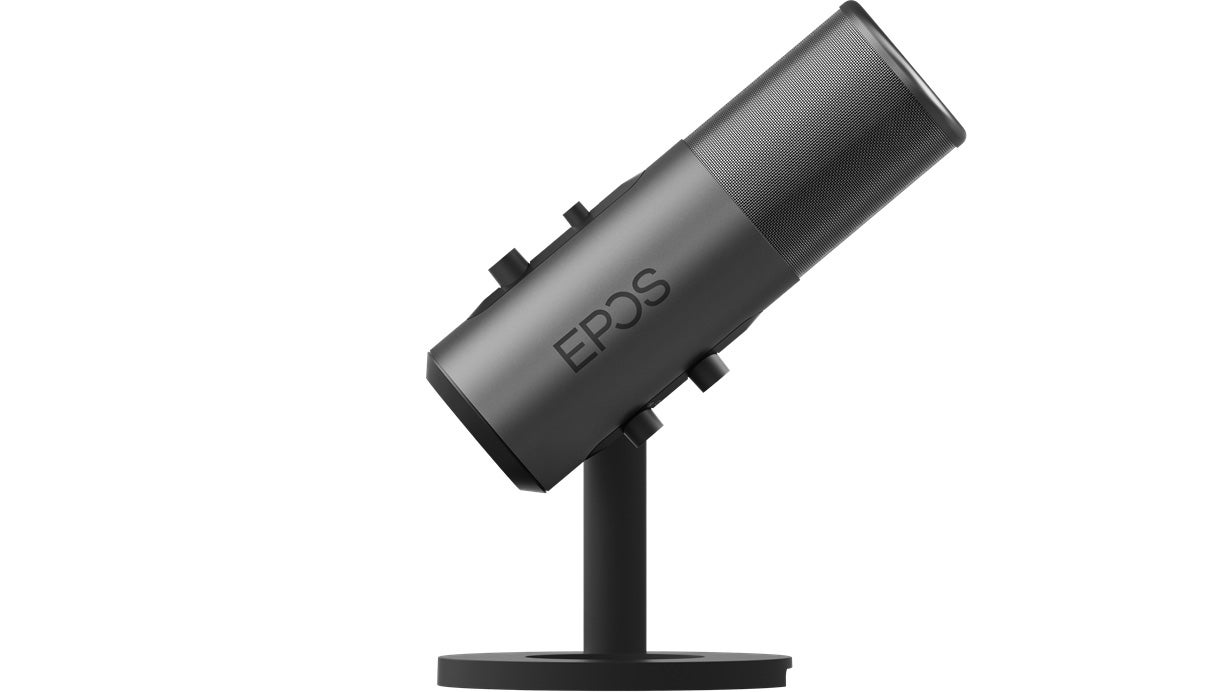 The premium Epos B20 looks incredible and ticks a lot of boxes, but comes with some flaws too despite a price that's around twice that of the Blue Yeti and even more than the Yeti X. Like other Blue Yeti competitors, it's a four-pattern mic with latency-free monitoring and the flexibility to be used for VO, streaming, podcasting or even music recording. Sound is detailed, but sounds a little thin compared to other USB mics I've tried, and like other condenser mics you'll get a ton of background noise if you're in a loud room or using a mechanical keyboard. I could definitely see streamers going for the B20 just because it looks way more expensive than it actually is, with a dark grey metal design and white status lights that feel a lot more - adult? - than mics like the HyperX QuadCast. It also works on PS5 after a firmware update is applied, which is a nice bonus.
The controls are good, with gain and volume dials plus a mute switch and the mode selector... but the gain and volume dials spin forever and don't have level indicators, making it a must to keep your head in the Epos Gaming Suite whenever you're making changes, lest you crank up the gain without realising and deafen your friends. Still, given its premium price, the mic's middling feature set and poor out of the box sound means it performs a little under expectations in what has become a very crowded market.
---
Best XLR mic: PreSonus PD-70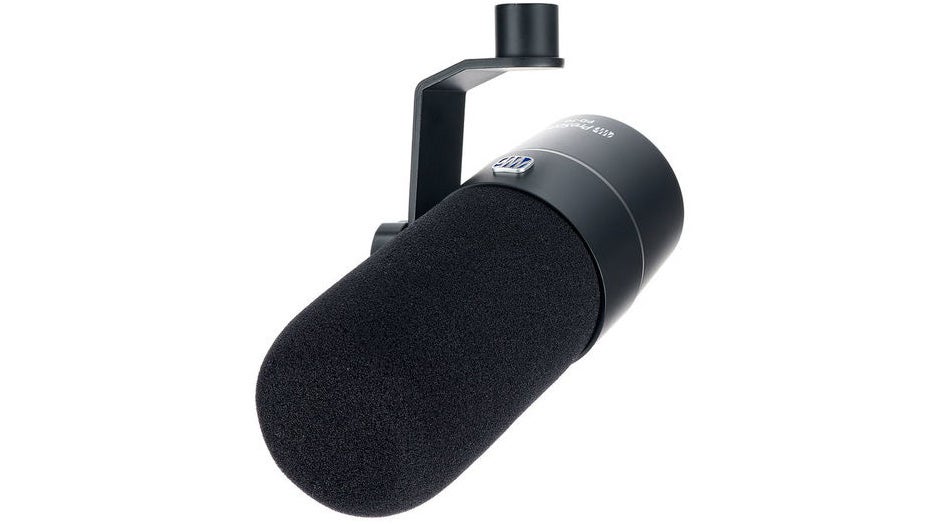 Bright, clear sound with great off-axis noise rejection
Clean, professional appearance
Allows entry to the complex but powerful XLR ecosystem
The £96/$100 PreSonus PD-70 is the best XLR microphone for gaming we've tested so far. It's a dynamic mic rather than a condenser, meaning it captures a little less detail but offers much better off-axis noise rejection, which can be great for streaming or recording in a busy environment where you may have other people's vocal effluence or the clatter of mechanical keyboards competing with your voice. The PD-70 is well-built, with a clean, professional look that mirrors the popular Shure SM7B, complete with a removable wind screen helps to reduce sibilance and plosives. It sounds good right out of the box too, with a bright sound signature that improves vocal clarity and de-emphasises low rumbling background noise. Of course, you're free to tweak the mic with whatever audio interface or software you've chosen elsewhere in the chain, making it suitable for both low and high voices. As an end-address rather than a side-address microphone, I also found it a little easier to position in a desk-based streaming setup, as it can just poke out from above or to the side of a monitor and doesn't take up much of your peripheral vision. Given its affordable price, it's definitely worth considering for anyone interested in streaming games in a normal, not-always-silent space.
Runner-up: Audio-Technica AT2020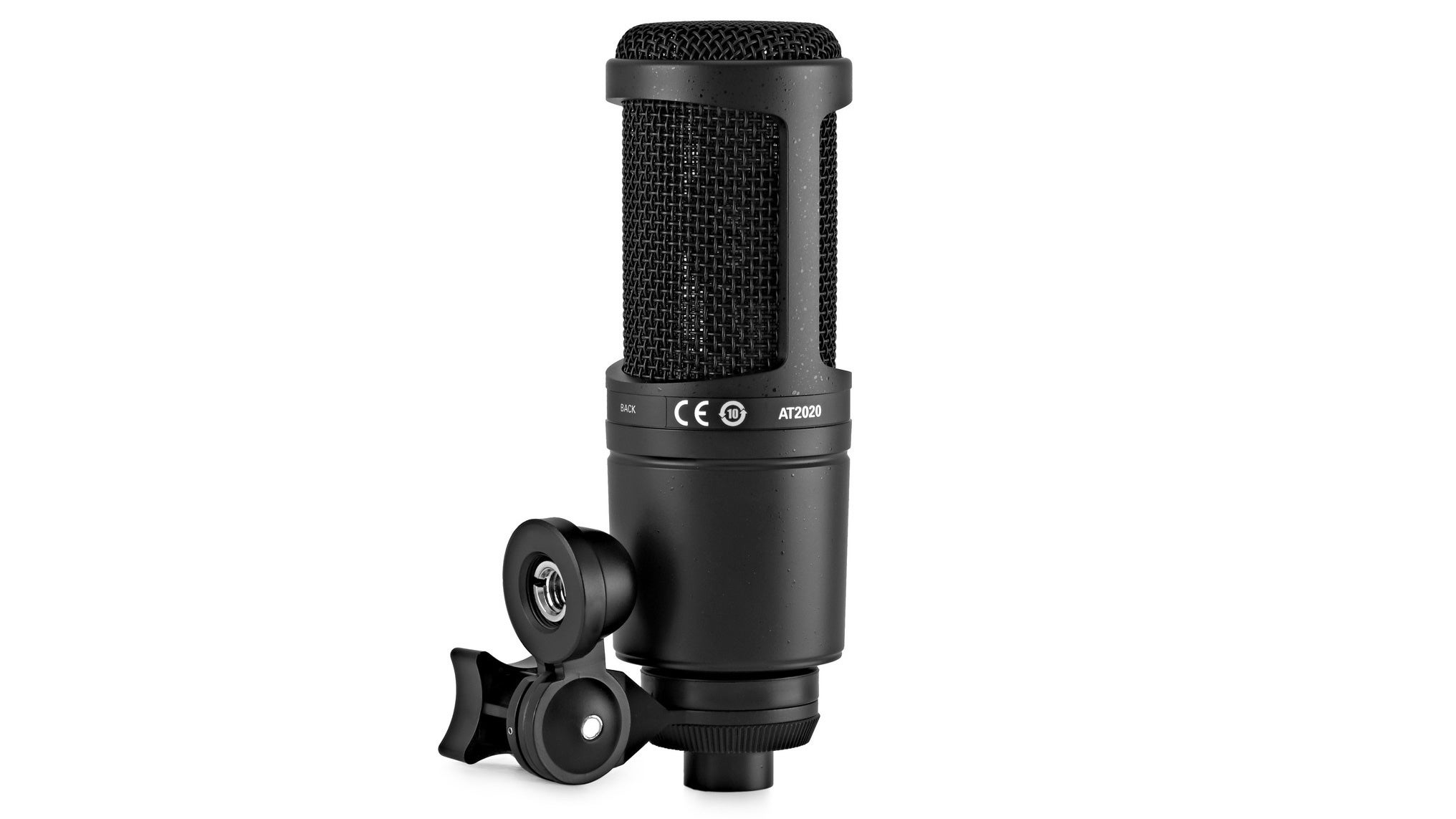 The AT2020 is a popular entry-level XLR mic that serves as a good condenser alternative to the PD-70, offering the possibility of extremely clear audio if you're willing to put together the necessary equipment to get it running. All that comes in the box is the mic, a bag and a stand adapter, so you'll need to provide at least an XLR cable, a stand and an audio interface or mixer that provides at least 48V of phantom power. Once all of these components are in place, your reward is warm, crystal-clear audio that's ideal for recording podcasts or video voiceovers. It's worth noting that the AT2020 is fairly hefty and skews towards 'professional' rather than 'gamer' in the looks department, but that's no bad thing. As a condenser mic, you get more vocal clarity than the PD-70, but you also pick up much more off-axis noise, such as keyboard clatter, mouse clicks and so on - something to keep in mind if you're using this for streaming rather than producing voiceover.
Third option: 512 Audio Limelight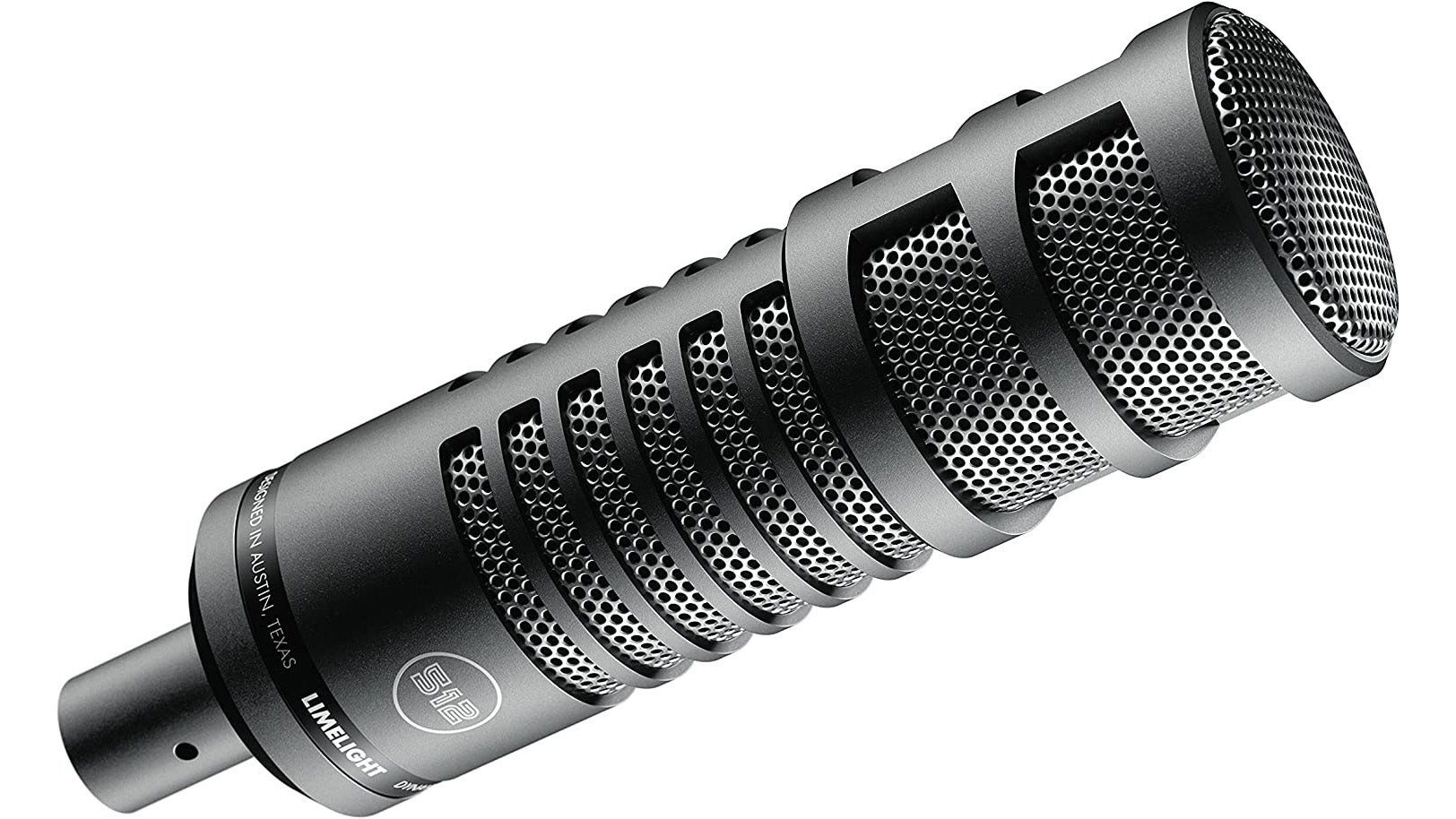 The 512 Audio Limelight is another more affordable take on the Shure SM7B, a dynamic XLR mic with a warm broadcast-friendly sound. The Limelight has the tendency to get a bit boomy when you're too close, but back off a touch and you get a nice deep and dark sound - a great example of the proximity effect in action. The mic includes two modes, 'flat' and 'low cut', but the second mode sounds a bit anaemic in comparison and didn't suit my voice at all. Thankfully, the mode selector is completely inaccessible with the default 360-degree grip attached so leaving it on the default is at least straightforward.
As with other dynamic mics, it requires no phantom power and does a better job at capturing only on-axis sound compared to condenser microphones. Right now, the PreSonus PD70 feels like the better value, offering better out-of-the-box sound without so much handling noise at a lower price point... but the Limelight is also worth investigating. As always, we recommend checking out a plurality of reviews and write-ups in order to get a balanced picture on this promising first microphone from a new audio brand.
---
Best cheap USB mic: Blue Snowball Ice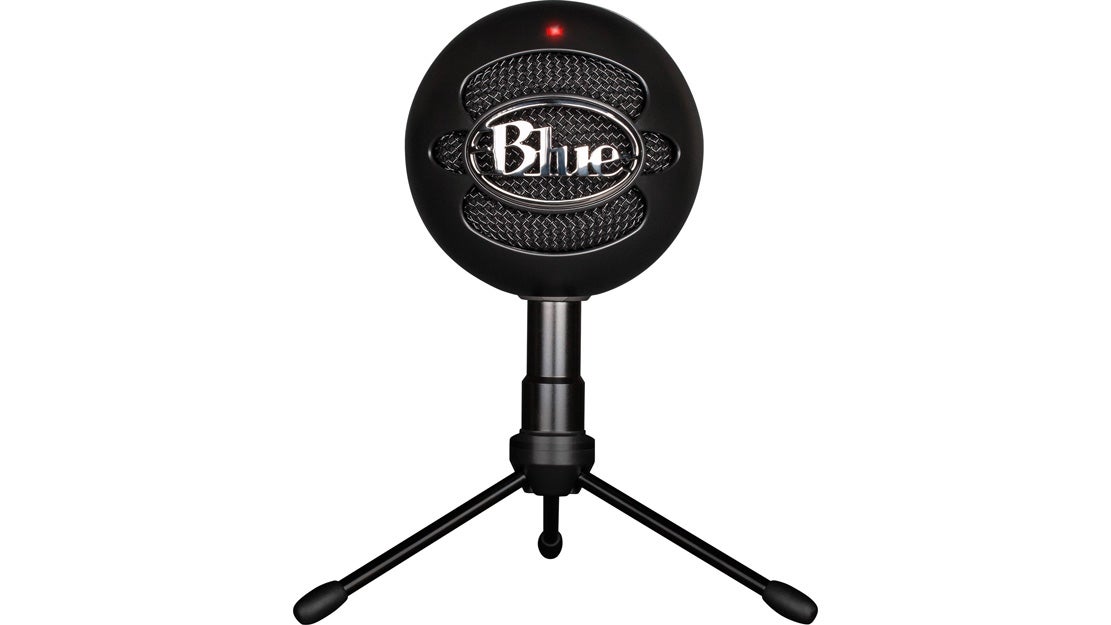 Excellent audio quality for the money
Plug and play USB operation
No physical controls or added features
If you've only got $50/£50 to put toward upgrading your recording setup, you'll get the most bang for your buck from the Blue Snowball Ice. This older desk mic provides surprisingly good audio quality, more than enough for recording voiceover for a video or starting your streaming career. It's also easy to use - just plug it in and hit record, with no software or additional equipment to install. However, you do lose out when it comes to features compared to the more expensive recommendations on this list, with only one recording pattern on the less expensive Ice model.
Runner-up: Trust GXT 258 Fyru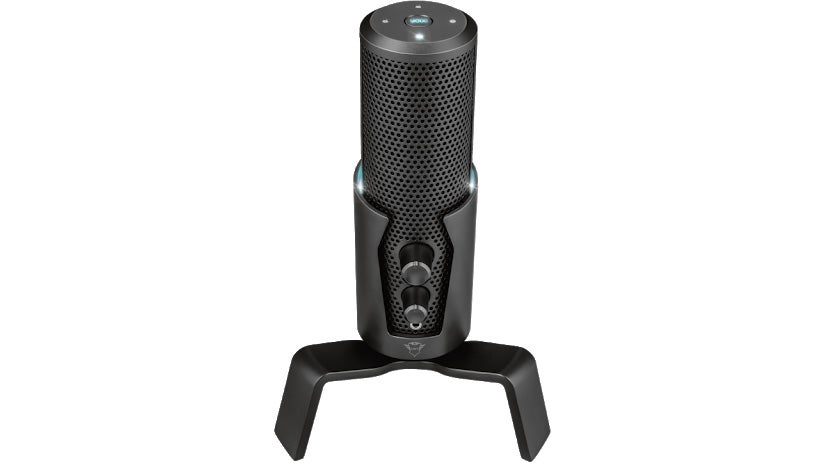 Convenient pattern, gain and volume controls, plus live monitoring
Cool streamer-friendly appearance, with LED surround lighting
Good cheaper alternative to Blue Yeti for European buyers
While the Blue Snowball is a great budget choice, the Trust GXT 258 Fyru is another strong alternative that goes on sale semi-regularly at around the £75 mark. Unlike the Snowball, it provides a choice of four recording patterns, so you can record in an interview or group podcast format easily. The current pattern is indicated clearly on the top of the mic, with lit LEDs signifying active microphones. There's also some LED backlighting within the sheath, which looks cool in photos or on stream without being too distracting. Gain controls and live 3.5mm monitoring are also offered, which is nice. The mic comes with a simple desk stand which works well, and can also be affixed on any arm with a standard thread mount. There's a lot to like here, not least the audio quality which feels close to the Yeti standard.
Second runner-up: HyperX SoloCast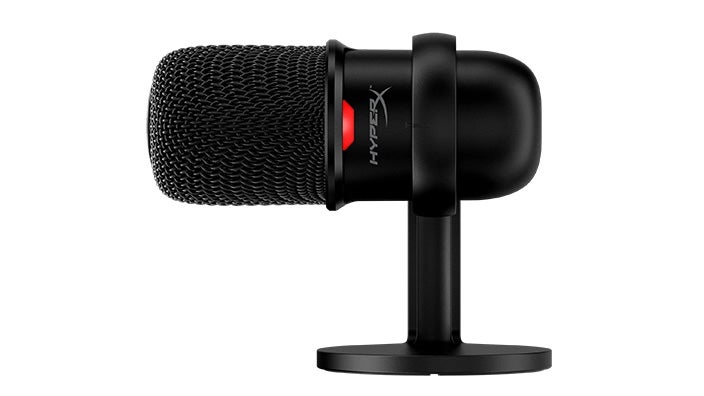 Another option, this time available in both the US and UK, is the recently released HyperX SoloCast. As the name suggests, this mic only offers a single cardioid pattern, compared to the four built into the more expensive QuadCast. That makes the mic a little less flexible, but audio quality remains good and the tap-to-mute functionality we loved on the original mic remains. The overall appearance is more sober here, with only a single red LED to indicate the mic's status, making it a little better at blending in on video. The included stand is very short, so we recommend using the screw mount on the bottom with a mic arm for best results. Overall, a solid option at its current £65 price point.
---
Best USB mic for ease of use: NZXT Capsule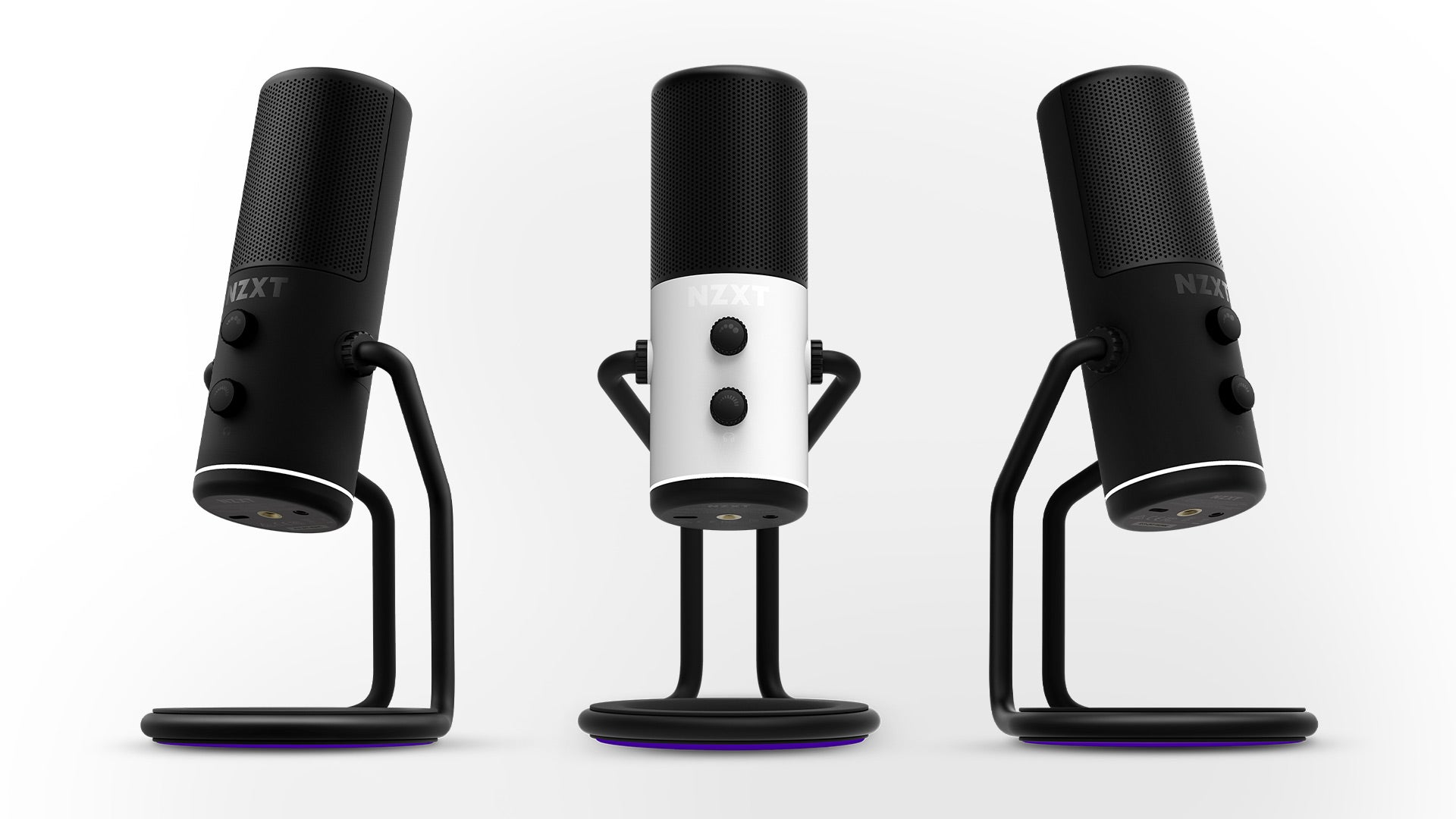 Extremely simple operation, plug and play with no software
Detailed audio pickup, albeit not the cleanest we've heard
No way to see gain at a glance
The NZXT Capsule aims for simplicity, with plug-and-play operation and no software to confound things. This is great in some respects, as it means that you can just connect the mic via USB, check your levels in your favourite streaming software while fiddling with the gain and monitoring volume levels, and then start immediately. However, it also means that you don't get the option of multiple pickup patterns to suit a wider range of use cases, and sometimes it's reassuring to have a piece of software for your new gadget that helps you install firmware updates, check the current settings and so on.
I love the clean look of the Capsule in white, which meshes nicely with NZXT's range of cases, motherboards and peripherals, including the matching Boom Arm (linked below). However, the minimalist aesthetic also means that you have to remember which dial does what - the symbols on it are meaningless and impossible to read from a distance - and there's no way to see how much gain you've got as the dial spins forever and there's no lighting or software readout as there is with the HyperX Quadcast or Roccat Torch. The Capsule is at least robustly constructed, as you'd hope from a £110/$130 product.
Thankfully, the small annoyances here are made up by the mic's quality - the sound captured is quite detailed and needs minimal processing, the desk stand is stable and a ⅜-inch adapter is provided for boom arms. Other mics do sound better out of the box, so NZXT's tuning here could be improved, but for casual streamers it's an easy upgrade over a headset mic or a cheap-o USB mic. This is NZXT's first audio product that I'm aware of, so hopefully we see a version two down the line that fixes some of these small issues while hitting the same 'plug-and-play simplicity' brief.
---
Best audio interface for streamers: TC-Helicon GoXLR / GoXLR Mini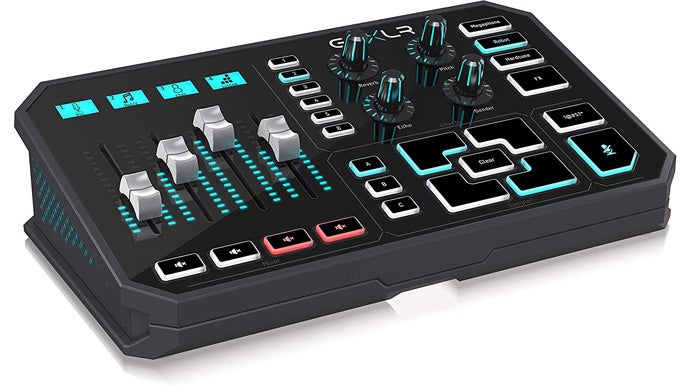 Simple all-in-one audio interface and mixing solution
Convenient assortment of ports, faders and buttons
Reasonably priced, but buying individual components can be cheaper
The GoXLR is the most convenient all-in-one audio interface we've tested for streamers, offering 48V of phantom power to XLR microphones and up to 70dB of gain to drive almost all mics on the market. While the GoXLR is more costly than a simpler audio interface of equal quality, the added convenience of the hardware controls like faders, buttons and knobs on this unit is substantial. Combined with the system performance benefits of accomplishing your mixing and routing via hardware rather than software, and you're left with a convincing package.
The impressive audio hardware and controls are backed up by a powerful - and even somewhat intuitive - software package that allows microphones to be dialled in and various processing to be done to keep your voice sounding just the way you want it. You can also adjust how audio is routed to any of the unit's multiple USB audio devices. For example, you can set your game to one audio device, your mic to another, your chat to another and so on. You can also set up various fun voice effects and samples, if that's your style. Finally, the lighting is also adjustable, which makes it a nice visual accessory as well.
While the original GoXLR is impressive, the smaller GoXLR Mini offers much better value to money. The ports and processing hardware remain unchanged on the Mini, although you do lose out on the sample and effects controls from the right hand side. Honestly, these are the least important parts of the unit, so they're a very acceptable sacrifice given the substantial difference in price.
---
Best headset mic: Antlion Audio ModMic USB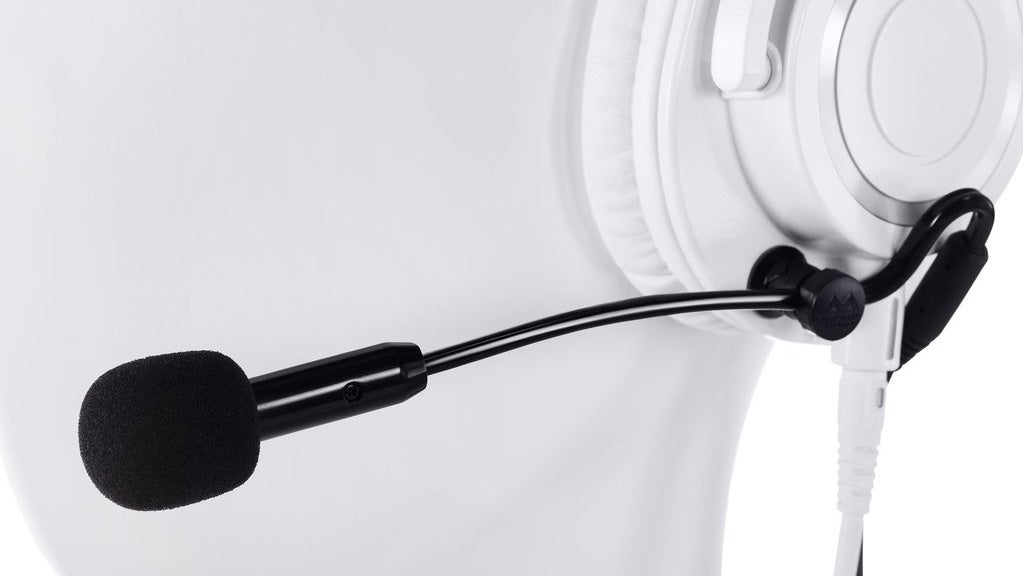 Industry-leading audio quality, available in 3.5mm, USB or wireless versions
Can be added to almost any gaming headset or headphones
Requires a small amount of initial setup
The Antlion ModMic has long been recommended by tech insiders, and after testing out the ModMic Uni, ModMic USB and ModMic Wireless it's easy to see why - this family of mics sound better than pretty much every headset microphone on the market. Each can be installed on pretty much any set of headphones, using a small piece of adhesive. The bulk of the mic can be removed as needed, leaving just the small magnetic base you stuck on behind, and there are a couple of replacement bits of adhesive in the box if you want to move the mic to a new headset in the future.
Where the microphones differ is largely to do with how they connect to your PC or console. The ModMic Uni comes with a 3.5mm jack, like the ModMic 4 and ModMic 5 before it, while the ModMic wireless uses Bluetooth AptX Low Latency good for about twelve hours between recharges. The ModMic USB is the most advanced model, with a USB connection for PS4 and PC that allows Antlion to roll in their own sound processing to improve aural performance.
If you're on a budget, the lower cost ModMic Uni is the best choice, as it provides substantially better audio quality than any headset mic we've tested. We also recommend it for Xbox, or PC users with headphone amps or advanced sound cards. For PS4 or PCs with on-board audio, the better sonic performance of the ModMic USB makes it a worthy upgrade. Finally, the ModMic Wireless pairs best with wireless headsets, allowing you to recharge both headset and mic together while retaining a fully cable-free connection for gaming.
---
Frequently asked questions
What accessories are useful?

There are a range of accessories we could discuss, but the most important for newcomers are boom arms and pop filters.

Rather than relying on the short stands included with many USB and XLR microphones, a proper adjustable arm makes it easier to position your microphone so that it picks up your voice without taking up too much of your screen (if you're playing a game) or your camera's point of view (if you're streaming). When adjusting your arm, take your microphone's style of address into account. Side-address microphones, like the Blue Yeti, work best when you're speaking into one side, while top address microphones should be pointed directly at your mouth. We used a Blue Compass arm and Radius 3 shock mount for testing these microphones, but there are many other options available at a range of price points.

Pop filters and wind shields are the next accessory you should consider, as they reduce the impact of plosives - sounds like p and b that are harsh on the ears if they are recorded by a bare microphone. Pop filters and wind shields are normally mounted onto your mic or boom arm, and need to be positioned between you and your mic to be effective.

For XLR mics, you'll also need an audio interface and an XLR male to female cable to hook up your microphone.

Is it better to use USB or XLR?

If you're just going to use your single mic at your PC, then a USB microphone is ideal - it's plug and play, with no extra equipment needed. XLR mics need to be connected via an audio interface, but these allow you to include other audio equipment like multiple microphones or mixers. If you're just starting out, USB is the way to go, while XLR may be a better choice for dedicated content creators that want room to grow into more advanced setups. You can also split the difference - pick up an XLR mic, but use a simple XLR to USB adapter until you bring in a proper audio interface.

Which platforms can I use these mics on?

The USB mics mentioned above will work pretty much out of the box on Windows, macOS and PS4, while XLR mics will need to be connected to an adapter or interface with a USB output to achieve the same goal. The Xbox One doesn't support USB mics, unfortunately.