Cyberpunk 2077: the state of play for PS5 and Xbox Series consoles
How the game looks before the arrival of the 'next-gen' patch.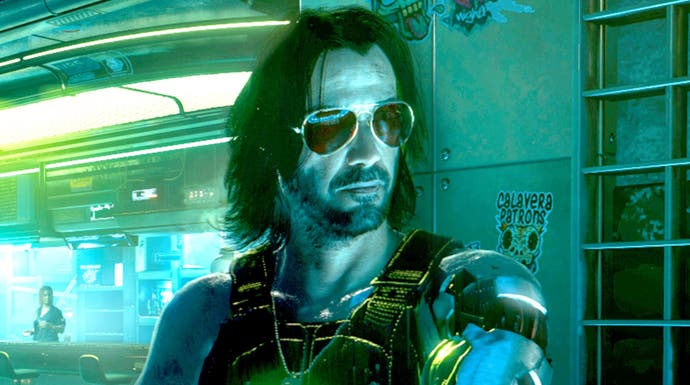 The recent release of Cyberpunk 2077's 1.23 update saw genuine improvements on PlayStation 4 consoles - enough for Sony to reinstate the game to the PlayStation Store. I covered its successes in depth a while back, but in the process, also took the time to study every other console version on this update. The blunt truth? Patch 1.23 doesn't significantly turn around the fortunes for base Xbox One or Xbox One X's frame-rate. With the next-gen machines though, there is a bit more of a story. Based on CD Projekt Red's new roadmap, this update promises to be the last major revision before an actual 'next-gen' version of Cyberpunk arrives. The simple question remains: what's the state of the game right now on PlayStation 5 and Xbox Series consoles?
Before focusing on the state of play for Xbox Series X and PlayStation 5 - which are essentially last-gen codebases running with strategic enhancements on the latest consoles - it's worth discussing Xbox Series S, which continues to deliver a good experience for a machine at its price-point. It's true, there is no 60fps mode and while 1440p is the maximum resolution target, it spends more of the time at a native 1080p instead. Of all the console releases though, this delivers one of the tighter locks at 30fps and retains stability even in our alley shoot-out stress test - traditionally a problem for the last-gen machines. It may not be perfect, but in terms of overall stability it boasts a better lock to 30fps than the Series X equivalent quality mode, and it retains its bigger brother's higher NPC count. With patch 1.23, Series S is in great shape.
Moving on to PlayStation 5 and Xbox Series X, where frame-rate is unlocked to 60fps by default, it's time to re-ask key questions after so many updates. What's the best way to play on console today? Is it still PS5 with the smoother overall frame-rate? Are there visual advantages on the Xbox Series consoles? And how do loading times stack up between all the ways to play?
Of course, Xbox Series X has a unique graphics mode toggle missing on PS5. You get one mode for quality - a 30fps option that prioritises a higher resolution ranging between lowest 1512p, and 1728p highest. And then there's Series X's performance mode, which guns for 60fps, but drops that resolution range to between 1080p and 1296p. Again no change. So it goes on PS5 as well; which still pushes between 972p at its lowest and 1200p at the top end. Focusing just on the 60fps mode compared to PS5, visually speaking Series X has a slight edge in pixel output, though there's not much to tell the difference between them owing to the heavy post-processing and temporal anti-aliasing. The biggest advantage remains somewhere else - the NPC count.
Night City was always advertised as a bustling metropolis, teeming with life around the inner city - the Chinatown area, the markets, the red light districts. On PC it delivers this bustle to great effect, but on PS5 right now, it's a very different looking game with very few inhabitants in the city. Even judged by eye in-side-by-side shots, the Series X in its 60fps performance mode fills Night City's roads with more life. Meanwhile, that NPC count only rises further on Series X when you move to its 30fps quality mode. There's more to Xbox's quality mode, including better ambient occlusion - but the higher NPC count is easily the most striking difference possible between the two machines - so add this to the wishlist for the true, dedicated PS5 release when we get it. Sadly, being anchored to PS4 Pro settings in its current state is only holding PS5 back.
All of this has an impact on performance inevitably. PS5 remains the front-runner, delivering the most consistent 60fps experience on any console. That's not to say it doesn't have it's rocky moments, but by and large, it's the one to go for with 60fps in mind. Battles can drop into the 50s at points and even after so many patches, there are a few drops while driving too, but nothing that really distracts. Meanwhile, the reality is that Xbox Series X's performance mode is well off the pace, with PS5 sticking to 60fps in places where Series X drops aggressively under - the game's Street Kid tutorial shootout being an on-point example. Again, if we have a next-gen version wish list, this would be the next addition. Xbox Series X's performance mode must be locked, and optimised for a consistent 60fps, without having to rely on a VRR display to smooth out the performance issues.
So if Series X's 60fps mode is a little disappointing, what's the score with its 30fps quality mode? You get higher resolution, improved visual settings and an even better NPC count - and the 30fps cap is mostly solid too. We're short of perfection here too; attacking all the usual stress points, we still get drops well into the mid 20s - as our video above demonstrates. But on the whole, this remains the best way to play on consoles for visual purists. Those after the best take on Night City, where CDPR makes good on its promise of atmosphere, bustling streets, higher AO settings, and a respectable resolution, should definitely check out quality mode on Series X. Patch 1.23 doesn't solve the drops under, but perhaps the proper next-gen release can deliver a tighter lock here too.
A final point here on loading time differences. Loading a save file just outside the Ripperdoc on all consoles, the first surprise is Series X in performance mode completes first at just over 12 seconds, then we see Series X's quality mode load in next at 17 seconds, within split-seconds of Series S doing the same. Series S' NPC counts have a lot in common with the Series X's quality mode, which makes sense of the similar 17 second wait. Last up is PS5 with a lengthy 49 second loading screen. PS5 is consistently behind in this regard, and remains a nuisance for reloading your last checkpoint after death too. What's clear right now is that running a PS4 app isn't doing it any favours, and the system's high-speed SSD isn't getting the results we'd expect, especially compared to the Xbox side.
Based on CD Projekt Red's roadmap, patch 1.23 is the last major revision of the game before we get the proper 'next-gen' upgrade, penned in roughly for the second half of 2021. Without a doubt, further optimisations are needed across the board - especially on the last-gen Xbox platforms, but stability aside, Cyberpunk's visuals and performance have remained relatively static on the new wave of consoles since launch.
As things stand, there's a lot that needs changing with Series X and PS5 versions, just for different reasons. The more consistent 60fps delivery on PS5 is a strong point, but the loading times and low NPC counts are noticeable drawbacks. Meanwhile, with Series X, CDPR clearly needs to tighten up performance. Beyond that, I'm intrigued to see how CDPR will use the capabilities of the new consoles in a newly revised quality mode. Remember that the current version is running in compatibility mode, meaning no access to RDNA 2's enhanced efficiency or new hardware features, such as ray tracing acceleration. With the benefits of extra time, there's an opportunity here for a more solid, less buggy, more attractive game for the new wave of consoles - and I'm looking forward to seeing what CDPR will come up with.