Xbox Series X review: next generation games machine, continuity console - or both?
Power play.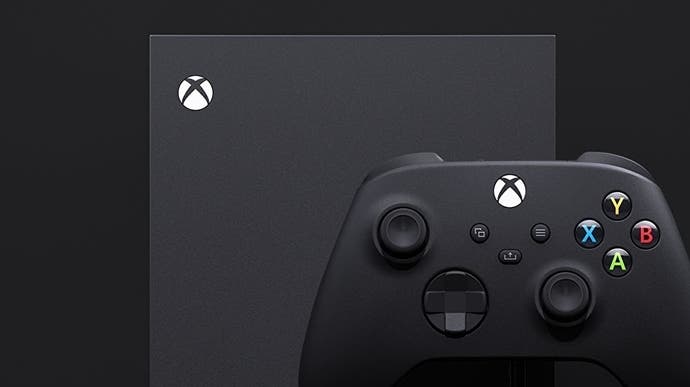 It's a strange feeling to be reviewing Xbox Series X after a preview period which essentially blew the doors open on so much of the experience. We know that Series X offers a generational leap over Xbox One and One X in so many respects: the CPU upgrade is so pronounced we couldn't measure it in backwards compatibility gaming tests, the graphics boost is a creditable 2x over One X (without even factoring in architectural advances) with more than an 8x multiplier over the One S. Combined with the fast SSD, Xbox Series X excels in delivering a lag-free console experience to the extent that returning to the current-gen machines feels undesirable, to say the least. We're not quite back to the plug-and-play ethos that defined the early games consoles, but this is a healthy step in the right direction.
Design and cooling
Desirability as a concept may be difficult to attach to the Series X itself though: it's a black rectangular cuboid - a box with little in the way of X - with few distinguishing features bar the green-accented, perforated exhaust port at the top. The thing is, it works. Series X sits next to your TV discreetly, intentionally non-intrusive from its looks to it acoustics. Clearly designed to be stood vertically, the console may be somewhat wide, but its footprint remains manageable - if not exactly media-cabinet-friendly. Series X also works resting on its side, but oddly, it seems to lose much of its unassuming nature when horizontal. It just looks rather weird.
That said, Microsoft's industrial design was excellent with Xbox One X, but it's taken to the next level with the new machine, which is nigh-on silent even under the heaviest loads we could throw at it. The traditional concepts of airflow in a gaming device are thrown to the wind: typically we look to large heat sinks and fans, plenty of space within the chassis and exhausts in all directions. Series X is packed, the densest console we've seen. It's based on the idea of drawing in heat from the bottom of the unit, propelling it through a sandwich-like design of two motherboards, then pushing it through the top, via a 130mm fan.
It all seems counter-intuitive to how high-power components should be cooled, but the thermal photography doesn't lie: the bottom of the unit barely registers to the point where the optical drive area seems to be at room temperature; the bright core in the centre flares up, as expected, but the skin of the console is still only warm to the touch. Only at the top does the heat truly register - which is exactly how it should be. Positioning of Series X shouldn't be too difficult. I'd recommend keeping it away from enclosed spaces within a media cabinet, and ensure that there's adequate air of ambient temperature surrounding it.
Setup and interface
Powering up Series X for the first time reveals a new surprise - the ability to complete setup via the Xbox phone app. Swiping through various selections, inputting your Microsoft account details - it's all carried out as the initial firmware update downloads. Similar to other Xboxes (and unlike Sony consoles), an online connection is mandatory to get going, and the process here is exactly like Xbox One - which is to say, time-consuming and rather frustrating. It's all in stark contrast to the user interface itself, which feels so fast and responsive - a genuine joy to use. This is in part down to the dashboard revamp which also rolls out to Xbox One X, but it's also a factor of the Zen 2 CPU cluster and storage and operating system refinements made by Microsoft to leverage the capabilities of the new hardware.
There's a definite feeling of familiarity with the interface though, and the immediate impression you get with Series X isn't one of a generational leap, or that the platform holder is presenting you with a fresh vision of a new dawn in gaming. This is very much continuity Xbox, for better or worse. The notion of a powerful 4K console delivering a 1080p interface - often replete with low resolution game art in iconography and the Xbox Store - doesn't exactly give the impression of a premium experience either. This is function over form, with Microsoft opting to reduce the system footprint in terms of RAM allocation as much as possible, to give as much system resource as possible to game-makers.
| Power Consumption | Xbox Series X | Xbox One X |
| --- | --- | --- |
| Power Off | 0-2W | 0.5W |
| Dashboard | 42W | 48.5W |
| Rise of the Tomb Raider (Peak, 30fps lock on both systems) | 151W | 170W |
| Dead or Alive 6 (Peak, unlocked fps - Series hits 4K60) | 165W | 177W |
With that said, Series X's Quick Resume feature - which essentially dumps off game states to SSD and reloads them at will - really is worthy of praise. The ability to dip in and out of games as you like, to jump straight into the action right where you left off really is a gamechanger, and a phenomenal use of the technology. However, both myself and my colleagues have encountered titles and scenarios that are problematic with the feature and while by and large it works great, there is the sense that it's more like an advanced beta feature at the moment, rather than the system showcase it should be.
Display support
Beyond that, an area of the system where Microsoft deserves a lot of praise in its truly remarkable display support. Let's begin with almost total support for the HDMI 2.1 feature set, which I tested extensively with the brilliant LG OLED CX. 4K at 120fps is not a problem - it works flawlessly (and somewhat eerily, it's so smooth) with The Touryst from Shin'en Multimedia. Secondly, ALLM just works, meaning that your display automatically switches into low-latency game mode straight off the bat.
Next up, variable refresh rate is potentially a game changer. This required a beta firmware update for the CX that'll roll out soon for consumers, but the bottom line is that for games targeting 60fps that don't quite hit their performance target, VRR smooths off the experience to the extent where it's really hard to tell the difference. I saw this in Dirt 5, Sekiro and even Assetto Corsa Competizione - which is some way off a locked 60fps, but still looks consistent in motion in a way that is simply not possible on an older display without the feature. The only HDMI 2.1 feature that didn't work in my tests? That'll be 8K display output, which I tested on a 75-inch LG NANO99. I'm told it is coming in future, and Moon Studios has already announced a 6K-rendered version of Ori and the Will of the Wisps (and an 8K mode as an option would be wonderful - if only for future-proofing).
I also like the way Microsoft doesn't hold back next-gen display features for HDMI 2.1 displays. 120Hz output on supported HDMI 2.0 displays should work just fine - you'll just have to settle for 1080p or 1440p resolution instead (the Xbox internally scales from native resolution accordingly) and yes, assuming VESA timings work out, it's also possible to hook up Series X to a 1440p monitor with the requisite HDMI support. Going back to the Xbox 360 days, Microsoft has provided a wealth of video output options to ensure good support with the widest array of possible displays, and it's good to see this tradition continue with Series X.
Controller and compatibility
The sense of continuity also extends to the new controller, which adds a share button but otherwise refines the existing Xbox One pad. While the controller lacks the revolutionary aspects of the PlayStation 5's DualSense, I don't want to undersell the end product. The new pad is easier to handle for more gamers, feels much better in the hand and the d-pad in particular is vastly improved. The improvements may feel subtle when you first go hands-on, but going back to the original Xbox One controller afterwards demonstrates how cumulative changes over time produce a much better product.
We've already discussed Microsoft's backwards compatibility functionality in much depth, but it's worth stressing again how the platform holder is seeking to preserve its back catalogue and to ensure that as many titles run on the new consoles and do so with higher performance, resolution and improved texture filtering. The addition of Auto HDR is another nice touch, adding high dynamic range support - of varying quality, it must be said - to the vast majority of the existing catalogue, going all the way back to OG Xbox titles. It's particularly cool to see Series X dramatically improving games that couldn't quite hit their performance targets back in the day, and as we've pointed out in our prior content, a range of games (particularly those with unlocked frame-rates or the option to disengage 30fps caps) are now radically transformed.
A different kind of gaming ecosystem
As a piece of hardware, I find it very difficult to fault much - if anything - about the silicon Microsoft has developed, the cooling solution put together to handle sometimes significantly higher power draw, nor the industrial design required to bring everything together. This is truly a great piece of kit, and while it doesn't jump out and scream 'next-gen' at you in the way that PlayStation 5 does, there's no doubt that this is a brilliant machine aimed at integrating into a very different kind of gaming ecosystem.
Microsoft is all about bringing Xbox to as many new users as possible, which means making Xbox games workable on more than just a console. It's a global view of the platform that the traditional core gamer might find difficult to accept. Xbox as a platform isn't just about the new kit we're reviewing today, it's just as much about gaming on PC. It's also about bringing in new users worldwide in territories that can't afford or can't access a console. This may well be why there is a more than a little element of conservatism about the design. Why produce a revolutionary controller if it makes the existing array of PC pads obsolete, or adds extra complications to gaming via the cloud? Why push SSD performance to the absolute max if it's going to cause issues for PC users? You can see where I'm going here.
Xbox Series X is actually packed full of brilliant technology, but its innovations are not console-exclusive: ray tracing, variable rate shading and dynamic latency input are all superb and will migrate across to PC and the cloud just fine. Shader feedback sampling seeks to mitigate the not quite state of the art SSD by reducing bandwidth and maximising a less than general leap in system memory - aspects that stand to benefit PC users just as much as Xbox console gamers. There's even some degree of machine learning support baked into the silicon: the next frontier in technology generally and already delivering some great features via Nvidia's RTX line of graphics hardware.
But where are the games? And what about Xbox Series S?
All of which should see us conclude this review with what really matters: the games. And that's where we're really struggling to provide any meaningful commentary because even now, we have so little to look at - to the point where I still have no real idea of what to expect from Series X gaming. A raft of codes arrived from Microsoft, but very few of them actually worked and of those that did, some had no Xbox Series console enhancements. Enhanced versions of existing titles are welcome, of course, but what the machine lacks is a signature title that sets out what this console is all about and why we must have one. The impressive packaging - designed many months ago, of course - leans heavily into Halo Infinite, now delayed, with no firm release date, which says it all really. The latest comms from Microsoft give us arrival dates for Series console games, but they're some days out from today's Xbox console review embargo.
Suffice to say, software will be coming in at the very last minute - hardly an ideal state of affairs in reviewing Xbox Series X as a game machine, and even less helpful in assessing Xbox Series S, which has it all to prove in making its case as an actual next-generation console. The lack of games, combined with late arrival of a retail console, means we won't be reviewing the junior Series hardware today - but I can tell you that the form factor is cute to the point of being almost irresistible, the interface is essentially identical, it has the same display controller (meaning it can address a 4K display at 120Hz!) but you only get a paltry 364GB of useable space on the SSD vs the Series X's 802GB, which is problematic. Quick Resume is part of the package there, but even at this early stage I feel Microsoft's positioning of the machine as a 1440p alternative to Series X is failing to convince, with even older titles like Forza Horizon 4 and Sea of Thieves topping out at 1080p.
A great console whose time has yet to come
Ultimately, I believe that in Series X, Microsoft has indeed delivered an excellent next-generation system - but one that likely won't show its many strengths at launch. Part of that is down to the lack of first party titles that really put the new technology through its paces and another part is very much down to Microsoft's vision of a more gradual evolution in gaming as opposed to the generational, revolutionary shift Sony is aiming for with PlayStation 5. Publishers wholeheartedly embracing cross-gen development to an extent we've never seen before doesn't help the Series consoles in establishing them as a full-blooded generational leap either. In the here and now at least, I love the hardware in terms of what I can potentially experience with it and the expert implementation of many of its forward-looking features - but a console is defined by its games, and in that sense, I still feel that I barely know the machine at all.