Resident Evil 3 demo analysis: the game's brilliant but something's up with Xbox One X
UPDATE: Release code unchanged, Capcom investigating a "solution".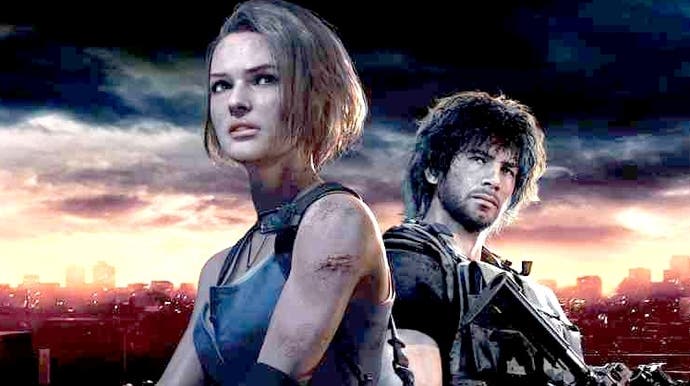 UPDATE 1/4/20 2pm: Digital Foundry has completed its testing of the release version of the Resident Evil 3 remake and found that the playable demo currently available to all users is indeed a good indication of performance in the retail game, meaning that of all the console versions available, PlayStation 4 Pro offers the most consistent experience and is our recommended pick. Meanwhile, as with the demo, Xbox One X trades too much in performance terms in exchange for its 2160p rendering. Traversing the console power ladder, frame-rates on the base consoles continue to be variable, with Xbox One S running at a disadvantage compared to PlayStation 4.
We asked Capcom for comment about the Xbox One X showing and got this statement: "Capcom is definitely aware of the fan feedback with regards to Xbox performance, so they may look into providing a solution sometime after launch." From our perspective, we would hope to see the option to choose between higher frame-rates at 1620p (as per the X's pixel count in Resident Evil 2 Remake) or an image quality mode for the current 2160p set-up.
In truth though, while the focus has been on Xbox One X's issues, we also think that the option to lock console performance to 30fps would be a welcome addition to a prospective patch - and while this would be ideal for Xbox One X's 2160p output, it would benefit the standard vanilla consoles especially. As you'll see in the video report below, the inconsistency in frame-rate on the standard machines isn't exactly ideal. We'll report back if any update to the Resident Evil 3 remake appears.
ORIGINAL STORY: Another superb remake is on the horizon from Capcom with the Resident Evil 3 demo hitting PS4 and Xbox One consoles - showing how its RE Engine has evolved since the Resi 2 remake. Fans of the original Playstation game will be well prepared for what's to come: it's a more action-orientated take on the series from the word go - fewer puzzles and more focus on firepower to push through - with the threat of Nemesis looming around every corner. This is a marked departure from the last game too, not just in tone but also in how the RE Engine is deployed, with some major change seen in the Xbox One X rendition of the game.
The demo itself is a relatively lean slice of the action, delivering about 30 minutes of gameplay in all - and after a few attempts, you could probably speed-run it in under 10. So what we're seeing here is very much a small sample of a greater whole, and we have no real idea of how close to completion this demo actually is. The demo is seemingly configured for this play length too, even down to the layout of zombies, weapons, and Nemesis encounters. Expect things to be shaken up here for the final game - and I hope that changes extend to the default brightness too, which is simply too dark by default. The tools are there to calibrate the game more effectively, but the standard preset really need some work.
In terms of image quality, there are some parallels with RE2 Remake, but there is a twist. Xbox One X now targets a full 4K as opposed to the 1620p target from the prior game, though once again it does look like reconstruction techniques are used to generate its 2160p framebuffer. The results aren't necessarily as sharp as you might expect, but the improvement to clarity over the PS4 Pro version is clear (Sony's enhanced machine remains at the same 1620p as RE2). Again, the Pro version also seems to be reconstructing with stippling checkerboard-stye artefacts in play. The resolution parity we saw in RE2 Remake is gone, then - X pushes more pixels and this does result in a significant performance penalty.
The base consoles are easy to cover off: PS4 runs at standard 1080p, while Xbox One S matches it in best case scenarios - albeit with a dynamic resolution that can see it drop closer to 900p based on GPU load. It's not wildly different to the setup in the Resident Evil 2 remake; if you liked the results there, you'll be right at home this time. Clearly though, there's no skirting the point that base Xbox One pushes the blurriest image of the bunch, but the game still looks very respectable in that case.
There's a big shake-up to performance and I think this is the biggest surprise. Previously we've seen Xbox One X as the pack leader in frame-rate, but that's simply not the case for this new demo. The enhanced machines' resolution parity in RE2 Remake saw both consoles deliver a nigh-on locked 60fps, with Xbox One X delivering a small advantage in terms of overall consistency. In the RE3 demo, Xbox One X exhibits clear problems, dropping into 40-50fps territory in the main shopping area and dipping still further into the 30s for cutscenes. The big distinction between gameplay and in-engine scenes is the addition of a high quality depth of field - and it does no favours for X performance at all. PlayStation 4 Pro holds up, but what Xbox One X gains in image clarity, it loses in frame-rate terms.
The base machines follow the same pattern as Resident Evil 2, with far less consistency in overall performance. However, in some cutscenes, Xbox One X actually manages to run slower than the baseline Xbox One. There's a case here for an optional 30fps cap - and in the case of the enhanced machines, the ability to choose between 1620p and 2160p resolutions (in effect, a quality and performance mode) would be welcome.
Of course, this is just a demo and the final game could change everything. The evidence we have to hand does suggest that dropping Xbox One X back to 1620p per its predecessor could resolve the title's performance issues - and based on the inconsistent showing here, it's clear that smoother frame-rate trumps a higher pixel count. Hopefully, Capcom will resolve the issue here because for all of the technical oddities present in this demo, the game promises to be brilliant. It's tense in just the right way and lives up to the tradition of the original by focusing on action first - a refreshing change of pace that feels truer to its bombastic spirit. We can't wait to put the final code through its paces closer to the game's April 3rd release date.