Crash Bandicoot on PS4: retro gameplay meets state-of-the-art visuals
Digital Foundry presents comprehensive PS4, Pro and original PlayStation analysis.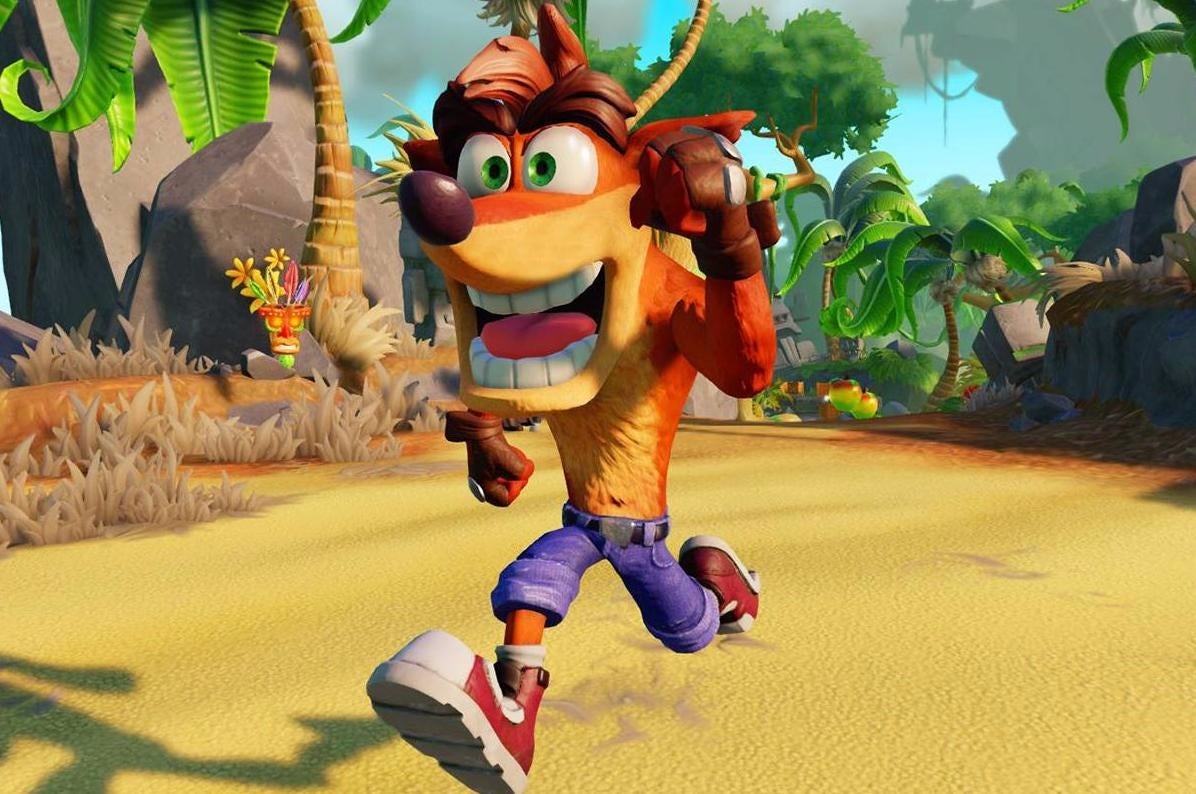 The original Crash Bandicoot started development in 1994, and in the eyes of its original developers - Naughty Dog's Andy Gavin and Jason Rubin - it would be the very first 3D platform game. The concept was simple - summed up its creators as 'Sonic's Ass' - a 90 degree rotation of a 2D playfield into a rolling 3D platforming world. Gavin and Rubin would team up with others, including a certain Mark Cerny, and the original Crash Bandicoot trilogy on PS1 went on to break technical boundaries and sell millions. Still revered by many, today we can replay those games on PlayStation 4, with completely rebuilt, yet still authentic, remakes of those original games.
Developer Vicarious Visions has bet the house on the original Crash formula holding up: there are some changes to the way the third-person camera behaves, but otherwise the gameplay is completely identical to the PlayStation releases. Fire up the PS1 code, and aside from a 'smoother' feel to the controls owing to the more modern animation, and that's pretty much exactly the experience you'll get today from the remake. And yes, that does mean that the original Crash Bandicoot remains unforgivingly difficult in a way that simply isn't much fun, while both sequels offer up radical improvements to the gameplay experience.
First up, let's get the rendering basics out of the way. The N.Sane Trilogy renders at 1080p on base PlayStation 4, while PS4 Pro owners see the same presentation running at a higher 1440p output, bolstered by very minor visual improvements including enhanced shadow map resolution and improved ambient occlusion [UPDATE: Yes, 1080p users do get downsampling support here]. But the real story isn't in the pixel-count, it's in the approach that Vicarious is taking with the core aesthetic of the game - specifically, an ambitious attempt to remake the originals almost like interactive CG movies, with a Pixar-like visual language.
It's an approach we've seen pay off handsomely in the past, specifically with Insomniac's beautiful Ratchet and Clank - and there's much to connect that release with this new take on Crash Bandicoot. First off, Crash himself is now rendered at a higher level of detail than ever before. A detailed fur shader is used on the eponymous marsupial, along with other critters throughout the game, bringing a new level of quality to his rendering. Crash was always an expressive character but the remake delivers on an attempt to bring a pre-rendered movie into real-time.
The new game also benefits greatly from a very high quality motion blur. Don't worry, it doesn't smear the camera or remove detail - it's a subtle effect which, again helps give the impression of a pre-rendered movie. It works extremely well on Crash's animation and greatly improves the fluidity of it, which in turns helps to make the game feel a little smoother to play than the originals.
The environment then enjoys a fresh take on the original texture work. Those original assets are rather low-res by today's standards so the developer was left to interpret this original work at a much higher fidelity. The result is revelatory but at the same time, the side-by-side comparisons in the video show that the end results are still highly authentic - it's very different, but yet, the same. Beyond that, in the original, flat textures were used to represent grassy areas as well but in the new iteration, 3D blades of grass are placed throughout each level where appropriate.
Shadow maps also make an appearance this time around. Sunlight filtering through the trees now cast the expected shadows across the world. This was impossible back on the PlayStation but it enhances the environment by allowing the surrounding environment to interact with Crash and the world itself. In fact, the lighting model itself is very much based on modern rendering methods, dramatically altering and improving upon the original game - especially in the later Crash titles, where the scale and scope of dynamic lighting effects is dramatically enhanced in the PS4 release. Bloom effects are also deployed, radically transforming the early jungle levels of Crash 2.
Enhancements made in the original sequels also carry through to the remake with often beautiful results. Weather was introduced in Crash 2, and basic rain effects seen on original PlayStation hardware are re-envisioned as a full-on stormy atmosphere in the PS4 remake. Water effects also see a huge improvement with a nice shader applied to the surface and reactive ripples as Crash runs through - it's interesting to note that full reflective shaders are used here, where the original titles placed objects under the surface texture to simulate the reflection effect.
At this point, it should be clear that these games have seen a massive upgrade in quality. In terms of control, Crash 2 was already improved over the original and Vicarious tinkers further with the way the game plays. Certain surfaces, such as ice, react slightly differently to Crash, for instance. It acknowledges that certain aspects of the game required a mild revamp to work better for modern audiences, but series purists may beg to differ.
Crash Bandicoot 3 on original PlayStation hardware is something of a technological masterpiece for its time. By this point, Naughty Dog had refined its skills and was able to deliver stunning visuals and animation - something exemplified by its real-time 3D intro sequence, which featured expressive characters with fully modelled facial features and lip sync.
The introduction sequence is fun and the remake follows along almost exactly, but the technological leap here from PS1 to PS4 is remarkable - it's like we're actually seeing a pre-rendered Pixar-style movie, except that it is indeed running in real-time. We spent a lot of time comparing various stages in Crash 3 to the N.Sane Trilogy remake - check out the video to see the care and attention Vicarious put into its work here, but the key takeaway here is that the developer has upped its game in step with Naughty Dog, while at the same time retaining a defining aesthetic through each of the three games.
On top of all this, the entire soundtrack has been remastered. We're not exactly huge fans of the originals' tunes, but they do sound noticeably better. On the original PlayStation, the tracks were all sequenced and played back via the system's audio chip. On PS4, though, most games just rely on pre-recorded digital playback - there's still no recognisably iconic signature tune for the platform mascot, but it gets the job done.
Thus far, the message is clear - this is a beautiful remaster. However, we would have dearly liked to see Vicarious target 60 frames per second instead of the half-rate refresh that's delivered in the final game. It's especially frustrating as a full-fat 60fps trailer was released back in the day that was at odds with our initial look at the game's showing at the PlayStation Experience last December, which showed a clear 30fps read-out - but 30fps it is.
On one hand, the originals were also 30fps but on the other, platform games just work better at full frame-rate. So, while the visuals are top notch, it does feel like an opportunity has been missed here as the higher performance would have resulted in a more responsive and enjoyable game. Once Crash hit the PlayStation 2, the series made the jump to 60fps as did Naughty Dog's own Jak and Daxter. Clearly they would have loved to go for 60 with Crash as well but it was impossible back then. These days, though? We think it should have been possible, but at least the excellent motion blur helps smooth out the image.
As things stand, frame-rates are very consistent on both PS4 and Pro, with perfect frame-pacing. On PS4 Pro, we never encountered a single dip and that's mostly true on the base PS4 as well but in select cut-scenes, we did run into drops to 20fps due to a double-buffer v-sync set-up. This never really intrudes on gameplay, thankfully. More intrusive are the more prolonged loading times - between initial loading and choosing which of the three games you want to play, it can be a little trying, particularly as the hub-based set-up sees gameplay peppered with frequent, somewhat irritating delays.
Ultimately though, while it's not quite perfect, Vicarious has a beautifully crafted remake let down only by its 30fps target. If you've been looking to revisit Crash, it's difficult to go wrong with this package. It's clear that the developers have poured a lot of love into re-creating these games, and if the aim has been to re-introduce this neglected mascot to modern audiences, it's a job well done. Our hope is that this paves the way for an all-new Crash title - one that pairs the beautiful visuals of the N.Sane Trilogy with a fresh batch of gameplay ideas.
Will you support the Digital Foundry team?
Digital Foundry specialises in technical analysis of gaming hardware and software, using state-of-the-art capture systems and bespoke software to show you how well games and hardware run, visualising precisely what they're capable of. In order to show you what 4K gaming actually looks like we needed to build our own platform to supply high quality 4K video for offline viewing. So we did.
Our videos are multi-gigabyte files and we've chosen a high quality provider to ensure fast downloads. However, that bandwidth isn't free and so we charge a small monthly subscription fee of £4.50. We think it's a small price to pay for unlimited access to top-tier quality encodes of our content. Thank you.
Support Digital Foundry