MSI GT72 2QE Dominator Pro with GTX 980M review
A new level in gaming laptop performance.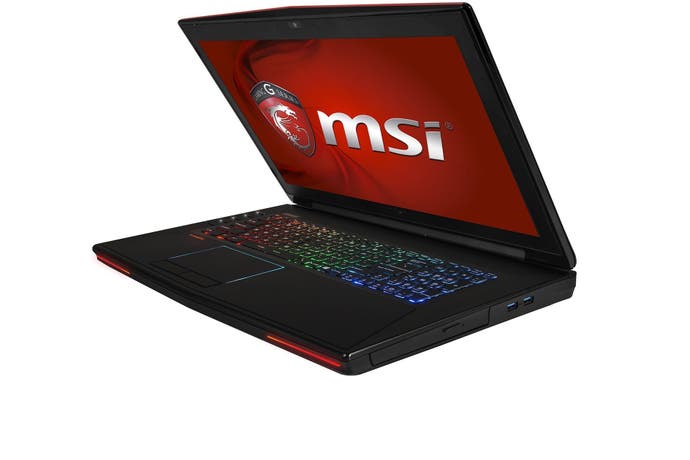 Let's lay the cards on the table right away: jumping from the GeForce GTX 880M to the GTX 980M is not only a vast upgrade, but more than ever it narrows the performance gap between Nvidia's laptop and desktop GPUs. It's a different story for the desktop GTX 980 of course - which despite using the same Maxwell architecture only achieves a meagre advance over the former flagship card, the 780 Ti. Ultimately, Maxwell's triumph is in its energy efficiency - more performance from less power, a perfect fit for a gaming laptop.
As a bedrock, the GTX 980M is based on the same GM204 architecture found in the desktop Maxwell-based cards; produced via a 28nm process, with a matching 64 ROPS and 256-bit memory bus. One crucial change is in its axing of four SMMs from the original 16 - in turn lowering the CUDA core count from 2048 to 1536, and texture units from 128 to 96. Otherwise, we see the core clock slip from 1126MHz to 1038MHz, though the 980M is able to boost up to the desktop's clock under the right circumstances.
In effect, this brings its specs a closer to a trimmed-back version of the desktop GTX 970. To future-proof it somewhat, the GTX 980M has an 8GB pool of GDDR5 memory to its advantage, comfortably exceeding the desktop card's best configuration (though 8GB models for the desktop GPUs are inbound). Alas, this memory setup uses a lowered clock of 5000MHz (down from 7000MHz), and relies on a lessened 160GBps fill-rate. Given it's all in service of the laptop's fixed 1920x1080 screen, these specs are still well matched with the hardware at hand.
For this review, MSI's top-end GT72 2QE laptop plays host to the new Maxwell tech - a spiritual successor to the GT70 2PE model built to showcase the 880M last year. This time, the chassis is revised in several key aspects to improve performance. Chief among the changes is the cooling set-up: both the Core i7-4710HQ processor (used in this model with a 2.5GHz base clock) and GTX 980M are fastened to their own aluminium fin arrays inside, while two fans funnel air towards vents on the laptop's rear.
A line of physical buttons are added to the GT72 keyboard's left side, meanwhile. In particular, one allows us to force the laptop fans' maximum RPM. It makes sense to enable this while on mains power, if at all, due to this mode's inevitable leech on battery life. The downside is that, as an extreme setting, it also overwhelms the laptop's speaker volume at max - a problem also experienced with the default fan settings as they scale with GPU load. However, here it's noticeably amplified.
For those tolerant of the hoover-like rush this mode produces though, it does aid the laptop's thermal readings while gaming. In testing with Metro: Last Light's benchmark tool, this reduces the 980M's recorded peak temperature of 72 degrees Celsius to just 64 over hour-long tests. In theory, this gives both the GPU and CPU an overhead to work with too, allowing for more regular use of their boost clocks.
As a gaming machine, MSI's GT72 hardware is aptly built to match the top-end experience promised by its internals. Its 1080p TN screen errs on the cooler end of the colour spectrum, but with the noticeably fast pixel response expected of this panel tech. As for connectivity, the laptop offers one HDMI v1.4 output, and two mini DisplayPort slots, allowing up to four active displays at once (including the laptop's own screen). Backing that up are six USB 3.0 ports, one Ethernet connection, an SD card reader, and an array of audio ports on the laptop's left edge - while a Blu-ray drive flanks its right side.
Curiously, MSI opts to integrate the 9-cell battery into the chassis this time, making it impossible to hot-swap with spares while on the go. This means any gaming you do on a commute has to last off a single charge. As a baseline, we get three to four hours of internet browsing here, with both screen brightness and speaker volume set to 50 per cent (and high performance selected in Windows power settings). All in all, it's a solid result, and as a rough indicator of power usage we see MSI's diagnostics reveal an 18 watt draw at idle, while the mains-powered reading fluctuates around 100 watts.
| GTX 980M vs GTX 880M | MSI GT70 2PE/880M | MSI GT72 2QE/980M |
| --- | --- | --- |
| Crysis 3, Very High, 2x SMAA | 39.3 | 54.6 |
| Tomb Raider, High, FXAA | 103.1 | 142.3 |
| Metro: Last Light, High, SSAA off | 48.7 | 77.0 |
| BioShock Infinite, Very High, Post-AA | 89.4 | 109.6 |
| Hitman: Absolution, High, 8x/2x MSAA | 29.2/49.3 | 38.5/67.1 |
| Thief, High, FXAA, SSAA | 47.5 | 71.1 |
But how does this meaty battery stack up for gaming on the go? With Nvidia's GTX 980M at its heart, the laptop qualifies for the battery booster mode in Nvidia's GeForce Experience program. The idea here is that, for any game running at high frame-rates, you can implement a cap - at 30fps, for example - to significantly reduce GPU load. With a stopwatch to hand, we find the actual savings on battery life vary based on a game's settings. For example, when battery boost is unchecked, we can loop Metro: Last Light's benchmark tool at 1080p, with very high settings and SSAA engaged for a total of 45 minutes. But taking these exact settings once again, this time with battery boost enabled for a 30fps cap, we land one hour of playback before the battery life expires.
It's a 33 per cent improvement based on maximum settings, but the initial battery life is hardly anything to brag about. However, given this first test's average frame-rate hangs around 36fps anyway, it's clear forcing a 30fps cap is going to be less effective in saving unneeded GPU cycles. That being the case, what happens when the hardware would otherwise be capable of reaching higher frame-rates?
Dropping the same Metro: Last Light test to high settings, with high tessellation, and SSAA unchecked, we're able to achieve a 50-60fps read-out this time. With battery boost mode disabled, this gets us to 50 minutes. However, with the mode checked to enforce a 30fps cap, this benchmark shows a huge improvement at high settings - with the benchmark looping around for one hour and 25 minutes. That's a 70 per cent mark-up in battery life - impressive!
Evidently, there are plenty of variables at play, with screen brightness, speaker volume, plus your choice of connected peripherals all having an impact on results. However, it's clear this technology is capable of massively boosting battery life while playing top-tier titles. The sacrifice of 60fps for 30fps is a tough pill to swallow, of course, but under the right settings the technology delivers. The only downside, alas, is that a full battery recharge takes two hours and 40 minutes to complete.
| Mains vs Battery | Mains | Battery | Battery Boost |
| --- | --- | --- | --- |
| BioShock Infinite, DX11 Ultra DDOF | 82.3 | 50.2 | 29.6 |
| Tomb Raider, Ultimate, FXAA | 81.6 | 36.6 | 29.5 |
| Battlefield 4, Ultra | 64.1 | 36.3 | 29.6 |
| Metro: Last Light, Very High, SSAA | 36.8 | 20.5 | 20.1 |
| Crysis 3, Very High | 54.6 | 29.7 | 27.8 |
| Typical Power Draw | 190W | 66W | 55W |
Even with battery boost switched off, power levels while playing straight from the battery are very tightly controlled. As an indicator of how power is managed while gaming, MSI's diagnostic tool shows the laptop's overall draw is frozen at 66 watts on battery, while a mains-powered test gives us between 190 to 210 watts. Again, this is with 'high performance' enabled in Windows 8.1, and with screen brightness and speaker volume at 50 per cent.
To achieve this massive cut, certain sacrifices are made. The CPU throttles between 1.8GHz and 3.3Ghz, a stark contrast with the mains-powered figure that holds closer to the boosted 3.5GHz clock. The fan speed is also radically curtailed, not once rising to audible levels during our tests as it would normally - with a throttle to GPU clocks also in effect. Put simply, these desktop replacement gaming laptops require serious juice to run at full strength - the GT72 ships with a 230W power supply, and it's clear that the internal battery cannot supply anything like the same level of power.
Running directly off the battery, at 66 watts, maxed-out games like Crysis 3 and Battlefield 4 are significantly more prone to lurching frame-rates. Enabling a 30fps cap via Nvidia's battery boost mode goes some ways to evening this experience out. However, while this is successful in averaging out a 30fps refresh, we still notice that the frames aren't ordered in an even manner. This leaves us with uneven motion in practice, and the perception that the frame-rate is lower than it actually is.
Plugging the GT72 back into the mains, we're handed back the reins to the GTX 980M's full power. In comparison with the GTX 880M, the staggering takeaway is that every benchmark sees a sharp boost in performance between Kepler to Maxwell. The only exception here is Bioshock Infinite, running at very high settings, which achieves only a 22 per cent boost in performance. For every other metric, we see a momentous increase that simply doesn't manifest in desktop comparisons. This is Maxwell at its best.
| Desktop Comparison | GTX 980M | GTX 680 | GTX 780 | GTX 970 | GTX 980 |
| --- | --- | --- | --- | --- | --- |
| BioShock Infinite, DX11 Ultra DDOF | 82.3 | 79.7 | 99.5 | 111.1 | 121.6 |
| Tomb Raider, Ultimate, FXAA | 81.6 | 56.2 | 71.3 | 66.8 | 91.1 |
| Battlefield 4, Ultra | 64.1 | 50.6 | 65.2 | 77.3 | 87.2 |
| Metro: Last Light, Very High, SSAA | 36.8 | 31.4 | 40.9 | 47.7 | 52.0 |
| Crysis 3, Very High | 54.6 | 50.7 | 60.9 | 70.5 | 86.7 |
As far as competition with the desktop heavyweights goes, it inevitably doesn't win out - but the fact it comes close enough is something of a victory in itself. When running benchmarks tools found in Thief, Tomb Raider and Bioshock Infinite, the laptop GPU consistently aces 2012's top-flight GTX 680. A 60fps average is met or exceeded in most games here, with the card falling just shy of last year's GTX 780. It wasn't so long ago that this was a top-end card and the fact that the same level of performance is now available on mobile is phenomenal.
However, it does illustrate that mobile chips remain considerably less powerful than their desktop equivalents: from our benchmark table, it's clear that the GTX 980M is unmistakably still a few steps behind the GTX 970, let alone the reigning GTX 980. Even with access to full power from the mains, unfortunately we notice Crysis 3's on-rails test showing a powerful GPU isn't always enough. In this case we spot CPU bottlenecks flaring up around heavily AI populated points. On the scripted route through a battle zone, the game stutters noticeably in every re-test of this section, while desktop GPUs fly through unscathed. Across the range of tests, this is thankfully the only game that shows obvious limits this area.
MSI GT72 2QE Dominator Pro with Nvidia GeForce GTX 980M: the Digital Foundry verdict
One point stands out above all else in reviewing the GTX 980M: that Nvidia's new Maxwell architecture produces a far more satisfying generational leap on laptops than it does for desktop cards. Plugged into the mains, it's a GPU that blitzes all mobile competition at the time of writing. The GTX 880M is tellingly outdone in every metric, despite being an industry leader just a year past, with Metro: Last Light turning in the biggest performance boost with an incredible 55 per cent mark-up.
It's clear Maxwell's power efficiency is at the heart of this upheaval. It unlocks a grade of performance in MSI's GT72 2QE notebook that falls closer to desktop cards than anything we've seen in the past. The desktop comparisons we've carried out for this feature show remarkable results that the outgoing GTX 880M would never be able to manage - the full-sized GTX 680 is comprehensively bested, with the new GTX 980M providing gaming power remarkably close to the GTX 780, a card that was being compared favourably to the mighty GTX Titan not so long ago.
MSI's GT72 2QE is a well-designed piece of kit too. Sporting a resilient, muscular chassis with a responsive 17.3-inch TN panel, its ability to effectively channel airflow makes it a great host to its assorted collection of high-end parts. Played from the battery, the option to cap frame-rates for boosted battery life works out very well indeed too. Under the right settings, a 50 minute stretch of gameplay can be extended to 95 according to our tests on this laptop, and possibly more given the right game. However, the price to pay is rather uneven performance and some very dodgy frame-times at points. As a version one work-in-progress, it's an interesting technology but it clearly needs some work.
However, the chances are that if you're in the market for a full-on gaming laptop, you're most likely aware of the performance issues when running from battery, and power notebooks like this tend to spend most of their time plugged in anyway. In this scenario, the MSI GT72 2QE is clearly a potent piece of kit - a proper desktop replacement with the performance to match.