Face-Off: Child of Light
One game, six platforms. Can they all sustain 1080p60?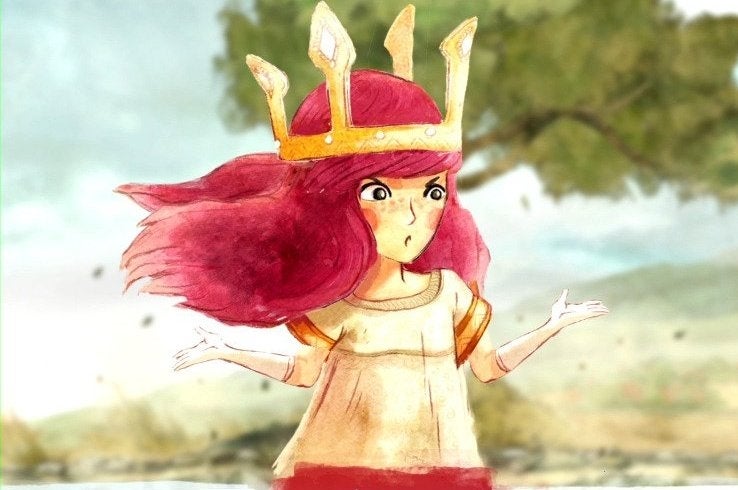 Ubisoft's delightful RPG Child of Light is brought to life using the same UbiArt Framework technology behind the last two outstanding Rayman games - but with a twist. Beautiful and imaginative, the world in Child of Light is created via rich water-coloured artwork where characters and scenery are displayed with fine brush stroke details, leading to a vivid and dreamlike painted appearance. Various layers are used to create depth and give locations a real sense of atmosphere, while the use of dynamic lighting forms an integral part of the gameplay - light sources are used to illuminate hidden or dark pathways during exploration, solve puzzles, heal your characters, and slow down enemies in combat.
All of this is presented at a smooth 60fps update that one would expect from any high-quality 2D game. In fact, one of the stand-out features of the UbiArt Framework engine is the ability for it to handle native 1080p visuals running at 60fps across a wide range of platforms - as demonstrated by Rayman Legends and its equally superb prequel. With this in mind it comes as a surprise to learn that with Child of Light Ubisoft Montreal has elected to use a very different rendering set-up from the Rayman games, with the last-gen platforms failing to hit the full HD standard.
The topic of resolution is particularly interesting where PS4 and Xbox One are concerned. Child of Light provides us with a crisp 1080p presentation, but some evidence suggests that elements of the presentation are derived from rendering at a much higher resolution and then down-sampling - a process known as super-sampling. The lack of long straight edges makes pixel counting difficult, but our analysis throws up two separate numbers for horizontal resolution - 2304 and 2112 were both extracted from the same scene - while vertical resolution is consistent at 1440. This isn't entirely confirmed, then - it may well be the case that a form of multi-sampling is in effect, but the edge-smoothing is quite unlike any other form of MSAA we've seen before. You can peer at the effects on all six platforms by checking out our expansive comparison gallery.
"Child of Light provides us with a beautiful 1080p presentation on both PS4 and Xbox One, seemingly super-sampling down from a much higher 1440p native resolution."
Alternative comparisons:
The same high standard of image quality is present on the PC version of Child of Light, which also seems to be using a similar sampling implementation to PS4 and Xbox One, with no option to adjust the effect. Similar to Rayman Legends, the visuals settings are limited to resolution, brightness, and the ability to toggle fluid simulation on and off. Unusually, the ability to engage v-sync is nowhere to be found and neither is there any way to cap the frame-rate via the in-game menu. Instead Child of Light largely operates with what looks like variable v-sync enabled, leading to some occasional tearing. It's also possible that v-sync just isn't working correctly, which seems to be a reasonably common occurrence in PC games that feature limited or no options with regards to refresh rate.
It's with the PS3, Wii U and Xbox 360 games that we see significant differences. Unlike the Rayman games, 1080p resolution is dropped in favour of a native 720p presentation that gives the game a softer appearance compared to the current generation and PC releases. The form of anti-aliasing is more difficult to pin down here, but we wouldn't be surprised to see super-sampling of some description utilised, bearing in mind that we know that the UbiArt engine is more than capable of sustaining 1080p60 on last-gen platforms. We're a little surprised that Ubisoft elected to use this technique instead of the native 1080p approach found in Rayman Legends that worked so well.
Outside of the impact the reduction in overall image quality has on the presentation, there's actually very little to separate each version of Child of Light from one another from a technical point of view. The same core artwork appears to be in use in all versions of Child Of Light, with the upscale to 1080p and odd AA blur issues responsible for a loss of fine detail on the 360, PS3, and Wii U consoles.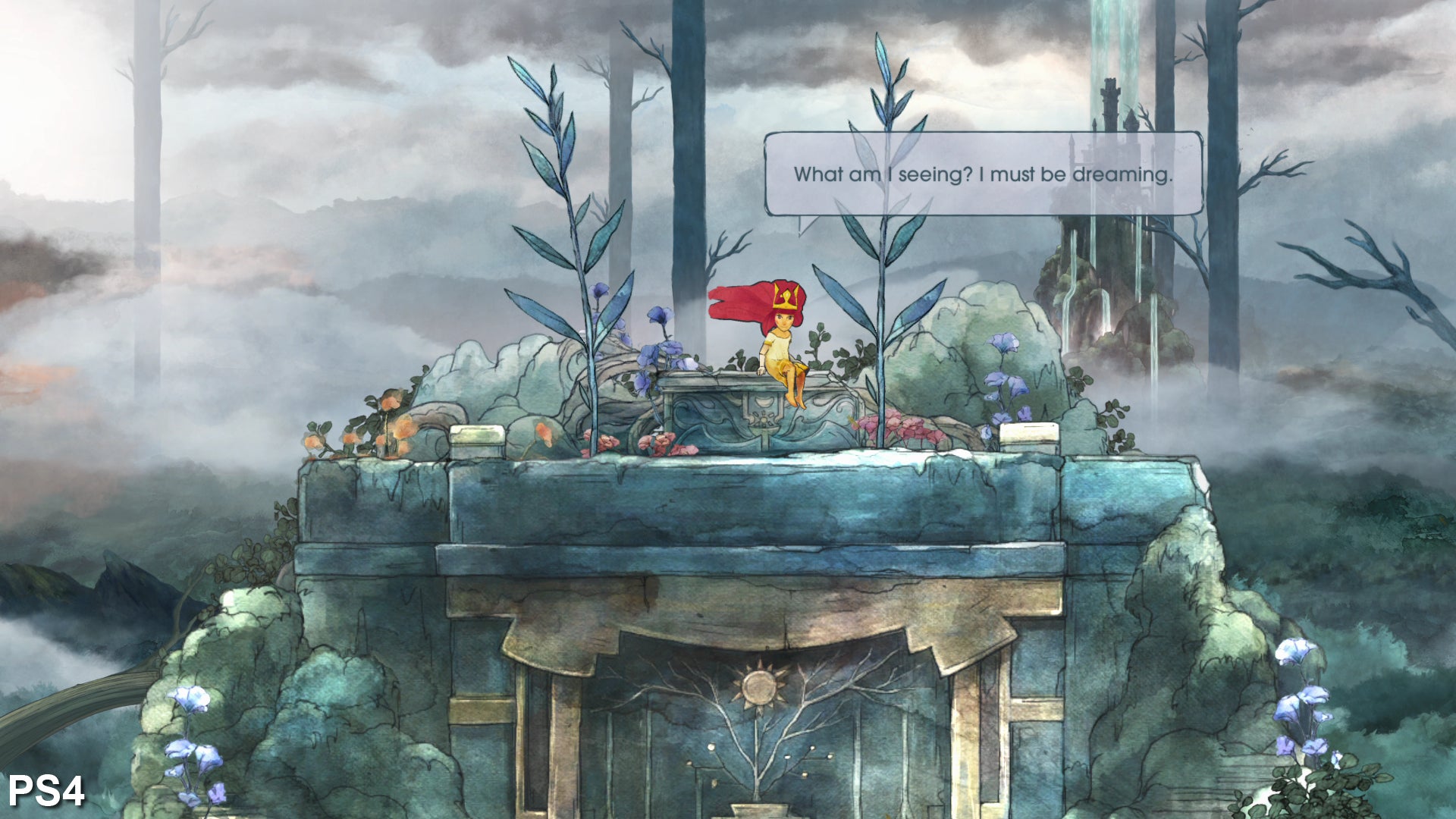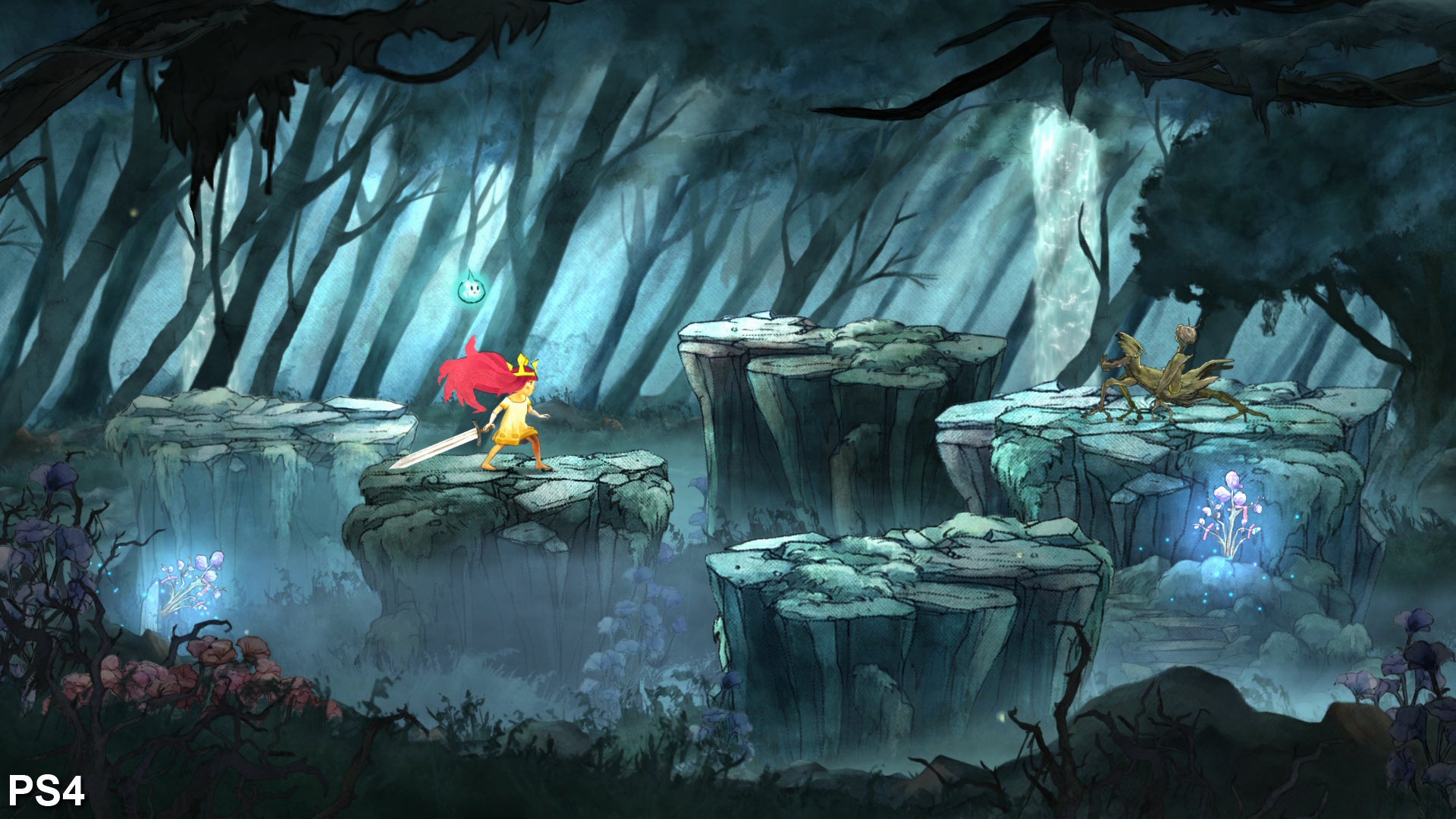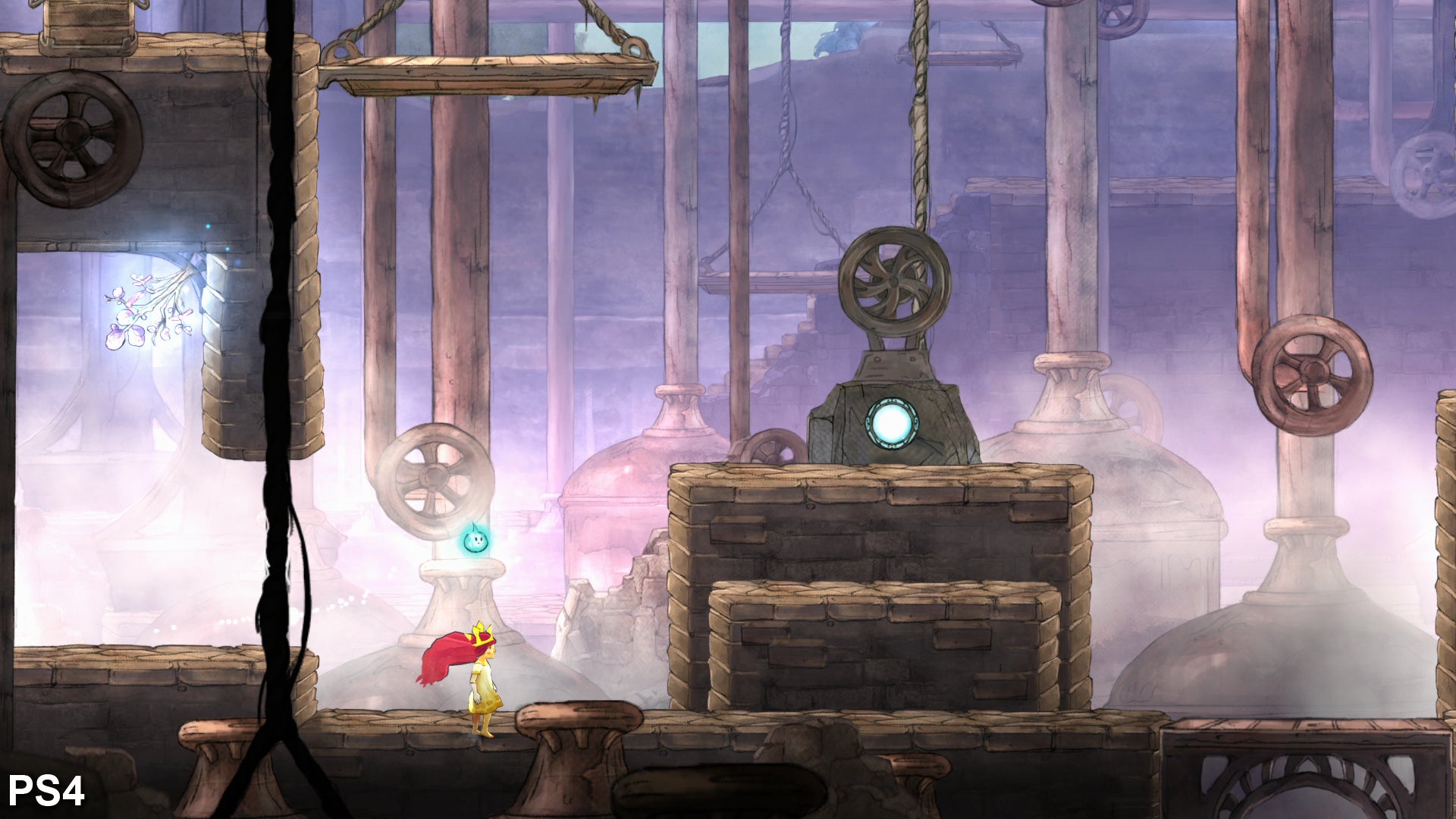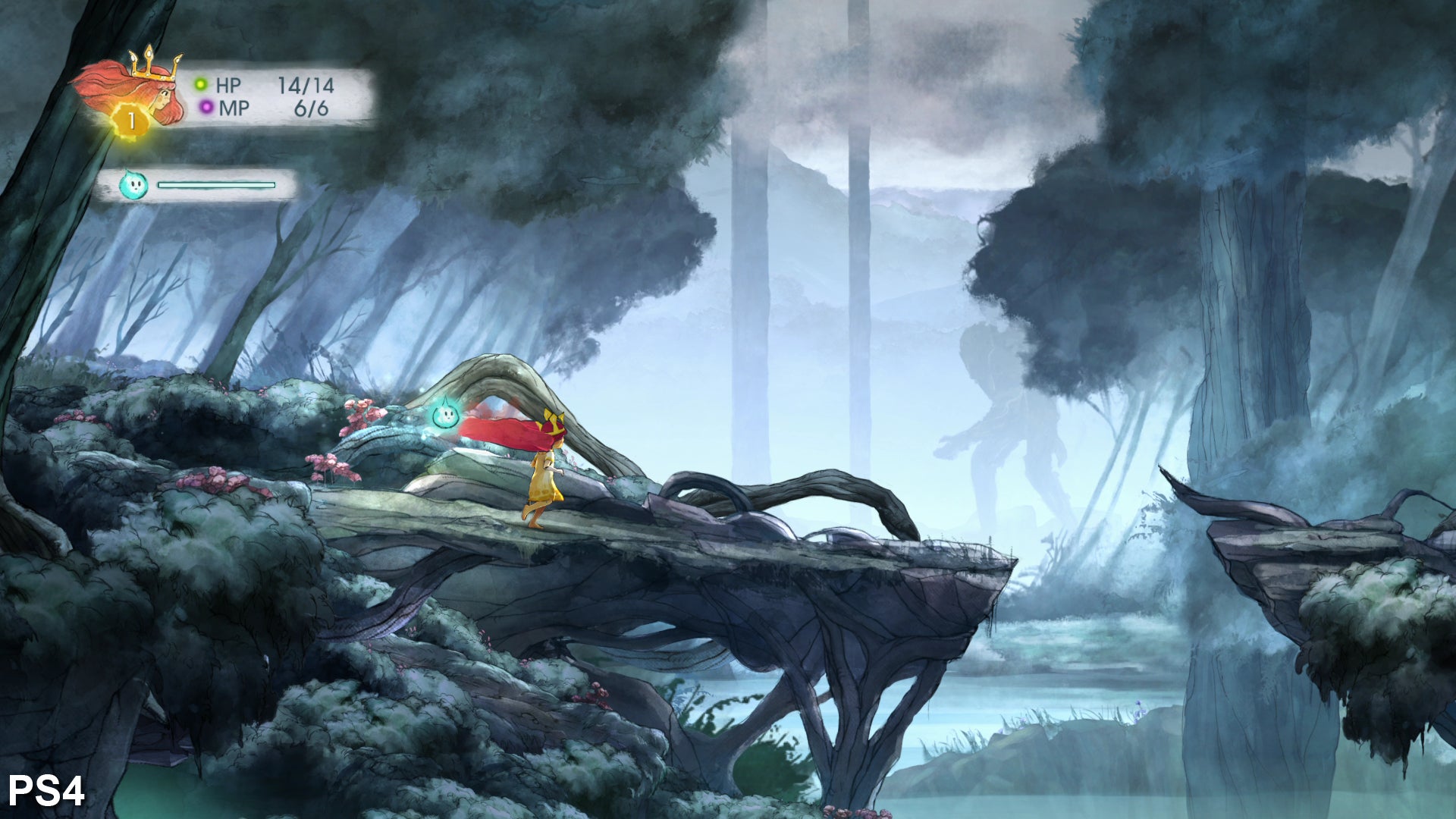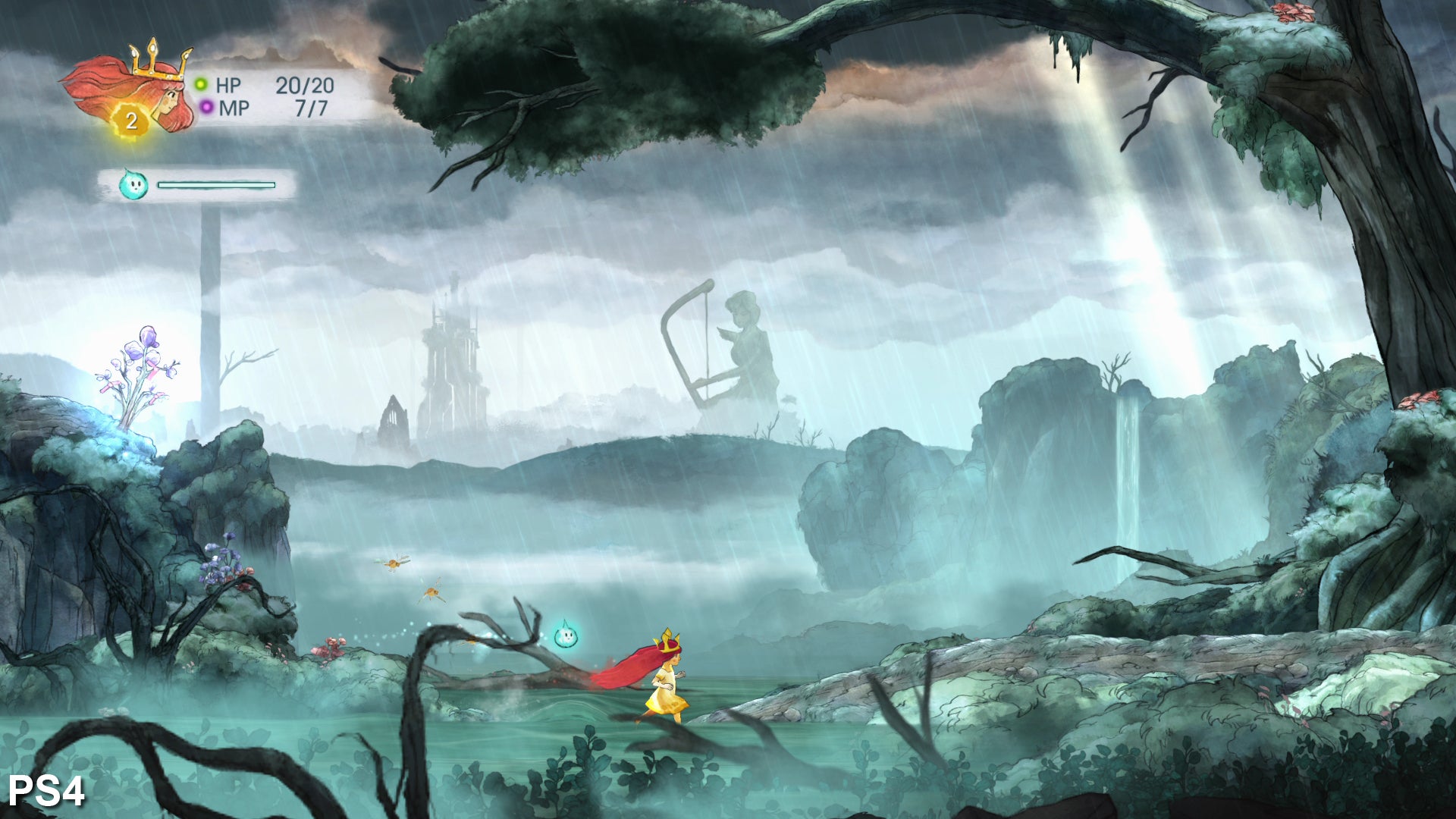 For the most part the same high standards are also in place on the Xbox One release, but there are moments where the engine falters, resulting in brief drops in smoothness and some mild - but noticeable - stuttering. The relative rarity of these inconsistencies mean they have no adverse impact on gameplay throughout most of the experience - at worse we looking at drops down to around the 52fps mark, but usually the impact on performance is much smaller and often goes by undetected when immersed in exploring the beautiful watercolour world on offer.
That said, seeing frame-rate drops in a 2D title is rather disappointing and not something we'd expect to see on modern hardware with plenty of pixel-pushing power behind it. Assuming the super-sampling theory is correct, we do wonder whether sticking with native 1080p may have been a preferable solution overall on Xbox One.
The last-generation versions put in a slightly more stable performance compared to the Xbox One where frame-rates are concerned, although all three platforms narrowly miss out on a solid 60fps update by one or two frames from time to time. Due to the small nature of these drops the impact on gameplay is non-existent, and for the most part they go by undetected.
"Child of Light hands in a solid 60fps experience on PS4, with minor drops on Xbox One. The 720p last-gen versions actually run marginally smoother."
Alternative analysis:
Child of Light: the Digital Foundry verdict
On the whole Child of Light is a well-crafted experience across all platforms, although it's clear that the current-generation console and PC releases are the most satisfying to play due to the way the higher-resolution visuals more faithfully replicating fine lines and intricate detail in the stylish artwork. Running solidly at 60fps, the PS4 game is the definitive console version, and it's also Cross Buy too, so you get the PS3 game at no extra cost - a pretty nice bonus even if the experience isn't quite as good on a graphical level.
The occasional frame-rate drops don't really harm the gameplay on Xbox One given their rarity and mildness, although to find any dips in performance in a 2D title is surprising in an age where a less capable GPU is able to run Rayman Origins flawlessly at "Retina" resolution on a suitably equipped MacBook Pro.
The Xbox 360, PS3 and Wii U versions hold up equally well against each other and feature the same high-quality assets and effects work as their PS4 and Xbox One counterparts, although the 720p resolution is a little disappointing, impacting on the clarity and fine detail of the artwork. On the plus side, the visuals do upscale reasonably well outside of the surfaces affected by the strange anti-aliasing blur - the lack of harsh straight lines ensures minimal jaggies and smooth imagery throughout.
Frame-rates are also more stable than the Xbox One release, with a fluid 60fps update that is only slightly interrupted by some barely noticeable dips. The Wii U version snatches a marginal advantage over the 360 and PS3 owing to limited GamePad support - but this is actually built-in at a hardware level in that it's possible to play using the tablet screen without using an external display or HDTV, although the lack of any other features comes across as a missed opportunity.
Overall, this is a fascinating game with a unique charm that manages to work its magic across all platforms, but for stability and consistency the PS4 version gets the nod on console, while the PC version is certainly worthy of consideration if you don't own Microsoft, Sony or Nintendo hardware.
Will you support the Digital Foundry team?
Digital Foundry specialises in technical analysis of gaming hardware and software, using state-of-the-art capture systems and bespoke software to show you how well games and hardware run, visualising precisely what they're capable of. In order to show you what 4K gaming actually looks like we needed to build our own platform to supply high quality 4K video for offline viewing. So we did.
Our videos are multi-gigabyte files and we've chosen a high quality provider to ensure fast downloads. However, that bandwidth isn't free and so we charge a small monthly subscription fee of £4.50. We think it's a small price to pay for unlimited access to top-tier quality encodes of our content. Thank you.
Support Digital Foundry