Diablo 3 real money auction house delayed again, client side patch out next week
First Diablo 3 hotfixes published, classes nerfed, game breaking bug squashed.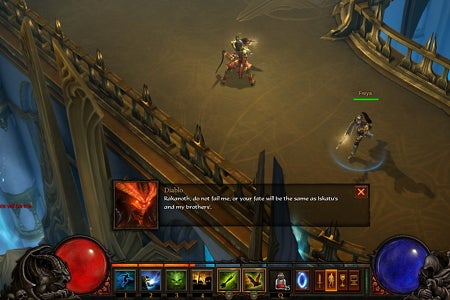 Blizzard has confirmed a client side patch for Diablo 3 will be released next week.
In doing so it announced a further delay to the real money auction house beyond the end of May target release. It's also still looking into those nasty missing achievements some players have suffered.
"Since the game's launch, we've applied a number of hotfixes to address gameplay issues, made tweaks to improve our service stability, and performed occasional server maintenance when necessary to ensure that in the long term, players have the best gameplay experience possible," community manager Nethaera wrote on Battle.net.
"Moving forward, additional server maintenances will be required - and sometime next week, we plan to release a game update in the form of a patch that will further address client issues and apply additional bug fixes.
"We also wanted to let you know that we're still looking into the best way to address the achievements that some players lost in the hours following the game's release. While we don't have any concrete details to share with you just yet, we will have more information to share in the weeks ahead. We appreciate everyone's patience as we work to improve stability and usability for all players."
Nethaera continued: "In light of the post-launch obstacles we've encountered, we have made the decision to move the launch of the real-money auction house beyond the previously estimated May time frame. As we mentioned in our original announcement, our goal has always been to ensure everyone has the smoothest experience possible when the real-money auction house launches, and we need a bit more time to iron out the existing general stability and gameplay issues before that feature goes live.
"While we don't have a new launch date to share just yet, we'll have more information soon."
Meanwhile, Blizzard published a list of the first hotfixes made to Diablo 3.
The hotfixes are made to update the action role-playing game server side so players do not have to download a patch.
As expected, changes have been made to the monk, demon hunter and wizard classes. Blizzard has also fixed the game breaking bug that triggered after equipping the follower with a shield as the demon hunter. The hotfix list is reproduced below, up to date at the time of publication.
THERE MAY BE SPOILERS AHEAD (for those who are yet to complete Diablo 3 on normal difficulty).
Monsters:
Mehtan the Necromancer and his skeletons can no longer be used to kill other monsters which have been kited to their location before or after the "Restless Sands" event.
General:
Players will now receive an error message when attempting to remove a gem from an item with no sockets (rather than disconnecting).
Players will now properly have their casting interrupted when attacked while performing resurrect on a fallen group member.
Resolved over 30 game and service crashes affecting players.
Classes:
Demon Hunter:
Active Skills:
Smoke Screen: Duration reduced from 2 seconds to 1 second (tooltip will still show 2 seconds).
Skill Rune - Lingering Fog: Now increases the duration of Smoke Screen to 1.5 seconds (tooltip will still show 3 seconds).
Monk:
Active Skills:
Fists of Thunder: Skill Rune - Quickening. Fixed an issue that was causing spirit regeneration to incorrectly trigger off critical hits from other sources, such as Sweeping Wind.
Mantra of Healing: Mantra of Healing will now correctly provide only two times the base healing effect for the first 3 seconds after activation, down from four times the base healing effect (tooltip will still show the old value).
Skill Rune - Boon of Protection. A maximum absorption amount has been set to 1000 Life. This skill will be redesigned in an upcoming patch.
Wizard:
Active Skills:
Arcane Torrent: Skill Rune - Cascade. Fixed an issue that was causing Arcane Torrent to fire 3 new missiles per kill instead of only 1 new missile per kill. Number of simultaneously missiles generated from this rune will now cap at 10 missiles.
Energy Armor: Skill Rune - Force Armor. Amount of damage absorbed from a single attack will now cap at 100% of a player's maximum Life.
Items:
The chest spawn in the Town Cellar in Alcanus has been changed from a 100% chance to spawn a Resplendant chest to a 50% chance to spawn a Normal chest.
Players can no longer dual-wield two-handed weapons.
Classes:
Monk:
Active Skills:
Serenity: Skill Rune - Tranquility. Duration of immunity granted to nearby allies from crowd control effects reduced from 2 seconds to 1 second.
Encounters:
Players will no longer remain invulnerable to attacks after defeating Diablo.
Players can no longer become stuck during Diablo's Shadow Grab ability if a player blinds Diablo while Shadow Grab is being cast.
Items:
Equipping a shield on a follower as a demon hunter will no longer disconnect you from the game.
Quests:
Act I: Players can now always interact with Karyna during the quest and quest step "Trailing the Coven : Talk to Karyna" when they resume from a save.
Act II: The Enchantress will now always appear during the quest and quest step "Shadows in the Desert : Disrupt the Hidden Conclave."
Act IV: Tyrael will now always be present for the in-game cutscene during the quest and quest step "Prime Evil : Climb to the Pinnacle of Heaven in the Silver Spire."
Will you support Eurogamer?
We want to make Eurogamer better, and that means better for our readers - not for algorithms. You can help! Become a supporter of Eurogamer and you can view the site completely ad-free, as well as gaining exclusive access to articles, podcasts and conversations that will bring you closer to the team, the stories, and the games we all love. Subscriptions start at £3.99 / $4.99 per month.