Deus Ex: Mankind Divided's six-minute trailer explains it all
$140 Collector's Edition revealed, contains nine-inch Adam Jensen figurine.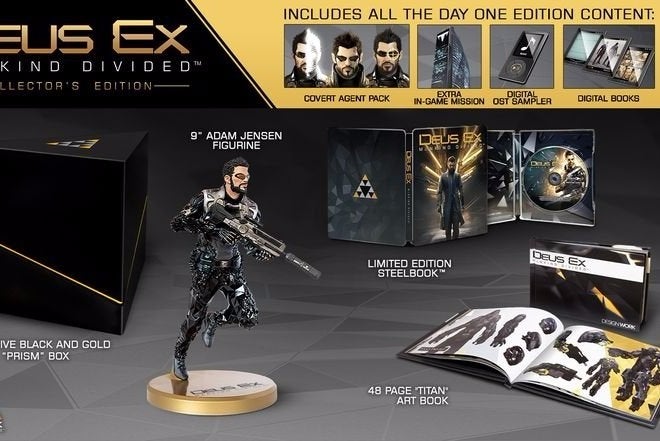 Deus Ex: Mankind Divided has received a "101 trailer" in which cyborg security expert Adam Jensen gruffly explains the ins and outs of Eidos Montreal's upcoming sci-fi stealth adventure.
Set in 2029, we follow Jensen as he fights terrorism in a world where augmented people are persecuted. Naturally he'll uncover a conspiracy because that's just what happens when you have cool cyborg arms in an Eidos game.
The new trailer provides an overview of what's been added since 2011's Deus Ex: Human Revolution. You can now customise your weapons, shoot "explosive nanoblades", and erect an exoskeleton-like shield.
Furthermore, publisher Square Enix has revealed a few different editions after canceling its heavily criticised pre-order program. The standard Day One Edition has the usual $59.99 price point (so about £40) and comes with the game along with a digital OST sampler, a few digital books (mini artbook, novella and a comic), an extra in-game mission and a Covert Agent Pack that includes various weapons, re-skins and upgrades.
The pricier $139.99 (about £96) Collector's Edition includes all of the above along with a nine-inch Adam Jensen figurine, 48-page Titan art book, a steelbook, and an exclusive black and gold prism box. It looks like this: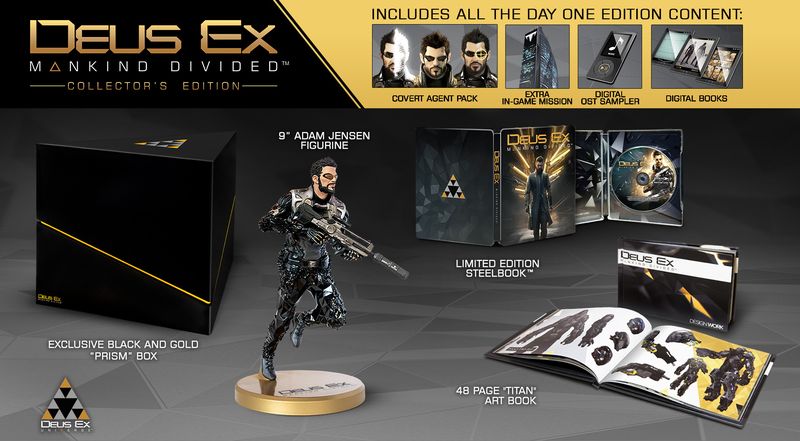 Finally, there's the Digital Deluxe Edition for $89.99 (about £62) that includes the Day One Edition goodies along with a Season Pass.
For more on Deus Ex: Mankind Divided, we interviewed the developer about how this sequel will deal with choice and consequence in a more sophisticated way than its predecessor.
Deus Ex: Mankind Divided will launch on 23rd August for PS4, Xbox One and PC.