Destiny guide
Eurogamer's updated guide to Bungie's multi-million-selling shooter.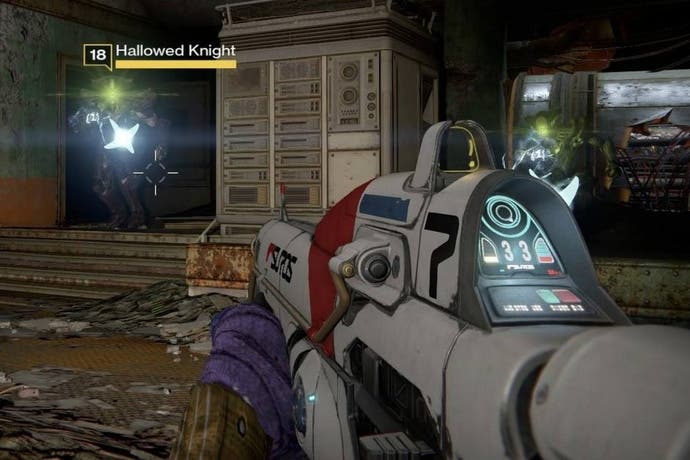 In its short time on the market, Destiny has sold millions of copies and got many of us hooked thanks to its tight combat loop and disgustingly moreish gear grind. But even if you've played it for over a hundred hours, like several of the Eurogamer team, you probably haven't figured everything out. Do you have all the gold loot chests? Are you struggling to level an alt quickly enough? Are you caught levelling in the mid-20s and having trouble figuring out how and what to prioritise to advance further? And if you're deep in the endgame, are you unsure about the best exotic bounties to undertake?
Whatever the scenario, we've got you covered in this detailed Destiny guide, which replaces the more basic one we produced at the game's launch.
Destiny - gold loot chests, locations, Earth, Moon, Venus, Mars
There are 20 gold loot chests hidden in Destiny, which offer better rewards than the random chests you sometimes find tucked away in caves. What's more, claiming all five chests on each planet often results in a superior reward in the final chest. Find them all with our detailed location guide, offering directions within story missions and on Patrol.
Destiny - Level 20, fast levelling, story missions, bounties, efficient farming
If you simply play through the story missions without exploring the other systems in Destiny, you may be levelling up a lot more slowly than you can. Read our handy guide to fast levelling to avoid getting held up.
Destiny - Level 30, legendary armour, exotic armour, public events, Vanguard Marks, Ascendant Material, Strange Coin
Destiny's levelling system changes completely when you hit level 20, but you can continue to make smooth progress through the 20s by getting your head around Light, legendary and exotic armour, Vanguard Marks, Ascendant Material, Strange Coin and Public Events, all of which we explain in detail in this robust guide to levelling beyond the soft cap.
Destiny - Fallen, Hive, Vex and Cabal Majors and Ultras locations, farming planetary materials
One of the most common bounties involves killing 10 Majors and Ultras from one of the game's four enemy races, but where is the best place to find them? Our handy guide to locations will help you do it while out on Patrol and also mentions key story missions that feature clusters of the requisite enemies, who sport yellow health bars. Also on this page: a bit of advice on mat-farming.
Destiny - exotic bounties, exotic weapons, A Dubious Task, A Light in the Dark, A Voice in the Wilderness, Shattered Memory Fragment, Toland's Legacy
Once you start to get deeper into the gear grind, you will start to take more of an interest in exotic weapons and probably receive the odd exotic bounty. But which is the right one to choose? How difficult are they, which weapons do you receive and what are the steps involved? Don't worry Guardian, we've got you covered.
Destiny - Xur location and items: November 28, 2014
Every week, Agent of the Nine Xur pops up in a different location of The Tower, with a delicious collection of weapons and armour for you to choose from. Here's where you'll find him this week, along with a guide to all of his goods.
Destiny - How to get to level 32, Level 31, Commendations
Destiny's first expansion The Dark Below raises the Light Level cap to 32. Here's our separate guide to how to get there - and how to get to Level 31 without buying the expansion. Also, how to get Vanguard, Crucible and Faction Commendations.
Destiny: The Taken King guide
Our guide to getting started with Year Two of Destiny.
Destiny: Rise of Iron guide, tips and tricks
How to get ahead in Year 3 of Bungie's shooter.