Destiny 2 physical sales down by half from Destiny 1
But...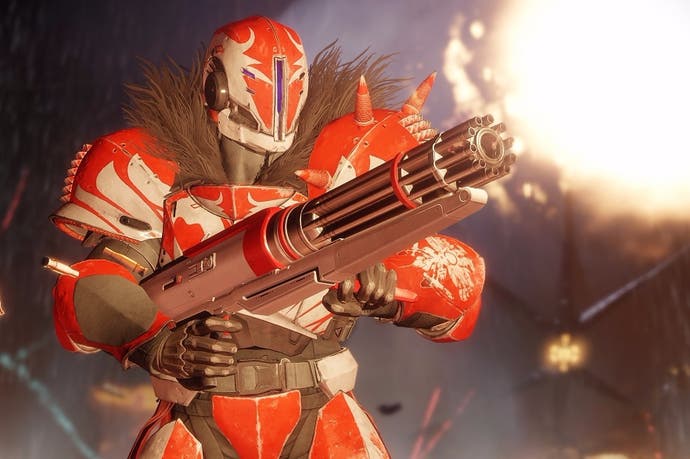 Destiny 2 is the new UK chart number one and the biggest game launch of 2017 so far - but physical sales were down by more than half compared to the launch of Destiny 1.
Sales numbers leaked to NeoGAF - which Eurogamer understands to be accurate - list Destiny 2 as having sold 175k physical copies during its UK launch week, compared to Destiny 1's total of 417k.
There are multiple reasons for this shortfall, though. Destiny 1 launched on a Tuesday (9th September 2014 to be exact), whereas Destiny 2 launched on a Wednesday (6th September 2017), so Destiny 1 had 24 hours' worth of sales more than Destiny 2 for this comparison.
Destiny 2 will likely have a much higher percentage of copies sold digitally than its predecessor, which launched three years ago, and UK numbers company Chart-Track does not track download sales. Many will have wanted to get the game pre-loaded for its midnight launch to begin grinding gear as quickly as possible.
Destiny 1 launched on Xbox 360 and PlayStation 3, as well as PS4 and Xbox One, and those last-gen consoles accounted for around 75k copies. Some people will also likely be waiting for Destiny 2's PC launch next month.
Overall, Destiny 2 appears to have had a successful launch worldwide. Over the weekend, developer Bungie tweeted that 1.2m players were online at the same time:
Thank you all so much for playing, Guardians! Right now Destiny 2 has over 1.2 Million concurrent players online. We'll see you in the wild.

— Bungie (@Bungie) September 9, 2017
58 per cent of physical sales were on PlayStation 4, where Sony has a marketing deal for the game and timed-exclusive extra content. 42 per cent of sales were on Xbox One. (The game's PC version doesn't turn up until next month.)
Fellow new release Knack 2 fared less well. It missed the top 10 entirely, and charted in 12th place.
Monster Hunter Stories for 3DS entered in 21st place, while The Binding of Isaac: Afterbirth+ launched on Switch in 36th.
Lego Worlds also launched on Switch last week - and saw the game rise up the chart a couple of places to 14th.
The full top 10 lies below:
Destiny 2
Uncharted: Lost Legacy
Forza Horizon 3
GTA5
Fallout 4
Crash
F1 2017
Dishonored 2
Doom
Mario + Rabbids