Day of the Tentacle Remastered debuts in-game screenshots
What possible harm could one insane, mutant tentacle do?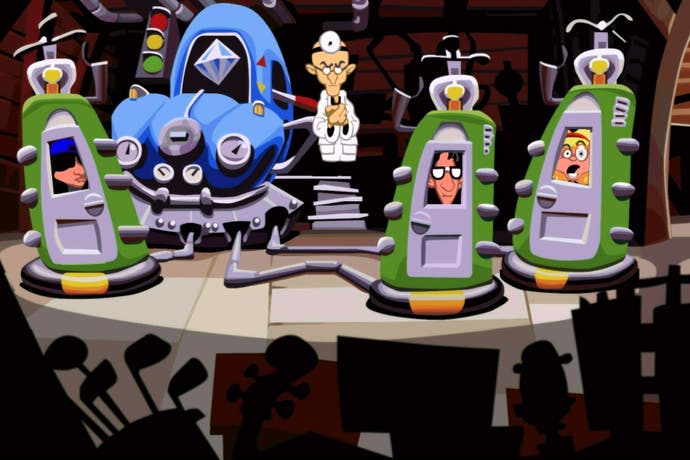 https://cms.eurogamer.net/cms/article.php#

Double Fine has revealed the first in-game screenshots of Day of the Tentacle Remastered.

This will be the second time Double Fine has restored an old classic adventure from the studio's founder, Tim Schafer, back when he was still at Lucasarts. Earlier this year Double Fine offered the same treatment to Schafer's Mexican noir classic Grim Fandango.

Day of the Tentacle originally launched in 1993 as the sequel to Maniac Mansion. It starred three awkward teenagers who traveled through time around a mad scientist's mansion and players could toggle between the past, present and future timelines at will. What you'd do with one character in the past would have on effect on future timelines.

This restoration will feature all new hand-drawn, high-res artwork along with remastered audio, music and sound effects.

There will also be a commentary track by the game's original creators: Tim Schafer, Dave Grossman, Larry Ahern, Peter Chan, Peter McConnell and Clint Bajakian.

As was the case with the Special Editions of Monkey Island 1 & 2, Day of the Tentacle Remastered will allow you to toggle between the new and old artwork at the touch of a button. It will also feature an optional new UI should you want to play with a verb dial rather than a grid of commands at the bottom of the screen.

Just like the original Day of the Tentacle, this restoration will contain the entirety of Maniac Mansion as an in-game bonus.

Day of the Tentacle Remastered is due in "early 2016" on PS4, Vita, PC and Mac. The PlayStation versions will offer Cross-Buy support.