Crash Team Rumble gets June release date, closed beta available with pre-orders
Wumpa high frequency.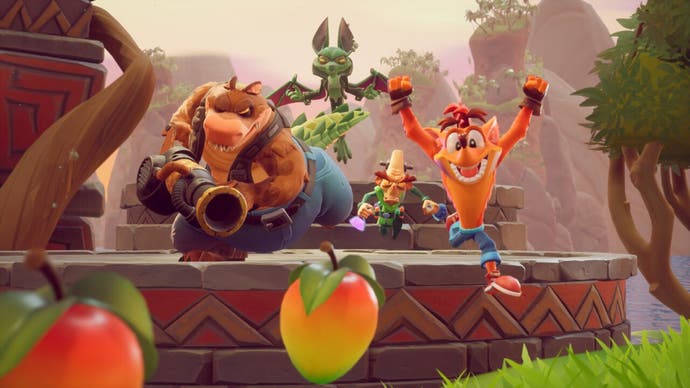 Following today's earlier gameplay leak, Activision has announced when you'll be able to get rumbling with Crash and his team in Crash Team Rumble - and how you can get playing ahead of launch.
Toys For Bob's upcoming MOBA will launch on 20th June across PlayStation 4, PS5, Xbox One and Xbox Series X/S (with cross-play supported).
If you are keen, you can pre-order the game from today (21st March). Those that do this will also be invited to take part in Crash Team Rumble's closed beta, which will run between 20th April - 24th April.
The Standard edition of Crash Team Rumble will set you back $29.99 (no word on UK pricing as yet), and will include seasonal events and limited time modes, along with a premium battle pass unlock for season one.
The Deluxe edition, meanwhile, will cost $39.99 and include the above as well as a premium battle pass unlock for season two, the digital "Proto Pack" (with skins and a unique banner) and a 25 tier instant unlock for season one's premium battle pass.
Those taking part in Crash Team Rumble's closed beta will have five heroes to play with - Crash, Coco, Dingodile, Dr Neo Cortex and Tawna. As previously announced by Activision, each of Crash's friends (and frenemies) will have their "own distinct power, personality, and playstyle" for you to discover, with three differnt hero roles to try out. These are Scorer, Blocker and Booster.
The primary role of the Scorer is to collect and score Wumpa to their team's Wumpa Bank. A Blocker, on the other hand, wants to defend the banks, so they'll need to be "ready to rumble with enemies to knock out their Wumpa and prevent them from scoring". Lastly, the Booster will be out there capturing Gems, with their primary to increase their team's scored Wumpa, and "activate Relic Stations to give their team the advantage".
In the quest to secure the most Wumpa fruit for your team, there will also be three maps to thrash and, dare I say crash, your way around during this closed beta, along with new powers to try out.
"We're incredibly excited for fans to get an early hands-on with Crash Team Rumble during April's Closed Beta" said Paul Yan, Co-Studio Head at Toys For Bob. "We truly value the community's feedback and will use this input to fine tune the game for an amazing player experience on launch day. See you in the Closed Beta!"
So, are you loco for Coco? Do you fawn-a for Tawna? Or are you hoping to spend a while with Dingodile?