Cor it's Corvo in a Dishonored 2 gameplay trailer at last
Blink and you'll miss it! Well, you won't.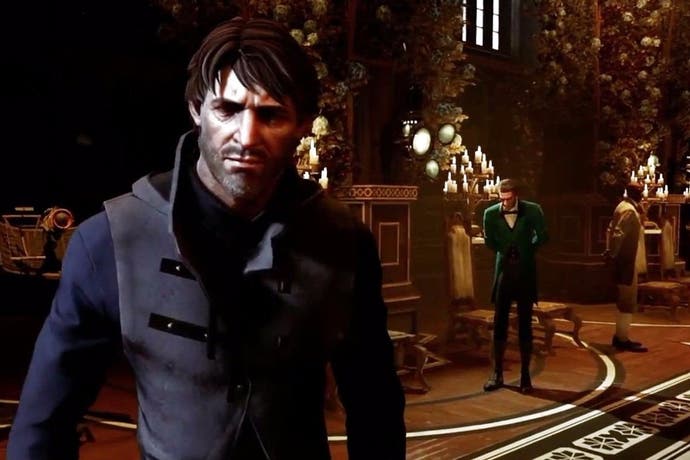 So far we've seen a lot of Dishonored 2's new playable character Emily Kaldwin. We've seen her supernatural tendril powers that pull enemies apart and enable her to stalk through levels and transport almost instantly from place to place. She looks like a lot of fun (and I haven't had that kind of malevolent fun since The Darkness).
But Dishonored 2 has another playable character of course, which is one of the flashy new things about it, and that character is Corvo - he who you played as in the first game. Finally in this new trailer we get a look at him in action.
It looks as though Corvo's abilities from Dishonored 1 carry over into Dishonored 2. He can blink, slow/stop time, summon rats, blast people with wind and so on. Forgive me but I can't see what, if anything, he's doing that's new - but perhaps you can? He does something to a pair of robots that's unfamiliar...
It's also worth pointing out that if his voice sounds familiar, that's because it's Stephen Russell voicing him - as in, the guy who voiced Garrett in the original Thief games. As in, the Thief games that inspired Dishonored but have now been surpassed by it. All the sweeter: Russell was snubbed for the Thief reboot in 2014. Dishonored 2 has a helluva a voice cast besides Russell as well.
Dishonored 2 isn't far off - it's due 11th November on PC, PS4 and Xbox One. Aoife had a great opportunity recently to sit down with co-creative director Harvey Smith and talk deep about Dishonored 2.
EGX is hosting the world's first public hands-on of Dishonored 2 later this month. EGX takes place at the Birmingham NEC 22nd-25th September. EGX 2016 tickets are selling out so be quick! And yes, EGX is an event organised by the same company Eurogamer belongs to: Gamer Network.