Co-founder Kellee Santiago leaves Journey dev Thatgamecompany
UPDATE: Producer Robin Hunicke also departs.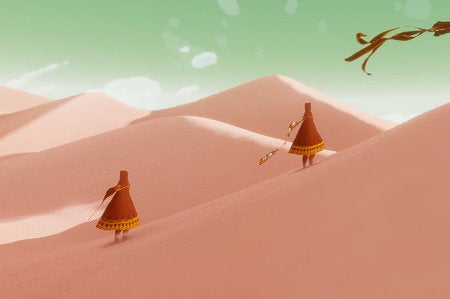 UPDATE: It's emerged that another key employee, producer Robin Hunicke, has also jumped ship. She's now working on oddball MMO Glitch at developer Tiny Speck with Katamari Damacy creator Keita Takahashi.
ORIGINAL STORY: Kellee Santiago has left the talented studio she co-founded six years ago - Journey, Flower and Flow developer Thatgamecompany.
"So much of my work at Thatgamecompany was really supporting Jenova [Chen's] visions for the types of games he wanted to make," explained Santiago to Gamasutra.
"And I felt like I have done everything I needed to do there, and that he's in a great place now to go on and continue with some of the other people at Thatgamecompany to take that to a whole new height."
She noted that the parting was done "amicably".
Santiago partnered with Jenova Chen at Southern California university before pair founded Thatgamecompany in 2006. Flow captured attention in 2007, and Flower turned heads in 2009. But it wasn't until 2012, and the release of co-operative adventure Journey, that Thatgamecompany really hit the big time.
Said Thatgamecompany in a statement: "After the hard struggle behind Flow, Flower and Journey, we've finally reached our goal. Awaiting at the mountaintop are new enlightenments and new sets of milestones for our life.
"While we want to continue the path of Thatgamecompany, Kellee has found a new direction in her career. Though our path in the future may be different, as TGC begins our next project, we wish Kellee a good journey and that our paths may cross again."
Santiago's not ready to talk about what she's doing next, but it sounds as though she'll stay within the video games industry.
"My hope is that I can take what I've learned and use it to support more teams, more projects, and really, hopefully, help in accelerating the growth of video games as a medium," she said.