Camelot Unchained dev lets backers play a 1000 NPC battle after "rough week"
"Mea culpa. It is my fault."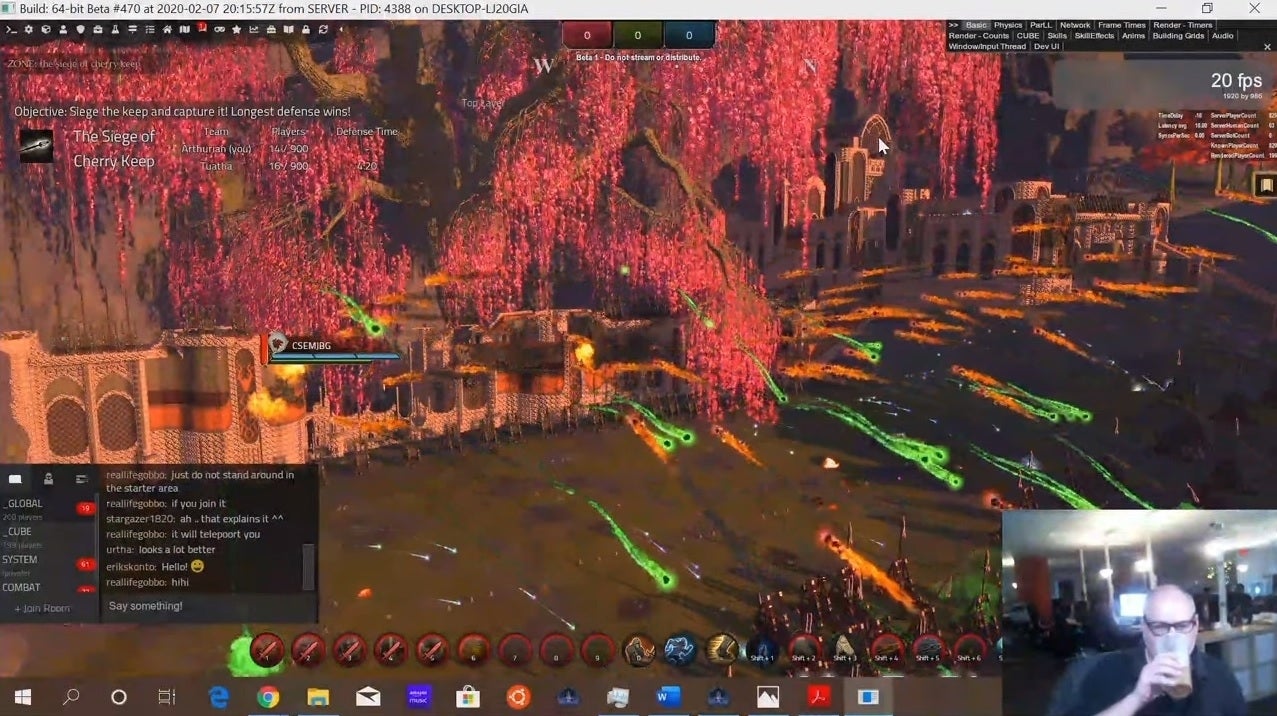 The developer of Kickstarter MMO Camelot Unchained has responded to community uproar by letting backers play a live battle with 1000 NPCs.
In a livestream last week, City State Entertainment design chief Mark Jacobs announced a new game - a third-person action game with tower defense elements called Ragnarok: Colossus - and in doing so sparked an angry reaction from backers of Camelot Unchained, the spiritual successor to Jacobs' previous game Dark Age of Camelot.
Camelot Unchained began life as a Kickstarter in 2013 and raised over $2.2m. Nearly seven years later, it is still without a release date. Backers had hoped for Camelot Unchained news from Jacobs' livestream last week - either a release date for a beta, an update on progression or even new footage of the game in action. Neither came.
The Camelot Unchained community reacted negatively to the events, with some calling for refunds. In a new stream, a tearful Jacobs apologised for the way he announced Ragnarok: Colossus, admitting: "It's been a week!"
"Mea culpa. It is my fault," he said. "Over the last week there's been a lot of concern, a lot of anger. Not a death threat or two, but a lot of nastiness directed my way. And you know what, I'm good with that.
"It was well intentioned. But that doesn't matter. It's been a rough week."
Responding to the concern, Jacobs outlined the various work that had been done on Camelot Unchained, showed a video of the Cherry Keep battle dated May 2019, and then invited backers to play the latest build of the game live - with over 100 players joining 1000 NPCs at one point. We see trebuchets, magic mortars and mages all throwing projectiles back and forth as a 9.4m destructible block keep slowly crumbles.
However, Jacobs is yet to announce a release window for Camelot Unchained.
"I know it's been a long time," Jacobs said. "It absolutely has. But nobody else can do what we can do - not in this way.
"I know it's been hard to hear us constantly talk about delays and building tech, but this is the result. This is something we've all wanted to play in if you like sieges.
"Maybe if I hadn't done the dumb in the way the announcement went off I wouldn't have shown you this yet. That's probably true. I wanted to have something else to show you first. And that's something else we are currently working on."
Towards the end of the stream, Jacobs answers questions from viewers. One asks about a known upcoming challenge.
Jacobs, who is close to tears at this point, takes some time before answering: "people giving me another chance."
"I've always taken great pride in being straightforward - bad or good news. Mea culpa. Always my fault. And sometimes it can get pretty bad. For me that's the greatest challenge."