Call of Duty: Warzone and Black Ops Cold War datamine reveals first set of Mastercraft weapons
Rocketman!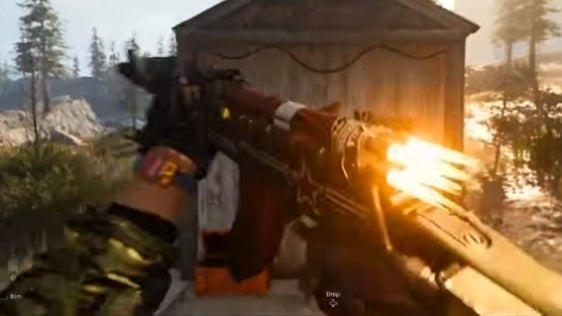 Call of Duty: Warzone and Black Ops Cold War dataminers have revealed the first set of Mastercraft weapons.
Mastercrafts, which return from Treyarch's Black Ops 4, are over-the-top weapon skins that transform a gun into something more. They're entirely cosmetic, so don't offer a gameplay advantage, but they sure do stand out.
Activision had teased their arrival earlier in December, but only now do we see what these guns actually look like.
COD Tracker now has listings for the store bundles these mastercrafts will be sold in. The Rocket Science mastercraft bundle, which will set you back 2400 COD Points (£16.79), includes the ICBRifle skin for the AK-47. This gun has a miniature ICBM on top of it. The weapon inspect animation sees the rockets fire, with the gun almost taking off. Cute little thing!
Then there's the Mint Condition mastercraft bundle (also 2400 COD Points), which includes the Collector's Item skin for the AK-74u. This turns the SMG into an 80s aesthetic mashup.
And finally, there's the Retro Renegade mastercraft bundle (2400 COD Points), which includes the Tape Deck skin for the KSP 45 SMG. This gun has an actual built-in cassette player, and via weapon inspect, you can flip the cassette and play a different track.
The video below shows off everything datamined so far in-game:
While these skins aren't officially available to buy in-game yet, they've already sparked the age-old Call of Duty realism debate - one that reared its ugly head in October with the release of Modern Warfare's 16-bit-themed DLC pack. Black Ops has always been sillier than Modern Warfare, with Treyarch's franchise often going off the deep end with Zombies and its trippy campaign. Perhaps guns with tiny missiles on them and weapons as boom boxes will fit in, then.
It's worth noting these cosmetics are for Call of Duty: Black Ops Cold War and Warzone only. They're not available for Modern Warfare, which, I argue, deserves a next-gen update and a proper second year.