Buy Mario Kart 8 and get a free Wii U game
New characters, items, GamePad chat and fresh footage.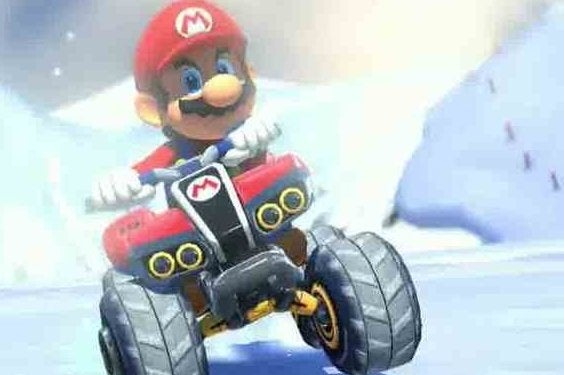 Buy a new copy of Mario Kart 8 and register the game via the Club Nintendo website (between 30th May and 31st July) and you'll be eligible for a free Wii U game download.
Included in the offer are 10 of the platform's biggest titles: The Legend of Zelda: The Wind Waker HD, New Super Mario Bros. U, Monster Hunter 3 Ultimate, Game & Wario, Pikmin 3, The Wonderful 101, Sonic Lost World, Nintendo Land, Wii Party U and Mario & Sonic at the Sochi 2014 Olympic Winter Games.
A surprise new Nintendo Direct broadcast has also revealed the game's last round of new characters, plus fresh weapons and features.
Players will be able to race as Baby Rosalina and Pink Gold Peach (a shiny alternate to Metal Mario). There's also confirmation of the first time that you'll again be able to play as your Mii. All in all, this rounds out the game's character roster to a total of 30. Sorry, Birdo fans.
New items include the two mystery weapons spotted last month - the Crazy Eight, a selection of eight rotating weapons to be used one by one, and the Super Horn, which blasts away characters and even the Blue Shell with a sonic shock wave.
GamePad-enabled chat while playing online has also been confirmed - although only in lobby areas. Private and public tournaments plus options to play against friends, regional players and those online globally will also be included.
Finally, there's more details on the in-game Mario Kart TV channel, where you can watch and upload your game footage. An option will also exist to upload gameplay directly to YouTube.
A trailer totting up the new features plus the full half-hour Nintendo Direct (which includes footage of the new Rainbow Road) lie below.