Borderlands announces $100K worth of prizes in in-game loot hunt
Cash and sponsored prizes are US only, but special loot is worldwide.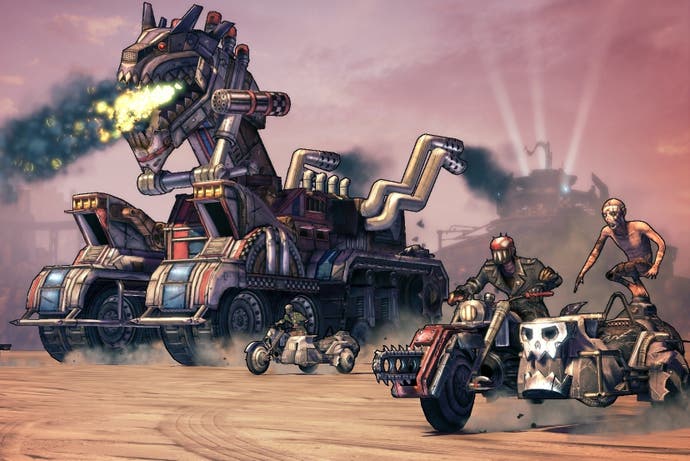 Borderlands 2 publisher 2K and Gearbox Software have announced a promotion in which they're giving away $100K worth of prizes in an in-game loot hunt.
So how does this all work, you ask? Starting on 11th October at 10 a.m. ET, the game will be ever-so-slightly altered so several of its zaniest guns will start dropping in unexpected places. For example, on day one of the promotion a Knuckle Dragger will drop Gwen's Head. From there, Gearbox will announce daily community goals, like killing a certain type of enemy with that day's special gun. If enough people do it, it'll unlock a "uniquely super-awesome gun" at the week's end.
There will be daily targets for 28 days until the loot hunt ends on 7th November at 5 a.m. ET. Complete all of them for a chance at the $50K grand prize. While the chances of receiving such a plentiful bounty are slim, all players who complete a daily challenge will receive a unique loot drop.
Unfortunately, cash and sponsored prizes are limited to US players. On the plus side, all the in-game prizes and special loot will be available to Borderlands players worldwide.
Those in the US will be eligible to win unique weekly rewards as well. In week one you can win a Vita; week two a Turtle Beach headset; week three an Nvidia Shield with a Falcon Northwest Tiki PC; and week four a BradyGames strategy guide and lifetime Steam Key for 2K Games. There will also be various cash prizes every week ranging from $5,000 - $20,000.
Sign up at http://www.borderlands2loothunt.com for more details.