Borderlands 2: Add-On Content Pack collects $40 worth of DLC for $30
Coming to retail later this month.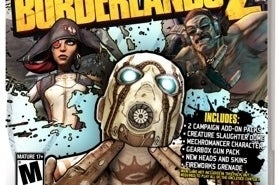 2K Games has announced the Borderlands 2: Add-On Content Pack, a collection of DLC for Gearbox's open-world shooter that will collect all of its digital content up through its second add-on campaign.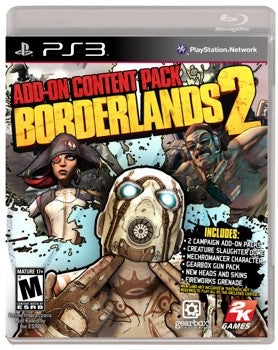 Due worldwide on 26th February for Xbox 360, PS3 and PC, the Add-On Content Pack will be priced at $29.99 and contains $40 worth of DLC including:
Captain Scarlett and Her Pirate's Booty campaign.
Mr. Torgue's Campaign of Carnage campaign.
Gaige, the Mechromancer; the game's fifth playable character.
Access to the Creature Slaughter Dome battle arena where you can earn Mad Moxxi's rare rocket launcher.
Unique weapons including the Gearbox Gun Pack and Skyrocket Grenade.
Additional heads and skins.
A Golden Key to unlock rare loot from the golden chest in Sanctuary.
Importantly, the Borderlands 2: Add-On Content Pack does not contain Borderlands 2 itself and the parent game is necessary to run anything in it.
Borderlands 2's first two expansions were both awarded 9/10s at Eurogamer (as was Borderlands 2 for that matter). "This is a vast, generous offering: a true expansion from a developer that obviously cares deeply about its creation, rather than a corporate cash-grab mandated by the boardroom," wrote Dan Whitehead in his Captain Scarlett review.
"The Campaign of Carnage is yet more evidence that nobody does post-release game expansion better than the Borderlands team," added Simon Parkin in his review of the second expansion, which he called "essential."