Body-chopping re-release Soul Sacrifice Delta rated for PAL launch
Director's cut.
Expanded PlayStation Vita adventure Soul Sacrifice Delta looks headed for a Western launch.
Delta, the game's updated version, was yesterday rated for a PAL release by the Australian Classification Board (thanks, Siliconera).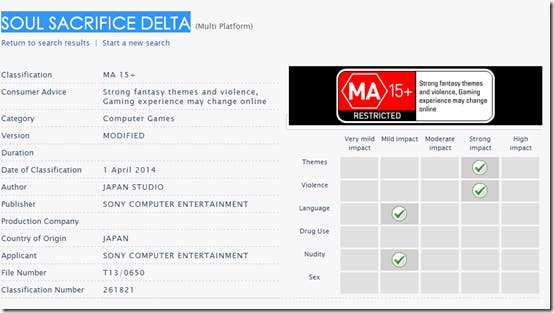 Designed by Mega Man and Dead Rising creator Keiji Inafune, the bloody action game sees you sacrifice allies and even parts of your own body to work powerful spells and take down demons, Monster Hunter-style.
Delta adds new spells, co-op attacks, fresh bosses and monsters from Grimms' Fairy Tales.
"Capcom's colossal safari is a master-class in intelligent enemy design and rewarding, consistently challenging combat," Matt Edwards wrote in Eurogamer's original Soul Sacrifice review. "[But] the result feels mechanically chaotic rather than refined."
Sony UK declined to comment on the game's UK release when questioned by Eurogamer.