Bloober confirms revamped sci-fi horror Observer System Redux is heading to PC
And there's a limited-time demo out today.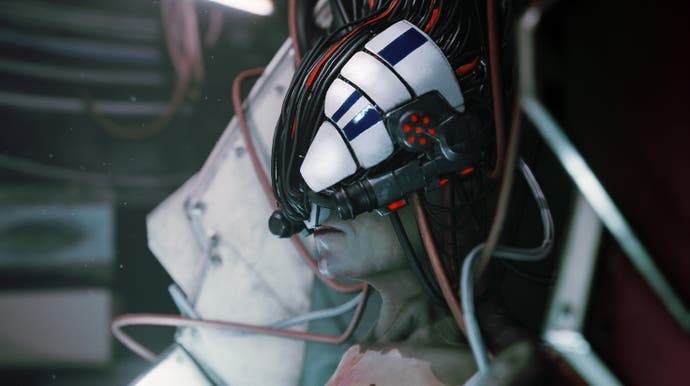 Layers of Fear developer Bloober Team has finally confirmed that, yes, its striking sci-fi horror revamp, Observer System Redux, will be making its way to Steam alongside the previously announced next-gen console releases. And in equally pleasing news, there's a big discount for existing users, and a limited-time demo of the upgraded experience is out today.
The original version of Observer released back in 2017, and delivered a compelling blend of dystopian murder mystery and surreal, visually arresting, horror.
Set almost exclusively in a dilapidated Kraków apartment block, populated by some extremely odd tenants, players are cast as Observer detective Daniel Lazarski (voiced by the late Rutger Hauer) on the hunt for his estranged son. The deeply atmospheric end result is part methodically paced investigation adventure, and part breathless hallucinatory nightmare, with players able to enter the minds of witnesses in search of clues.
That core experience will receive a significant technological upgrade on PC, with Bloober Team's spruced-up System Redux edition featuring the likes of ray-tracing, HDR lighting, new 4K textures, completely new character models and animations, plus special effects such as snow, fog, and rain. The developer has also now discussed the game's previously promised new story content and gameplay enhancements in a little more detail.
System Redux will, for instance, include three brand-new side quests (titled Errant Signal, Her Fearful Symmetry, and It Runs in the Family), as well as additional neural interrogations, new secrets, and redesigned stealth - a welcome reveal, given that stealth was easily one of the weakest aspects of the original game. Less specifically, the developer also says to expect "new game mechanics" and quality-of-life improvements.
Observer System Redux will, according to Bloober, launch alongside its next-gen console counterparts this "holiday", and will cost £23.79/$29.99 USD - around the same price as the original game. And while there's no free upgrade for existing owners, anyone with the initial release in their Steam library will be able to pre-purchase System Redux with an 80% discount until 15th September, bringing the cost down to £4.76/$5.99.
"You can think of it so that you pay for the new story content only, while getting all other improvements and additions for free", says Bloober. It also notes it's looking into the possibility of offering a similarly structured discount for System Redux's next-gen console release and says it should have more on that front soon.
Steam users still on the fence about an upgrade can play the newly released Observer System Redux demo, and get a closer look at its enhancements, until this Sunday, 30th August.