BlazBlue Continuum Shift Extend Premium Edition announced
Sketch cards! Music! Manga! £60!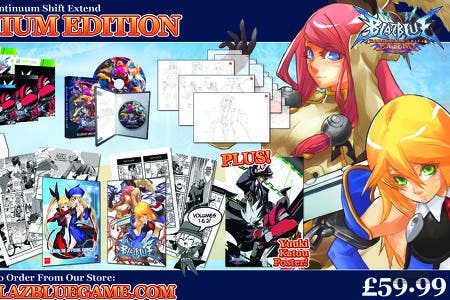 Arc System Works has announced the BlazBlue Continuum Shift Extend Premium Edition.
It costs £59.99. Only 200 copies will be made.
The Premium Edition contains:
The Limited Edition version of BlazBlue Continuum Shift Extend on PS3, PS Vita or Xbox 360, which includes:
12 high-grade Hahnemuehle Torchon sketch cards for an exceptional reproduction of concepts and technical drawings from the BlazBlue archives.
The sought after 'Song Interlude' soundtrack, featuring music from Extend and two vocal arrangements, Childish Killer and Blue-Bloom composed by Daisuke Ishiwatari.
And an exclusive Manga Pack in a beautiful Ragna sleeve, which includes:
The original, first volume of the BlazBlue manga which has received a limited reprint due to popular demand.
Volume 2 of the BlazBlue Manga, localised and published for the first time for western audiences.
Hazama and Ragna poster featuring an illustration by BlazBlue character designer, Kato Yuuki.
The game launches for PlayStation 3, PS Vita and Xbox 360 on Wednesday, 22nd February.