BioWare's Anthem will launch spring 2019, EA confirms
To give it "some free air" away from this year's Battlefield.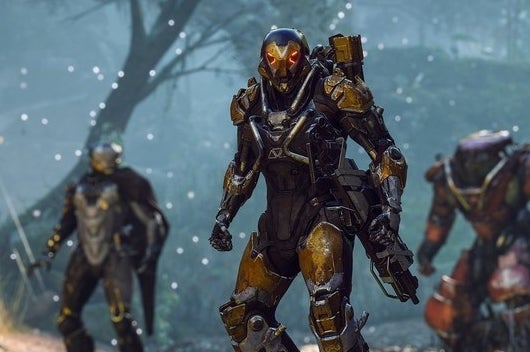 BioWare's Anthem will now launch in spring 2019, EA has said, confirming recent reports of a delay.
Except it's not a delay, EA boss Andrew Wilson explained to company investors in a call last night (transcribed by Seeking Alpha). The game was progressing "well", but was being given "some free air".
"The first thing about Anthem is regardless of kind of how it's being portrayed, we are not looking at that as a delay in the game," Wilson said. "We've chosen to launch Anthem in Q4 and the date is really determined by portfolio of balancing consideration not for product readiness reasons. It's tracking well on its development milestones. We are really confident of its ship date."
EA execs made various references to an unannounced Battlefield game due later this year - presumably in the series' usual November slot. And it's because of this, Wilson said, that EA wanted to move Anthem clear.
"We are really excited by the way the next Battlefield is shaping up and it probably doesn't make sense to launch Anthem right up next to it. And when you think about Anthem as a brand new IP, we also believe it make sense to give it its own launch window so that we can give us a focus and attention that it deserve and give it some free air."
EA has yet to say anything about what this year's Battlefield will be, but Eurogamer sources recently poured cold water on rumours that 2018's game would be a revival of the much-loved Battlefield Bad Company sub-series. After a game set in WW1, a WW2 follow-up seems to make more sense.