Auditioning with live ammo in Obsidian's The Outer Worlds PAX demo
Bloody actors.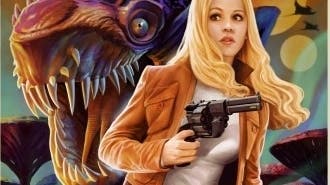 Obsidian Entertainment demoed sci-fi role-playing game The Outer Worlds live at PAX East over the weekend.
A 20-minute demo, narrated by an Obsidian panel (co-game directors Tim Cain and Leonard Boyarsky; narrative designer Megan Starks; and lead designer Charles Staples), showed us the kind of city-based escapades we'll find ourselves in.
In this case, the player and two companions - Nyoka and Felix - auditioned for a part in an Odeon propaganda film. But these auditions used live ammo, and these auditions went a bit skewiff. From there: out onto the streets to bash locals and show abilities off.
Felix demonstrated his very fetching drop-kick, which looks wonderful deployed on unsuspecting opponents, and Nyoka let rip with her mini-gun barrage.
And you - you can have science weapons, which do odd things like change people's facial skeletal structures, as well as freeze them. How powerful they are depends on your science skill level. All of which suggests some kind of mad scientist character build.
Visually, it looks a bit dated (and a lot like BioShock) and a bit wooden, and the video itself has more downvotes than up - some seemingly because of the technical capabilities of the game. But it's worth bearing in mind there is animosity towards The Outer Worlds for being an Epic Store exclusive on PC, too.
To my mind, The Outer Worlds is a B-movie kind of game - a double-A game or however you understand it. It's the game Obsidian signed to Take-Two's independent label Private Division before Microsoft came along and acquired the studio, and it has nothing to do with Microsoft now.
It's not technical capabilities Obsidian games are remembered for, either. They're remembered for eccentric humour and gameplay scope. Then again, they have also become known for technical difficulties and bugs - a taint the studio hasn't been able to shake. Whether The Outer Worlds - a wide-open space-faring RPG - will be different, we'll have to wait and see. It's out this year on PC, PS4 and Xbox One.