Asymmetrical competitive roguelike Crawl looks bloody, brilliant
Play as monsters trying to thwart your friends.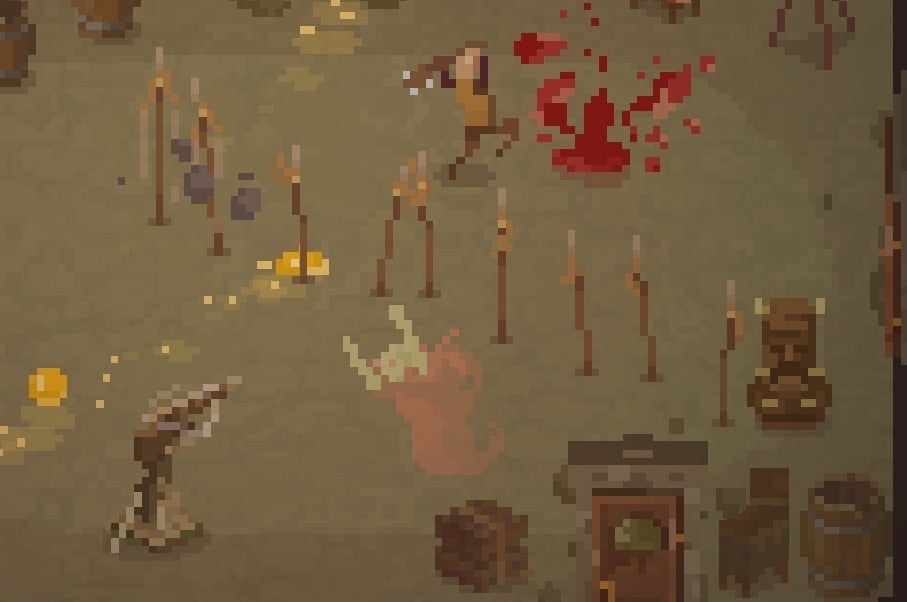 If you have a fondness for action-roguelikes, brawlers, and local competitive multiplayer, then Crawl might be the game you didn't know you were looking for.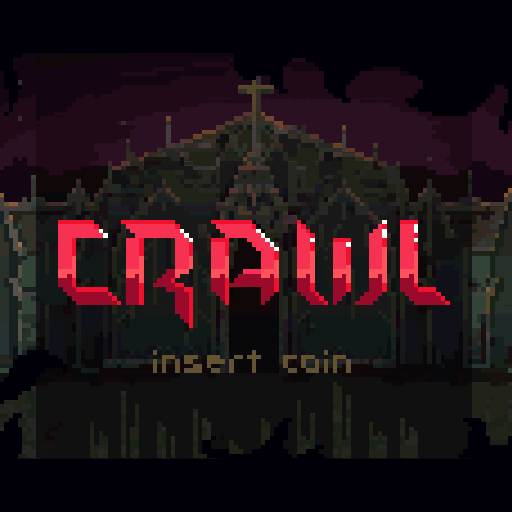 Developed by the two-person Melbourne-based indie studio Powerhoof, Crawl merges the traditional dungeon crawler with an asymmetrical multiplayer twist. Here's how it works: One person controls the human hero, while 1-3 of their friends possess the monsters and traps they'll be facing. When a player successfully kills the hero, they'll take that player's place as the human while everyone else gangs up against them.
When pressed for further details, Powerhoof's Dave Lloyd explained to Eurogamer, "When you kill the hero you swap instantly and the other ghosts/monsters on the screen start trying to kill you. Each time you become the hero you continue from where your hero left off, so if your hero was level six with a crossbow when you died, once you kill another hero you'll resume playing as the level six guy with a cross bow."
"To win the game, your hero must be at least level 10," he continued. "This opens up a portal that you see around the dungeons. Then you have to go through the portal, and survive the boss fight to win. If you don't survive you can try again if you get to the next level of the dungeon, as long as no other player gets there first!"
Each round of Crawl is expected to last up to a half-hour and players will drastically level up in that brief time frame. The hero will begin a weakling and the monsters will start off as rats and spiders, but by the end the former will be a bulky, spell-casting warrior and the latter will possess powerful demons. Lloyd further clarified that the non-human players start out as ghosts who can't harm the hero directly, but they can possess traps or inhabit a creature's body at a "monster spawner." But once in an enemy's body, they won't be able to leave it unless they're killed or succeed in slaying the hero.
Additionally, the stages will be randomly generated, so you'll encounter new items, creatures and layouts each time.
Powerhoof is hoping to launch an Early Access version of Crawl for PC, Mac and Linux soon on Steam with a full release expected in the first half of 2014. Crawl just launched a Steam Greenlight page yesterday and Lloyd told me it's already been greenlit. That was fast!
Currently Crawl is only guaranteed to have local multiplayer, but Powerhoof said it's "exploring online multiplayer, but we can't promise anything yet!"
When asked about a console version on Twitter, the developer replied "getting Crawl onto consoles is a goal- just waiting on Unity support and finding out more about publishing options." It also noted "if things go really well, then we'll be looking at XBOne PS4 & WiiU."
Get a load of how Crawl looks in action in its stylish new trailer below.
Will you support Eurogamer?
We want to make Eurogamer better, and that means better for our readers - not for algorithms. You can help! Become a supporter of Eurogamer and you can view the site completely ad-free, as well as gaining exclusive access to articles, podcasts and conversations that will bring you closer to the team, the stories, and the games we all love. Subscriptions start at £3.99 / $4.99 per month.