Astral Chain is a game with many influences, yet it feels so fresh
Cleaning up.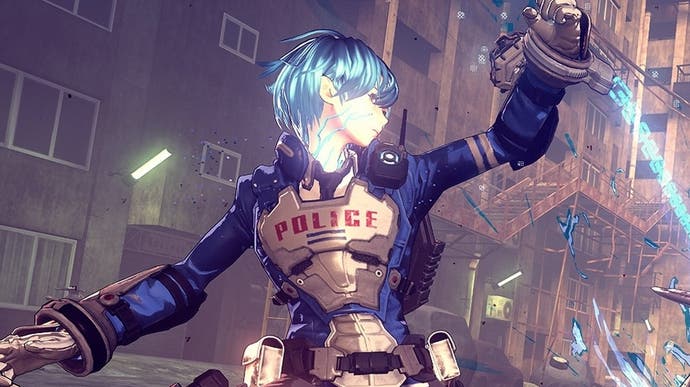 One of the many words that games really need their own version of is syncretism. Syncretism, as far as I understand it, is the word for the convergence, or attempted convergence, of different religions, bringing all the points of similarity and all the contradictions together into one bubbling religious stew. Actually, stew is the wrong analogy for what this is, I suspect. Rather, it makes me think of the stately movement of continents, old shorelines removed by collisions while new landscapes become visible over time.
And of course, it makes me think of video games - particularly the open-world video games that Ubisoft is so gifted at producing, each one incorporating ideas from other games, each one expanding, refining, slowly codifying a new kind of every-game in which the map is scattered with icons and is unlocked by climbing towers, in which skill trees flare characters in a range of different but familiar directions, while running from the cops is always a matter of moving outside of a circle of visibility.
This video game syncretism can be extremely pleasant to play, but it is generally perceived as a bad thing. I've certainly had that moment over the last few years when I've been mowing my way through an open-world, chomping from icon to icon in a heady sort of trance, and I've realised that I've forgotten the specifics of what I'm playing. Do I climb towers here or do I ascend every now and then in a balloon? Do I have a grapple hook or do I have that Arkham-style combat-dance to look forward to?
Then something like Astral Chain comes along, and I realise none of this is as simple as I have been thinking it is.
Astral Chain is the latest from Platinum, and if you wanted to look at it through this specific lens, it's the studio's most syncretistic (sorry) game yet. It sees a bunch of general video game ideas coming together everywhere you look. There's detective mode from Arkham, along with the attendant crime-scene analysis bits and pieces. There's a trippy dimensional realm that is visited now and then, bringing to mind everything from Dishonored to that bit at the end of Tomb Raider 2. And beyond that, there's also a bunch of ideas plucked from other Platinum games. Dodge an attack and you get a bit of slow-down, as was the case in Bayonetta. Trigger a special sword move and you can perform an angled slice that comes straight out of Metal Gear Rising.
There are many more points of reference that I've forgotten for the time being, but the important thing is this: I would have expected that such a fine web of obvious references would weaken Astral Chain's sense of character, the same way, say, an over-reliance on idioms weakens the individual voice in a piece of writing. But this hasn't happened. If anything, Astral Chain strikes me as being one of Platinum's most characterful games so far. And I'm tempted to think this is because the familiar framework allows the little moments to shine.
More than anything, there is a richness, for me at least, to Astral Chain's scenario. You're a cop in Astral Chain, working in a world in which interdimensional monsters called Chimera keep popping up and giving everybody trouble. Much of the game is about fighting the Chimera, using a range of weapons and also a sort of secondary character called a Legion who is attached to you by a chain and who can be launched into baddies in various amusing ways.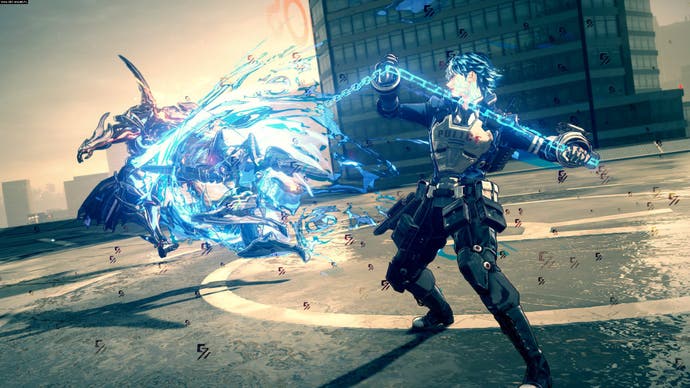 That's fun! But you're still a cop. So I spend a surprising amount of time picking up litter and putting it in bins. You get a bonus for this, but that's hardly the point. The point is that cops pick up litter in this world: they protect the streets but they also keep them clean. It gives Astral Chain a wonderful kind of cheeriness, doing this stuff. You're a hero, sure, but nothing is too much trouble.
Thing is, there are lots of little bits and pieces like this in Astral Chain, loads of moments where the game's individuality is allowed to shine through the wider and more recognisable structure. The hub of the game is the police station. It's basically a fancy 3D menu where you can save and buy items and do all sorts of other hub-type things. But there's also a mascot dog who you can interact with, and actually don the costume at certain points to cheer people up. Elsewhere, I'm pretty sure there's a ghost in the toilets. On missions, when I'm not picking up litter, I like to ghost my Legion over hard pieces of corruption that litter the place. They make a lovely tinkling sound as the Legion gets rid of them. It's like walking around with one of those amazing floor buffers that people use in offices when everyone's gone home for the night.
And then there's Legion maintenance. Back at the police station I can plug into this funny machine in one of the rooms and I can basically clean my Legions, removing any corruption that sticks to them in little outbreaks of pink crystals. I spend a lot of time doing this, rotating the Legion with one stick while I move a cleansing cursor over it with another. As far as I can gather, there is absolutely no value to doing this. I'm not earning anything. I'm not levelling anything up or working towards an unlock. But it's a neat fictional thing.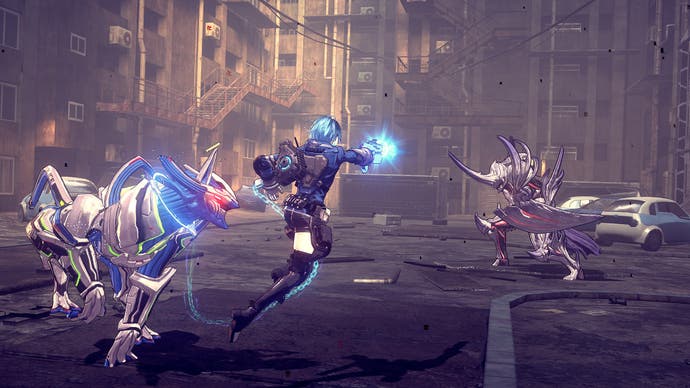 It's twofold, I reckon: firstly this is a game about cleaning up, and that act is scattered through the game in various different ways. Secondly, in the fiction of the game - and this is brilliant - your helpful Legion is actually a captured Chimera. Whenever I bust it out in a fight I am always aware that the chain is the only thing that is stopping it from trying to kill me. As I use it more, I'm probably making it more and more angry! And so the cleaning of it? Well, I guess the relationship is complicated.
Syncretism in video games is weird like this. The more games cleave to a template, the more the odd little quirks stand out. Assassin's becomes the game with that penny-whistle swan-dive from the top of a building. InFamous 2, a game about which I can remember almost nothing, survives in my mind purely as the game in which you can electrocute street musicians as they play their saxophones. Spider-Man is a lovely piece of template-following, but it's also the game in which fast-travel sees you riding the subway.
And Astral Chain is the game about those crystals, about that ghost in the toilet, about the litter that needs picking up and about the Legion who is so useful, but who grows angrier with me throughout the adventure. Lovely work, Platinum. What's next?