Games of the Year 2019: Astral Chain was the year's best mess
Lappy it up.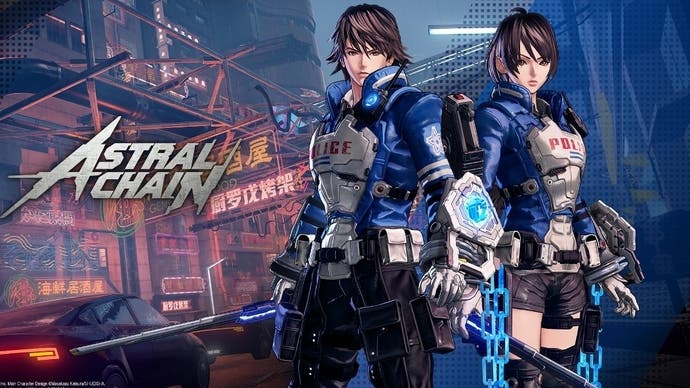 Over the festive break we'll be running through our top 20 picks of the year's best games, leading up to the reveal of Eurogamer's game of the year on New Year's Eve. You can find all the pieces published to date here - and thanks for joining us throughout the year!
Video games are messy things, and Astral Chain might be one of the messiest yet. How do you even begin to describe a thing like this to the uninitiated? Perhaps you start with the story, which is as grounded as this Switch exclusive ever gets: you're a cute cop caught in a story that's part Hong Kong police procedural, part supernatural thriller and totally batshit through and through. Yeah, maybe that's not the best entry point - Astral Chain tilts towards the most excessive of anime excess.
So maybe you start with the action, a fantastical extension of PlatinumGames' well-honed formula that goes some fascinating places. It's a nitro-fuelled Nier: Automata, a turbo-boosted Bayonetta where you're counter-attacking and dodging with all the grace you've experienced in the studio's other titles. Except Astral Chain is more than that, picking up the baton discarded by the cancelled Scalebound by being built around the bond between your character and their barely-tamed beastly sidekick.
It's a curious thing in the hands, effectively giving you a big skipping rope to stretch out and trip stampeding bosses, or to tie up smaller fodder. It gives Astral Chain's combat a flavour of its own, and sometimes you're convinced your other half has a mind of its own as your Legion snarls, snapping away at the edge of its tether. What I love most about it, though, is how it's a direct lift from Namco's 1983 arcade game Libble Rabble, one of Pac-Man creator Toru Iwatani's lesser-known creations.
What fluency PlatinumGames has in video games' past (I was lucky enough to visit their Osaka headquarters last year, a typically tidy and nondescript studio space save for one corner where a mess of consoles past and present sit amidst a ragtag collection of classic games and curios, all clearly played on a regular basis), and what genius Astral Chain shows in weaving that history into the studio's formula with such fluidity.
Oh and that's just one small part of Astral Chain's own wicked weave, a game that counterbalances its own absurdity with some surprisingly assured world-building, and one whose action excesses are met by moments where your cop character engages in everyday civic duty; picking up trash or simply rescuing a stray cat. How exactly do you make sense of all that? I'm not entirely sure you can, because Astral Chain, like so many video games, is an absolute mess. It proved, though, that there's no more elegant mess than that made by the masters at PlatinumGames.