Yakuza Kiwami 2 gets a May release date on PC
Steel yourself for "robust graphics options"!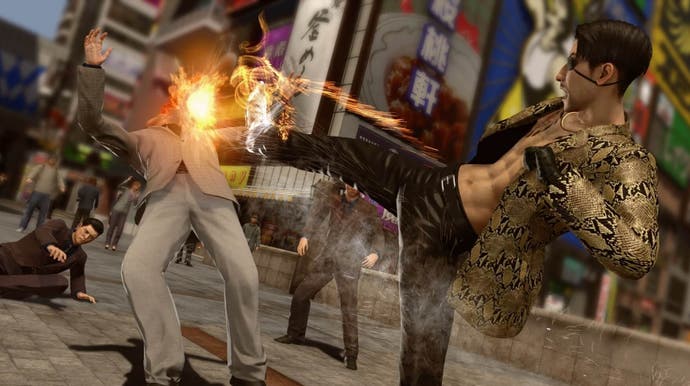 After the briefest of teases yesterday, Sega has announced that Yakuza Kiwami 2 will be heading to Steam on May 9th.
Yakuza Kiwami 2 is, for those not fully briefed on their Yakuza series history, the second of Sega's efforts to remake the original Yakuza PlayStation 2 games. It initially launched in Japan in 2017 (and at the end of last year in the UK), and gives Yakuza 2, first seen all the way back in 2006, a thoroughly modern makeover, courtesy of Yakuza 6's Dragon engine.
As you might very well imagine, Yakuza Kiwami 2 follows on from the events of the first game, and sees series protagonist Kazuma Kiryu forced to return to Toyko (a trip that eventually takes him to Osaka) after Yukio Terada, the Fifth Chairman of the Tojo Clan, is assassinated.
It's a gorgeous update, and brings a lot to the original 2006 experience (including, yes, a peeing mini-game). However, Eurogamer's review noted that, narratively, it can sometimes feel a bit of a let-down in comparison to the highs of Yakuza 0 and the first Yakuza Kiwami: "You get an antagonist who for the most part wants nothing more than to throw a wrench into everyone's plans, because he can. It's quite a departure from the more nuanced beats of Yakuza 0 and the first Kiwami, which focused on Kiryu and his struggle to do right by his friends."
When Yakuza Kiwami 2 comes to PC on May 9th, it will offer "4K resolution, unlocked framerates, customisable controls, and robust graphics options", according to Sega. Those that pre-purchase the game will also get the Clan Creator Bundle DLC thrown in for free. This includes SSR (Super Super Rare) Clan Creator Leaders and Packs, plus the Kiwami Machine Gun and the Kiwami Demon Blade - both exclusive to the DLC.
Yakuza Kiwami 2 will cost £24.99 when it arrives on Steam next month.