Wrecked Revenge Revisited release date announced
Vroom.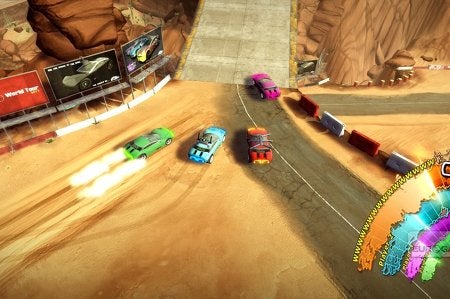 Combat racing game Wrecked Revenge Revisited launches on PlayStation Network and Xbox Live Arcade on 28th March, 505 Games has announced.
Wrecked Revenge Revisited was made by Supersonic, the developer of 2004 game Mashed. Indeed it's considered the spiritual successor to that game.
There's a Battle Mode for use in local or online co-op for up to four players. And there's a Championship Mode for solo players, with 24 challenges.
And there's a track, called Icebridge, inspired by the Polar Wharf track from Mashed.
"We knew very early on that we wanted a track inspired by Polar Wharf from Mashed", Supersonic boss Peter Williamson said. "In some respects the Icebridge track came easily, although in other respects this was the hardest track to do. Polar Wharf was so insanely addictive that anything less than that in Wrecked would have been a fail, so we endlessly tweaked that track and how the physics behaved on it too".