What exactly is going on with the different versions of Fire Emblem Fates?
Let the Fates decide.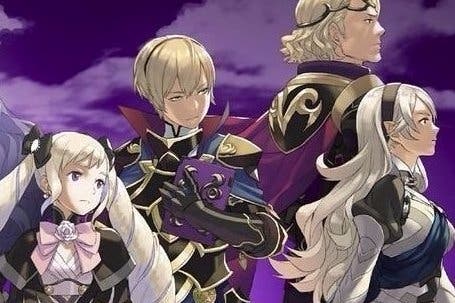 There's a new Fire Emblem game out - the first since 2013's Awakening - which would be reason to celebrate if it all weren't so confusing. Because, in truth, there are three new Fire Emblem games out, with Intelligent Systems fantasy-flecked strategy RPG split across Birthright and Conquest, two distinct physical games, with a third added by way of DLC with Revelations. It's all a bit confusing, so here's a quick rundown of what to expect, and which version you should go for.
How Fire Emblem Fates works
Whether you buy Conquest or Birthright, you'll be playing the same first six chapters. At that point you're faced with a choice - side with the Kingdom of Nohr, presided over by mad king Garon, or take up arms with the armies of Hoshido, a nation protected by samurai-like warriors. Birthright gives you access to the Hoshido campaign, while Conquest includes the Nohrian side of the story - while Revelations, which isn't out until June 9th in Europe, sees you forge your own path as you try to bring peace between both factions.
How to access other versions of Fire Emblem Fates
Just because you buy one version of Fire Emblem Fates doesn't mean you're locked out of the others. After reaching the sixth chapter, you're free to return to it at any point and take on the other branches of the story - at a price. At present, it costs £17.99 to unlock the other path in Fire Emblem Fates, with the Revelations DLC carrying the same price tag. It might seem steep, but it's worth remembering for that you're getting the equivalent of a full campaign, with each one taking around 30 hours to complete.
What's the difference between each version of Fire Emblem Fates?
This isn't like the varying flavours of Pokémon that accompany each new release in another big 3DS series, and there's a profound difference between each version of Fire Emblem. Each one has a cast of characters specific to its story, while Birthright is intended for newer players, with the ability to grind out experience and level up characters through side missions. Conquest, on the other hand, is for those who've got previous with Fire Emblem, and after the slightly more forgiving Awakening it's a return to the harder edges of the games of old. There's limited ability to grind out experience, and missions are generally more challenging with varying win states. Revelations, meanwhile, offers a middle-ground between the two - but it's DLC only so you'll need either Conquest or Birthright in order to get stuck in.
Which version of Fire Emblem Fates should I get?
All of them! Fire Emblem Fates is a fine strategy game, and while the 70-odd quid it costs for the whole package might seem steep, you're getting around 90 hours of beautifully crafted adventure in return.
If you really have to choose, though... Conquest might be intended for series veterans, but it's arguably the better game overall no matter what your level of experience - the missions feel more varied, the extra challenge is welcome and, well, it's just that the characters you encounter are that little bit cooler. It is that little bit harder, but you could always make use of the new Phoenix difficulty mode that resurrects downed party members at the start of each new turn. Or you could play it properly with permadeath engaged in Classic mode - after all, a soft reset is only L + R + Start away.
​