Watch the Eurogamer Podcast special - and the rest of Sunday's EGX sessions
Mike Bithell! Eitr! Our Mario Maker levels!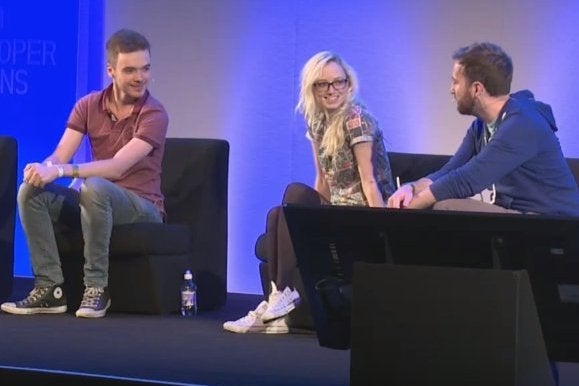 Right now in Birmingham's NEC, the Gamer Network events team are tearing down the EGX 2015 show floor with tears in their eyes. Of mourning or exhaustion? Probably both, given how much harder they had to work than we did, and we're all done in.
It was a vintage show, though, and we were happy to make our own humble contribution to it by taking over the developer sessions stage and talking rubbish for an hour in a special live performance of the on-again, off-again, we're-bringing-it-back-properly-soon (we really are!) Eurogamer Podcast. The speakers were Aoife, Chris, Martin and myself and the theme was the highs and lows of 2015 so far - and they were mostly highs, because it's been a stellar year. Watch it below, if only for Martin's incredible anecdote about his meeting with Yu Suzuki and Tokyo Game Show.
In another bout of misguided narcissism, Ian, Tom, Chris and Aoife challenged each other and some members of the audience to tackle their mostly stupid self-made Super Mario Maker levels in a live Let's Play. Watch Chris swear in front of small children below. If you'd like to try our Super Mario Maker levels after watching this, what's wrong with you? But here are the download codes anyway.
'Manic Mario' by Ian Higton - 47D6-0000-0062-BF04 (inspired by Ian's love of Manic Miner on the Spectrum)
'AC 12: Super Mario Brotherhood' by Tom Phillips - 8B09-0000-0075-9D8A (stealth Assassin's Creed article)
'They see me trollin' by Aoife Wilson - E5DB-0000-0075-A26F (I'm probably going to have to get HR involved with this one)
'Emotions' by by Chris Bratt - 2B29-0000-0075-F53D (if Oprah made Mario games, this is what they would be like)
Back in the sane world of actual game developers making games and talking about them in developer sessions, Martin sat down for a chat with Mike Bithell of Thomas Was Alone and Volume fame on making it as an indie developer.
And there was a talk from the developers of Eitr, a spooky, isometric, Nordic-themed splice of Dark Souls with classic Diablo that we rather liked when we tried it on the show floor.
And that's a wrap. Next up: EGX Rezzed returns to Tobacco Dock in London, 7th to 9th April 2016. We'll be there. Join us!