Unlock exclusive Pokémon for Video Game Championships
Lucario only available to Eurogamer Pokéreaders. To celebrate the upcoming Pokémon Video Game Championships in Europe, from 1st March Eurogamer is teaming up with The Pokémon Company International to offer a Fighting-type Pokémon to help anyone trying to battle their way to victory.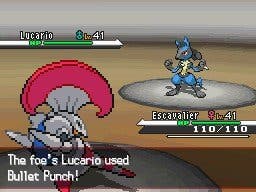 The special Lucario Pokémon knows the Bullet Punch move, a powerful attack that is usually difficult to learn. This Lucario also has the Hidden Ability Justified, increasing its Attack when it takes damage from Dark-type moves. We should all be so fortunate.
Apparently this Lucario is considered by many to be the strongest Fighting-type Pokémon, so if you bring him to bear on opponents in the Pokémon Video Game Championships, you should be laughing all the way to the Pokébank (disclaimer on behalf of Pokélawyers: Pokébank is not an official Pokémon Company International product).
(Nor are Pokélawyers.)
For more info on the Pokémon Video Game Championships, visit www.pokemon.co.uk/vgc.
All you have to do to get hold of this special Lucario is input the password LUCAEUROGAMERNET into the Pokémon Global Link website. Once you befriend Lucario, visit the Pokémon Dream World and use Game Sync to transfer it into your Pokémon Black Version or Pokémon White Version. The Lucario is only available between 1st March and 31st May 2012, so get clicking.