Uncharted: Legacy of Thieves Collection is out today, here's some of our best work
Drake news.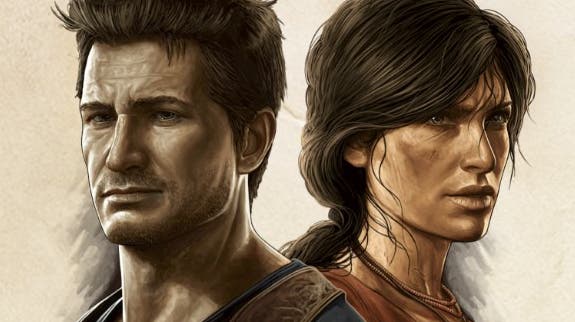 The Uncharted: Legacy of Thieves Collection releases today on PlayStation 5, and to mark the occasion, we thought we'd dig out some of our favourite pieces of work about the included games.
First, a quick recap. The Uncharted: Legacy of Thieves Collection is a double-pack of Uncharted 4: A Thief's End and Uncharted: The Lost Legacy, remastered for PlayStation 5. And you know what that means: fancy new technical bells and whistles.
There's native 4K in Fidelity mode (at 30 frames per second), 60 FPS in Performance mode, and a whopping 120 FPS in Performance-plus mode, albeit at 1080p. Load times are improved, spatial 3D audio has been added, and the fancy features of the DualSense controller have been made use of.
As always, Digital Foundry has robo-scrutinised the technical aspects of the game to see if they pass muster. Only the best for the Blacksmith's table.
The Legacy of Thieves Collection is £45 if bought alone, but there's a £10 upgrade option if you own any of the existing games on PS4. Note, however, that if you own a boxed copy then you'll need the disc every time you want to play, which means you're stuck if you have a Digital Edition PS5 console, I'm afraid.
You're also unable to get the £10 upgrade if you claimed Uncharted 4: A Thief's End while it was a free PlayStation Plus game. A PC version is planned for release at some later point this year.
Right, onto our pieces. First things first, we have our Uncharted 4: A Thief's End review, and our Uncharted: The Lost Legacy review. Spoiler: both games are great.
One of the things that makes the games so captivating are their attention to detail - the muck beneath the nails, the scrapes on the hands - as Wesley Yin-Poole writes. But it is also, of course, the sheer gorgeousness of the worlds they paint - and the pirate town of Libertalia is one of the most eye-catching of all, as Rob Dwiar writes.
Arguably the most important part of both games is Nathan Drake hanging up his adventuring boots. It's a departure Aoife Wilson talked to long-time Drake actor Nolan North about, not long after she'd talked about the reality of game acting with him.
But endings can be welcome, as sad as they may seem, as Ellie Gibson humorously argues.
Drake stepping aside allowed two familiar Uncharted characters to co-lead in The Lost Legacy, and take us on a more compact, more daring, and no less showy adventure of their own. Here's Aoife Wilson on five ways The Lost Legacy broke the rules. And here's her talking about - spoiler - her favourite scene in the game.
Oh, and remember, if you're playing the games and you need a hand finding collectibles, or working out what to do, then we have plenty of Uncharted 4 guides and The Lost Legacy guides to help.