UK Charts: Athens 2004 takes Gold
RSI cases to soar as Sony claims first top spot since EyeToy: Play with its Olympic button basher...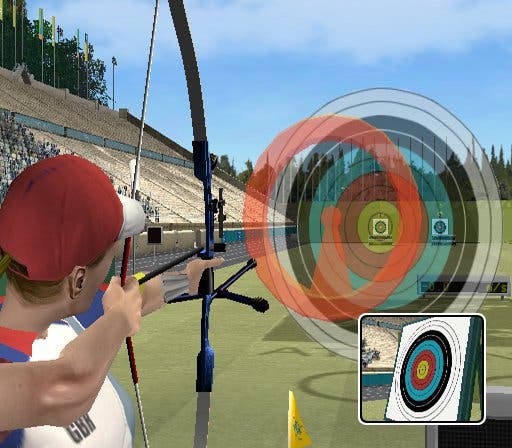 Athens 2004 finally took over the number one position in the UK charts this week, giving Sony its first chart topper of the year, and its first since EyeToy: Play hit the top spot a year ago.
In the rest of the top five, Activision's Doom III dropped two places to No.3, Spider-Man 2 climbed back up to No.2, while at No.4 Driver 3 swapped places with Rainbow Six 3: Black Arrow.
Just two new entries made it into the Top 40 this week, with Microsoft/Climax's long-awaited Xbox exclusive RPG Sudeki making a disappointing entry at No.25 (No.3 Xbox), and Sega's Headhunter: Redemption entering at No.32 (No.20 PS2). Outside of the main chart, Digital Jesters scored two new entries in the PC full price chart, with D-Day debuting at No.12 and Sherlock Holmes: The Silver Earring in at No.14.
Of the recent releases, Shrek 2 stays at No.6, Sony's Formula One 04 is down two at No.11, Play It's heavily advertised America's Most Wanted dropped one place to No.12, The Chronicles Of Riddick tragically fell nine places to No.17, Catwoman dipped eight places to No.24, while Yu-Gi-Oh Reshef Of Destruction tumbled seven places to No.27, but clings onto the GBA No.1 slot for the time being.
The rest of the chart features a slew of familiar names - most of which were all big hits last Christmas, notably FIFA 2004 (No.7), Need For Speed Underground (No.8), The Simpsons Hit & Run (up 17 places to No.9), and Medal Of Honor: Rising Sun (No.10).
Elsewhere, the likes of Return Of The King (No.13), The Sims Bustin' Out (No.15), Sonic Heroes (No.18) and GTA: Vice City (No.19) show that the public's thirst for familiar names shows little sign of diminishing any time soon. At least XIII is climbing back up the chart, up to No.26 on the back of the summer sales, as are Red Dead Revolver (No.20), Hitman Contracts (No.30) and Soul Calibur II (No.38).
Next week, however, should see an injection of new blood into the listings, with SCi hoping to score another No.1 with Conflict: Vietnam and Codemasters looking to capitalise on its headstart on Psi-Ops with the release of Free Radical Design's Second Sight. Elsewhere, Eidos has Guerilla's Shellshock: 'Nam 67, while Capcom once again hopes to translate the Japanese success of Megaman into the Europe.