UK LulzSec hackers who targeted Nintendo, Sony, plead guilty
Police rock the Lulzboat.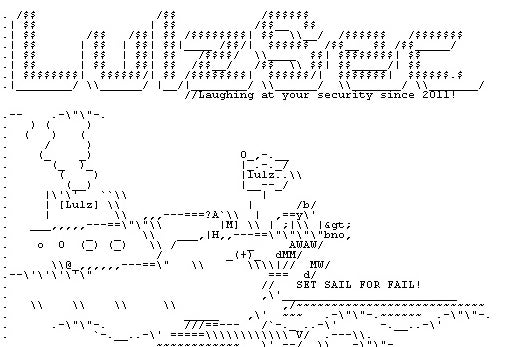 Three UK members of LulzSec have pleaded guilty to charges of hacking and launching DDOS attacks.
The group hit the headlines in 2011 after attacking a string of high-profile targets, including Nintendo, Sony, Bethesda, 20th Century Fox, the NHS and SOCA - the UK's Serious Organised Crime Agency.
26-year-old Ryan "Kayla" Ackroyd pleaded guilty to the charge of computer hacking in a London court yesterday, BBC News reported.
Ackroyd admitted to also working for fellow hacktivist group Anonymous, Ars Technica added. For that he would regularly use his "Kayla" persona - that of a 16-year-old girl.
After his guilty plea, Ackroyd was told that charges of planning DDOS attacks against the CIA, Eve Online and the homophobic Westboro Baptist Church would be left on file.
Fellow LulzSec members Jake "Topiary" Davis, 20, and Mustafa "Tflow" Al-Bassam, 18, have already admitted hacking and planning DDOS attacks.
Further charges of encouraging or assisting acts of hacking on The Pirate Bay and pastebin will be left on file.
Davis was cuffed back in July 2011, when he was just 18. His arrest came a month after another UK LulzSec member, Ryan Cleary, was snatched by police.
Cleary (who doesn't appear to have a cool nickname), Topiary, Tflow and Kayla will all be sentenced on 14th May.