UFC 2009 Undisputed
The Ultimate Fighter?
It was human burger bar Elvis Presley who, in 1964, sang the immortal lines: "Viva Las Vegas turnin' day into night-time/ Turnin' night into daytime/ If you see it once/ You'll never be the same again." Apparently, American songwriter Doc Pomus wrote these lyrics having never been anywhere near Sin City. He knew enough to know better. With its signature sprawl of mega-resorts scattered through the arid desert basin of Nevada like toys across a sandpit, Vegas beggars belief.
Of course there's a jet-black pyramid hotel with the world's brightest spotlight bursting from its peak; of course there's a hotel with a full-size basketball court in one of its rooms; of course there are bars full of Barbie-blonde hookers with epic cartoon breasts; and of course we just barged past Dennis Hopper to go and watch angry men fight in a cage, alongside Queen of Porn Jenna Jameson and a gaggle of Playboy bunnies.
We've come to the Palms Resort for the live finale of The Ultimate Fighter season seven, the reality TV show that has almost single-handedly resuscitated the mixed martial arts of UFC from the near-bankrupt flat-line of the mid-noughties to the pulsating mainstream US hit of today. And it has undoubtedly been the catalyst behind UFC 2009 Undisputed, the first UFC videogame in four years and the reason for our Vegas adventure.
It's THQ's first crack at the sport (Ubisoft and Crave have previously grappled with the licence), but the publisher's CV makes it the ideal candidate for the job. WWE remains THQ's biggest money-maker, last year's take shifting over 6 million copies, and WWE studio Yuke's is at the development helm for Project UFC, with a brand new team at its Osaka office creating the game from the ground up with a specially-created engine. With unprecedented involvement from the UFC, and the pedigree of Yuke's, THQ is putting heavy emphasis on delivering a gaming experience that's obviously fun to play, but also impeccably authentic.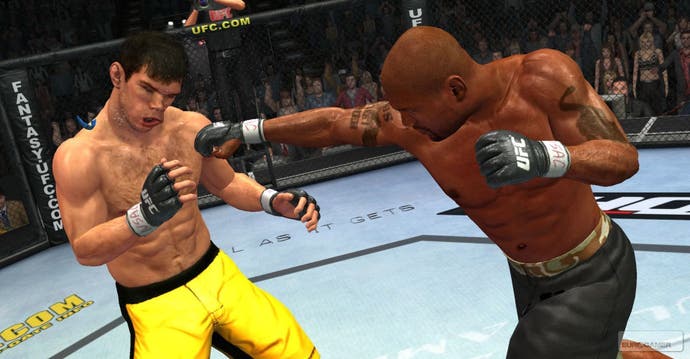 While based on the professional sport rather than the TV Show, The Ultimate Fighter and its key protagonists have an influential role to play. If you haven't seen it (it airs on Spike in the US and Setanta in the UK), the show fills a house with rookie brawlers, trains them up, and pits them against each other in the cage to compete for the ultimate prize of a "six-figure contract" with the UFC. Think X Factor with fisticuffs and very thick necks.
For proof of the format's success, look no further than jug-eared man mountain Forrest Griffin, winner of the original series, who is set to fight UFC superstar Quinton "Rampage" Jackson for the light heavyweight crown on 5th July. Griffin was the perfect fighter to establish the show as a credible incubator for professional talent. Smashing down suggestions that Ultimate Fighter was a ratings-chasing pantomime, Griffin first was narrowly defeated by UFC legend Tito Ortiz in a split decision, then knocked out Pride fighter Mauricio "Shogun" Rua, widely touted as the world's greatest MMA fighter.
So, in less than a fortnight, Griffin gets a pop at Rampage - an already mouth-watering prospect given added relish thanks to the pair's roles as rival mentors on The Ultimate Fighter. The grand unveiling of UFC 2009 Undisputed has been timed to coincide with the climax of season seven, and ride in on the hype-wave leading up to the Jackson-Griffin encounter. Both fighters star in the first gameplay trailer (watch it on Eurogamer TV); and they're here in the penthouse suite of the Palms, alongside UFC president Dana White, to help talk up THQ's UFC debut.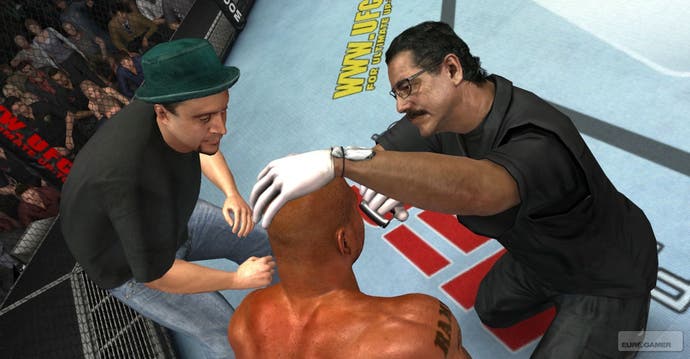 "We're really excited to have this new videogame, because everyone knows our first one sucked," White observes during his preamble. "That was a deal that we were buried into when we bought the company, and I know a lot of the fans were disappointed with our old game. We were looking for a partner to help us squash the stigma of that, and really put together the best fighting game anyone's ever seen. This is going to be the best fighting game ever launched." A healthy dose of Vegas-sized ambition there.
THQ's Keith Kirby, who heads up product development, can't resist bragging about the appeal of the UFC brand in gaming circles since its dramatic resurgence. "This brand is super, super powerful - as soon as we announced we were doing this product, we got resumes from all around the industry: from [people working on] Fight Night, Call of Duty, Spider-Man, NBA Live, and Tony Hawk."