Ubi's sci-fi shooter Starlink gets its sizeable free Crimson Moon expansion next week
Alongside new paid DLC and a PC version.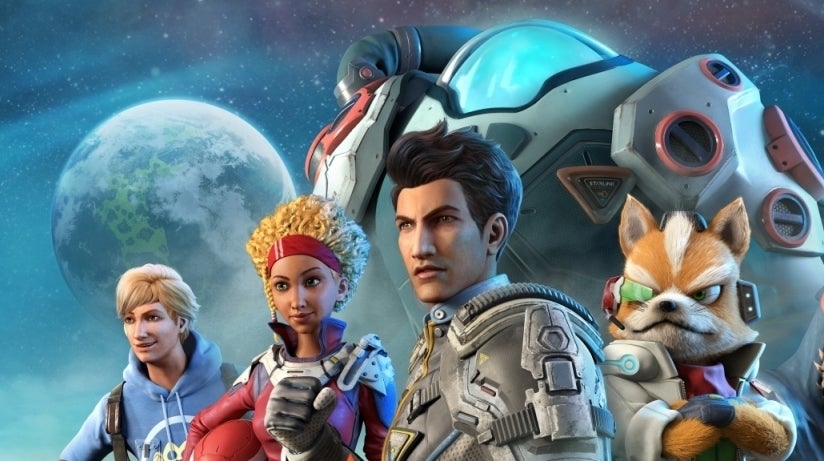 Ubisoft's entertaining open-world space shooter Starlink will be getting notably bigger next week, with the arrival of its free new Crimson Moon expansion - coming to Switch, PS4, and Xbox One on April 30th. Additionally, there's new paid DLC and a PC version due on the same day.
The bulk of Starlink's new content revolves around the titular Crimson Moon, described as the "theatre of the Outlaw Games". Here, players can indulge in newly introduced vehicle racing, featuring both single-player and two-player split-screen tracks, plus wave-based battling in the Crimson Coliseum. Leaderboards will be included too, alongside custom paint jobs.
Ubisoft says that Crimson Moon will also "impact the entire world of Atlas and let players engage with new faction story missions and weekly challenges", although specifics are yet to be detailed. Hopefully all this help will ease the repetition inherent in Starlink's design - because, limited mission types aside, I found the experience - with its gorgeous planetary exploration, bags of personality, and wonderfully polished arcade action - enormously entertaining.
Alongside the free stuff, April 30th also introduces five new pilots, three new starships, and 11 new weapons - all available separately as paid DLC. Ubisoft previously confirmed that these would be digital-only releases, with no real-life plastic versions, due to lower-than-expected sales of its (actually pretty nifty) toys-to-life range.
Switch players, meanwhile, get all that and a little more - albeit at an extra cost - with Nintendo's platform also receiving new Star-Fox-themed paid DLC. Building on the Star Fox content included in the base game, Ubisoft has created a series of new missions, in which Fox, Peppy, Slippy, and Falco - all now playable individually - attempt to track down the nefarious Star Wolf team. Although there's currently no word on UK pricing, it'll cost $11.99 USD (around £9).
PC players eager to get in on the Starlink action, meanwhile, will be able to purchase the game from Steam or Uplay when it launches next Tuesday, April 30th.