Twitch Sings is a karaoke game for streamers built by Harmonix
Mute.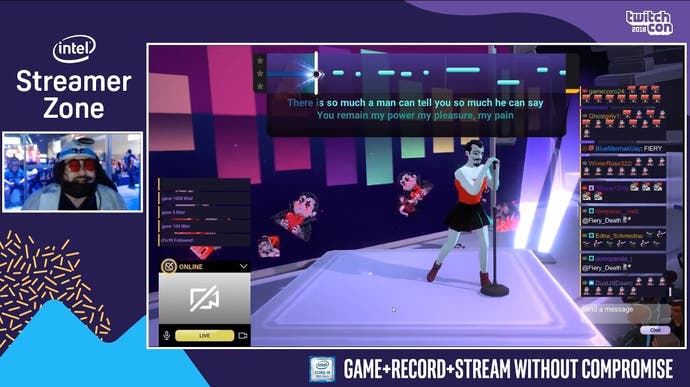 Twitch has announced Twitch Sings, a new karaoke game designed for streamers and built by Rock Band developer Harmonix.
Twitch said it has hundreds of songs for streamers to make performances with. Viewers can use chat to request songs, cheer to activate light shows on stage and give streamers challenges.
"With Twitch Sings, you can sing your heart out, share your performances across Twitch, or perform duets with your community," Twitch said.
"And being in the crowd is just as much fun as holding the mic - and just as important. In chat you can request songs, give your favourite streamers crazy challenges to tackle, and when you cheer you will see Bits will rain down on the crowd."
You create an avatar, which then appears on a stage in front of a crowd. You sing along to the lyrics, which are displayed on-screen along with a pitch guide. At the end your performance is rated.
Attendees at TwitchCon are playing around with Twitch Sings now. It looks like this (obviously you need sound, but be warned, it gets loud):
A closed beta is set for later in 2018 on PC, iOS. It's coming soon to Android.