Train your face with DS digicam
Be less hideous!
Not content with training our brains and even teaching some of us how to speak English (we were fine, but thanks), Nintendo is turning its attention to sorting out our ugly faces. About time.
To this end it's releasing a new game ("Face Training") along with a slightly more interesting digital camera add-on that plugs into the GBA slot of the Nintendo DS, allowing you to see yourself on the screen as you scrunch up your cheeks.
Wired's evidently much more attentive games blog notes that it all stems from the Japanese fascination with "facening", or facial exercise. They even have their own pre-eminent experts, one of whom - a lady called Fumiko Inudo - will be lending her own face to the box and all that jazz.
Regular Nintendo pals and Advance Wars/Fire Emblem developer Intelligent Systems is co-developing the title, according to the official website, and it should all make it onto Japanese shelves - along with the camera and what looks like some sort of stylus-based make-up box - on 2nd August.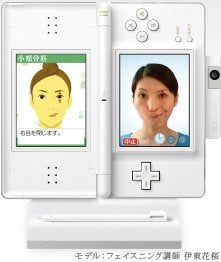 We asked Nintendo whether this meant we'd be looking at our own faces and trying to improve them any time soon, and what else the camera might be able to offer DS owners, but we've not heard back yet.