Tony Hawk is texting people about a Pro Skater 1 & 2 remaster
UPDATE: Formally announced, out September.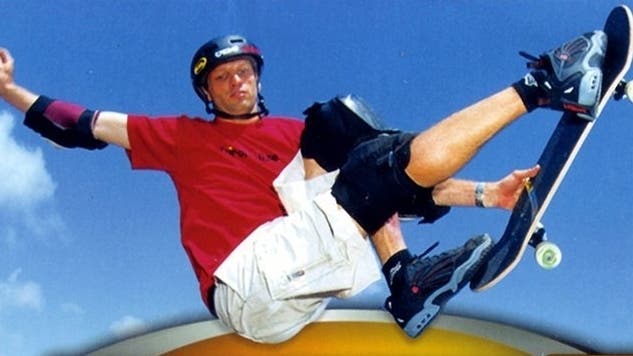 UPDATE 5pm: After much teasing and leakage, Activision has formally unveiled Tony Hawk's Pro Skater 1 and 2. It combines remastered versions of the much-loved skating games into one package, and is coming to Xbox One, PS4, and PC on 4th September.
Tony Hawk's Pro Skater 1 and 2 is the work of Vicarious Visions, the studio recently responsible for the Crash Bandicoot N. Sane Trilogy and Crash Team Racing remasters, and like those games, it takes the original experiences and punts them screaming into the present day with a thoroughly modern visual makeover.
Alongside returning pro-skaters (Tony Hawk, Bucky Lasek, Steve Caballero, Geoff Rowley, Andrew Reynolds, Elissa Steamer, Chad Muska, Eric Koston, Rodney Mullen, Rune Glifberg, Kareem Campbell, Jamie Thomas, and Bob Burnquist are all name-checked), the remaster will feature original levels, music tracks, and tricks from the first two Tony Hawk games.
As you'd expect in 2020, online multiplayer is now included, and there's online support for the returning Create-A-Park feature too. Activision also says to expect new goals and challenges.
Tony Hawk's Pro Skater 1 and 2 will be available on Xbox One, PlayStation 4, and PC - albeit restricted to the Epic Store - when it makes it long-awaited arrival on 4th September. Those that pre-order the game will get access to a demo of the Warehouse level ahead of release.
---
UPDATE 4.55pm UK: With five minutes to go until the game's intended official announcement, Tony Hawk has now tweeted the official artwork and release date for Tony Hawk's Pro Skater 1 + 2. It launches 4th September 2020.
Hey, it's the Birdman's birthday. He can announce his game however he pleases.
---
ORIGINAL STORY 4.30pm UK: The long-lived and much-missed Tony Hawk's Pro Skater series will return later this year - according to Tony Hawk himself.
Elements of the first two games in the series are being brought back to life for a compilation of classic levels and skaters.
"Hey I have a surprise and I wanted to tell you first," Tony Hawk has begun telling people via text message. Yes, text message.
"We are bringing back Tony Hawk's Pro Skater 1 and 2! Original maps, original skaters and songs from the original soundtrack, plus new features! The game looks awesome and will be officially announced soon."
Eurogamer expects an official announcement from publisher Activision shortly.
News of this remake comes after a five year hiatus for the franchise, following the disastrous launch of Pro Skater 5 back in 2015.
Tony Hawk's Pro Skater was originally developed by Neversoft, which handled development duties for no less than seven entries in the series - an annual staple in the early 2000s.
But as quality fell into a downhill jam, developers changed and plastic peripherals failed to sell in huge numbers, the brakes were finally applied. Pro Skater 5 was meant to be a return for the series - alas, the horrendous state it arrived in ensured the Birdman went back into hibernation. Sure the only way is up?