This new Elder Scrolls Online cinematic is outstanding
Limited Imperial Edition of the game announced, too.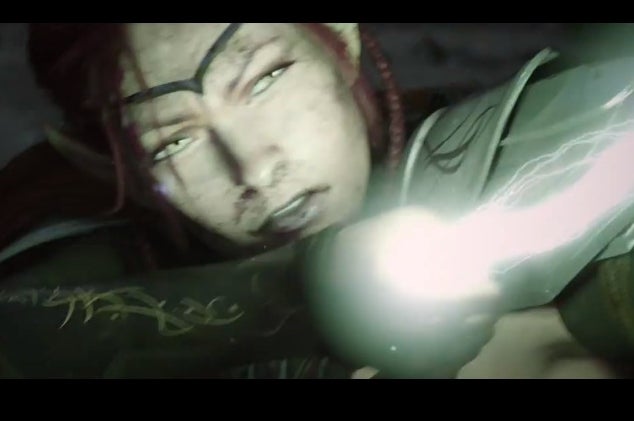 Mammoth MMO projects sure know how to do one thing: cinematic trailers. And the newest The Elder Scrolls Online video, Arrival, is no exception.
Old enemies halt their fight as a giant portal opens in the sky and a new evil emerges. Choreographed heroics ensue, as the forces of good try to hold off their new foe. But alas, they cannot, and the scene is set for the fast-approaching MMO.
Bravo!
Bethesda has also finally announced the limited Imperial Edition of the game, and its contents may not go down well with everyone. The most divisive inclusion is the exclusive chance to play as a member of the Imperial race, gaining (to quote the Bethesda blog) "unique bonuses, crafting styles, gear and more". As an Imperial you can join any of the game's three factions/Alliances. Oh, and you get a White Imperial Horse you can summon to ride.
There's a pair of rings, one for your character, one for a friend. These offer you both a bonus to experience gained when you play together, providing you perform some ritual thing first. There's a silly Mudcrab vanity pet as well.
Buying the Imperial Edition digitally - for download - costs $79.99/€79.99/£69.99.
Or you can splash out even more - $99.99/€99.99/£89.99 - for a physical Imperial Edition, which comes with a 12-inch statue of god-baddie Molag Bol, a beefy illustrated world guide (as written by a scholar from the game's lore) and a big old world map. And a snazzy box.
Anyone who pre-orders or pre-purchases (buys ahead of time) either a Standard Edition or Imperial Edition, either from a shop or from The Elder Scrolls Store, will also get the Explorer's Pack bonus at launch. This gives you a Scuttler vanity pet, four bonus treasure maps and the ability to play as any of the nine races in any Alliance.
Last but not least, anyone pre-ordering or pre-purchasing from The Elder Scrolls Store, and from participating retailers (not sure who yet), will be offered five days early access to The Elder Scrolls Online.
The game's out 4th April for PC and Mac, and in June on PS4 and Xbox One. The Imperial Edition will be available for console, judging by it being featured on the PlayStation blog, but there's no word on whether it will cost more, as console games often do.