There's a Starship Troopers RTS in the works
And it's coming to PC next year.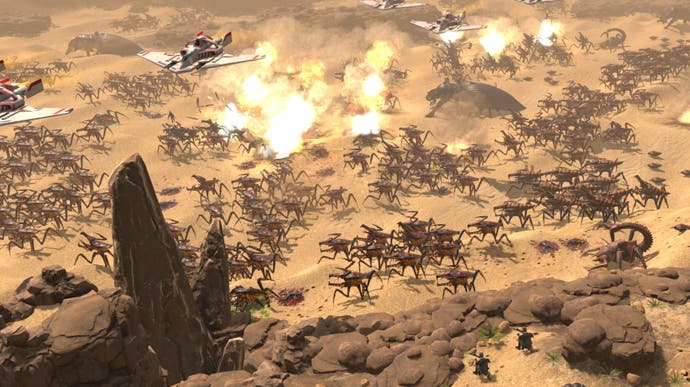 Developer The Aristocrats is working on an officially licensed real-time strategy game based on the 1997 satirical sci-fi movie Starship Troopers. It's called Starship Troopers: Terran Command and it'll make its way to PC next year.
Terran Command takes place is the same universe as its movie counterpart, and sees players, controlling an army of elite soldiers, attempting to liberate a human colony from insectoid menace the Arachnids. According to publisher Slitherine Software, the resulting action offers a combination of "classic real-time mechanics, tower defense and tactical deployment of units".
Slitherine also teases that players will need to deploy units strategically, building defense emplacements, making use of elevated terrain, and covering vital choke-points.
None of that sounds particularly out-of-the-ordinary as far as RTS game go, admittedly, but, as you'd hope, Terran Command certainly isn't short of bugs in its announcement trailer, featuring some chaotic sci-i skirmishes between huge numbers of units.
According to Terran Command's newly launched Steam page, the game will feature a dynamically generated campaign mode, in which the storyline and available missions will develop depending on the choices made on the battlefield.
"Remain obedient to the demands of Terran Command - no matter how costly or ruthless - to benefit from exclusive unit types and special abilities," explains Slitherine, "or follow your own path to glory to become an irrefutable Hero of the Federation."
Players can also expect "detailed" technology trees and upgradable leader characters, plus "dozens" of unit types, each with their own unique abilities and weapons - including Infantry Squads, Rocket Troopers, and Engineers. Oh, and obviously, "lots of bugs".
Starship Troopers: Terran Command will come to PC some time next year.