The Trials of Trials
Eurogamer hunts down RedLynx in Finland.
"After 10 years, you become pessimistic that nobody's going to buy the game," says Antti Ilvessuo, creative director at RedLynx, but with a laugh. He's talking about how he felt going into Trials HD, this summer's big success story on Xbox Live Arcade. He's relaxed because Trials HD has sold over 500,000 copies, which translates to about five million quid.
RedLynx, not entirely surprisingly, turns out to be an office of petrolheads, where lunch-breaks consist of stunt-biking and hospital visits. Nestled in a stark, concrete portion of an otherwise picturesque Helsinki, Finland, it's a quiet place. The building used to house architects, so the small team of 25 people is spread around half a dozen rooms, some for iPhone teams and others for other things. Trials may be the game RedLynx is mostly widely known for, but the developer has done a lot more than the bike stuff.
The studio, co-founded in 2000 by Ilvessuo, has made more than 100 games, most of which are interactive TV, mobile or web games. Notable development time was poured into Nokia's ill-fated N-Gage (Reset Generation, Pathway to Glory, High Seize), and the studio worked with THQ on Warhammer 40,000: Squad Command for DS and PSP. Trials was simply one of many games - an experimental Java effort built around a love of physics, not motorbikes.
"It wasn't about any special game, it was about, 'oh we can use the physics in this way', and we thought hey, this could be cool," recalls Ilvessuo, whose brother helped him invent Trials back in 1999. The idea of sticking obstacles in the way was purely a requirement to prevent players racing to the end of a level, which needed to be small to keep Java file sizes and therefore load times to a minimum. Talk about luck.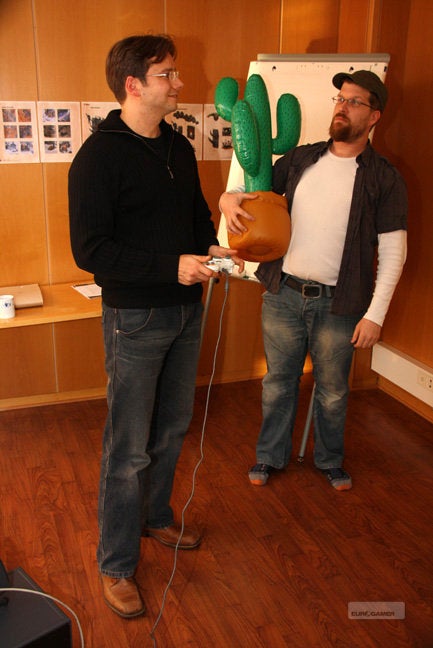 Sure enough, Ilvessuo and his brother realised there was more to Trials than they thought. "Suddenly I noticed I can make jumps longer or higher using these techniques." He wiggles his fingers as if holding a pad, demonstrating a bunny-hop manoeuvre familiar to the Trials elite. "And that lead to building tracks differently for better riders. That was the point in the first Java versions that I thought it was pretty fun, because there were moves that I didn't believe I could do before."
Ilvessuo wasn't alone in his newfound appreciation of Trials, as the fresh-faced Java game soon ground Finland's biggest internet operator to a halt. "There were millions - maybe 1, 1.2 million people - pouring in from central Europe to play the game," RedLynx CEO Tero Virtala tells us. "And the Finnish language is like Chinese for most people, but they came from Germany, France, UK, Netherlands, and the internet operator was quite stumped by what this thing was. That was quite a good sign." Yet it was only after seven years of toil and tinkering that RedLynx had enough confidence and "bread on the butter" (er) to realise: "Trials definitely had the potential for something much bigger."
The big breakthrough, says Virtala, was Trials 2. Publishers weren't buying the idea, so RedLynx embarked on an independent venture, in the knowledge that there would be a good prototype to show off if all else went wrong. "We knew we could make a great game," Virtala says, "but could we make it a commercial success? We didn't know. It was a risky approach, but we thought it was worth a shot."