The copyright row that poleaxed the Elite Dangerous pen-and-paper RPG
Just days before its Kickstarter was due to end.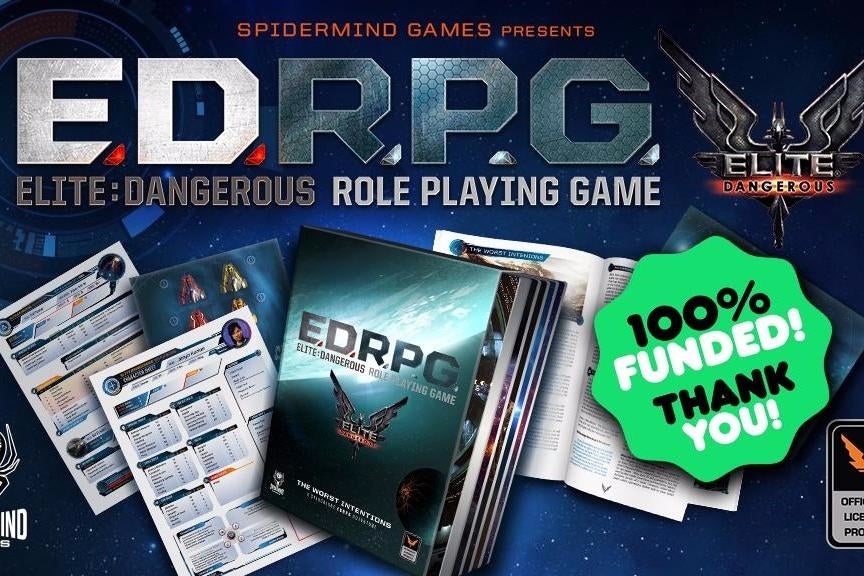 The Kickstarter for the Elite Dangerous pen-and-paper RPG was put on hold after a copyright claim sent just five days before the crowdfunding effort was due to end.
Elite: Dangerous RPG, from UK company Spidermind Games, was sitting pretty on £65,000 raised - £20,000 over its target - when the Kickstarter was put in limbo and its creators were left worrying for its future.
In an email from Kickstarter sent last Friday, Spidermind was told the project had been removed from public view because it had received a notice of copyright infringement that referenced the original Elite, created by David Braben and Ian Bell and released in 1984, as well as Elite Dangerous, the space game Frontier initially released in December 2014.
The project wasn't cancelled - rather, Kickstarter had simply removed it from public view, the funding paused but pledges intact.

The panicked staff at Spidermind were left with an ultimatum to stew over the weekend. The crux, from Kickstarter, as per the email seen by Eurogamer:
"If you update your project so that you believe it no longer infringes on other parties' intellectual property rights, and you notify us when edits have been made by responding to this email within 30 days, we will consider unhiding your project."
The information in Kickstarter's initial email was barebones to say the least. All Spidermind had to go on was the following:
Chris Jordan, a long-time associate of Ian Bell, emailed Spidermind Games to reveal he was behind the copyright infringement notice.
In the email, Jordan claims the Kickstarter is guilty of "commercially exploiting" the work of Ian Bell, the co-creator of the original Elite game that came out in 1984 and co-owner, alongside David Braben, of historical rights to the early Elite games. Jordan also claims to now hold Ian Bell's Elite copyright, and signs the email "Chris Jordan, for Ian Bell Elite Rights LLP".
According to company records, Ian Bell Elite Rights LLP was incorporated on 8th February 2017. Companies House lists Chris Jordan, Judith Jordan and David Johnson-Davies - all registered to the same address in Cambridge - as being involved with the company. Ian Bell is not on the list.
Jon Lunn, producer of the RPG, told Eurogamer that the takedown came as a shock. The RPG is licensed to Spidermind Games by Elite Dangerous developer Frontier, Lunn insisted. It has nothing to do with the original Elite Ian Bell and David Braben created.
"If it's a dispute about items being used from the original Elite in Elite Dangerous, then that's an issue to take up with Frontier," Lunn said. "You don't fight a copyright war through proxy.
"If it's about content that was taken from the original Elite game and is now being used in the Elite Dangerous universe, that is not something we have any control over.
"If it's a particular thing that's in a promotional piece of material we have used, then they identify that piece of material and we talk to Frontier about it. But because they just said, the book, and the book has not yet been produced, that's why it smells off."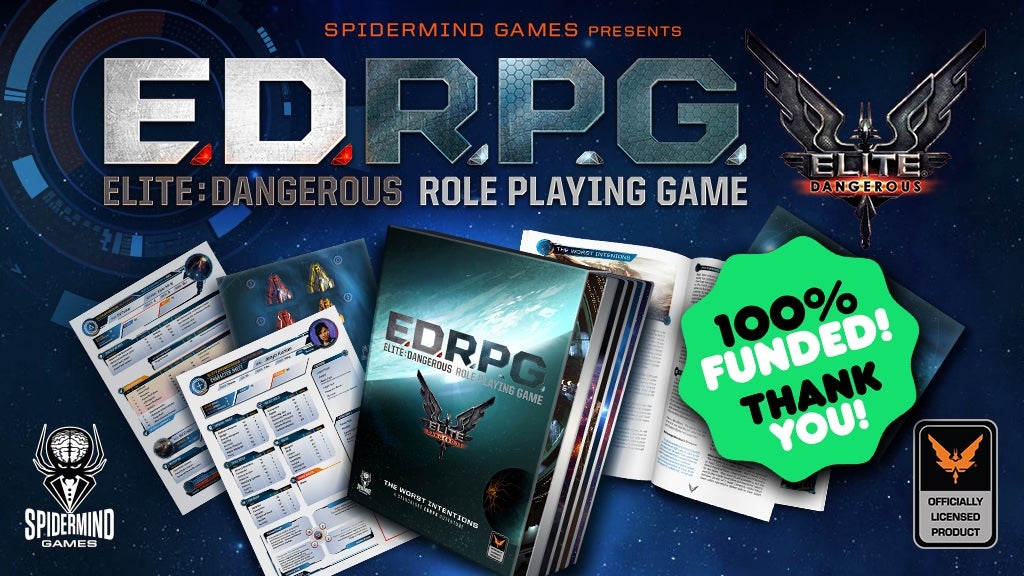 Spidermind is now working with Frontier's lawyers to try to have the situation resolved as quickly as possible, but it could take days, perhaps even weeks, before any decision is made - and that kind of delay could spell trouble for the Kickstarter.
"We're losing backers - not a huge number, thankfully," Lunn said. "It's around the 900 mark. It's now 895.
"It's in a sort of suspended animation, which stops the clock. We had four days to go. If and when this is resolved and we're back up and running again, they'll just start the clock again and we'll have four days to go.
"But some backers have themselves made pledges which rely on the Kickstarter finishing when it should finish so they have access to those funds. I've had one email already from one backer saying, I backed you to the tune of £250, but if this goes on for much longer I'll have to pull out."
Both Ian Bell and Chris Jordan are yet to respond to Eurogamer's requests for comment. Frontier declined to comment when contacted by Eurogamer.
Spidermind Games is now in the process of proving the validity of its license to Kickstarter as part of a counter-notification in the hope of a swift resolution.
The incident shines a light on the ownership of the long-running Elite franchise. On 1st June 2008 Frontier entered into an IP Assignment Agreement with Braben for the rights to Elite, Elite 2: Frontier and Frontier: First Encounters. When this was announced, the wording referenced Braben's claim to own "all" the rights to the aforementioned games. But the wording was later changed to "all his" rights, suggesting Braben did not own all the rights in the first place. For its part, Frontier has insisted this change "is a minor point and not material to Frontier's business".
As that sorts itself out, Spidermind and the Elite Dangerous RPG Kickstarter could be caught in the crossfire of a potentially larger copyright battle that is yet to come.
"As far as I'm concerned, Spidermind Games took out a legitimate license with Frontier, as Frontier is the creator and owner of Elite Dangerous, and we're making an Elite Dangerous role-playing game," Lunn said. "That struck me as being a simple transaction.
"This mess about an original Elite - we're not making an original Elite RPG. We're making an Elite Dangerous RPG. Any argument of an Elite versus Elite Dangerous bent needs to be pointed towards Frontier rather than towards a license holder."