The Artful Escape of Francis Vendetti looks far out, man
Narrative-driven glam rock adventure comes to Kickstarter.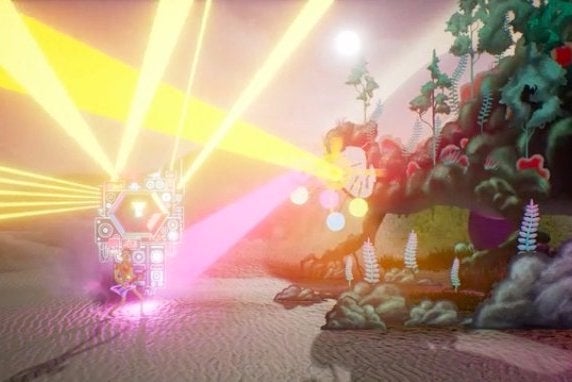 The Artful Escape of Francis Vendetti is made in Unreal Engine 4, but you'd never know it. The 2D glam rock story of a young musician developing his stage persona through a cosmic journey eschews the glistening metallic 3D corridors we often see from Epic's tech in favour of lush, painterly multi-coloured vistas. No wonder it won the Unreal Developer's Grant.
Now on Kickstarter, The Artful Escape of Francis Vendetti follows the exploits of its titular character as he explores far out dimensions in hopes of discovering his identity in the mercurial landscape of pop music. The developer wonderfully summed up The Artful Escape of Francis Vendetti's premise as follows:
"The game follows Francis Vendetti, a teenage musician desperately seeking to sever the connection between him and his uncle; a dead folk singer of megalithic cultural significance. After encounters with Violetta, a laser artist returning home from California, and Lightman, proprietor of Lightman's Reptile and Telescope Emporium, Francis understands he must leave his everyday self behind... and become someone else entirely. With the help of his new friends, Francis ventures across the multiverse in search of his new persona, what it means to wear masks, and the worlds artists can construct around their core medium."
Developer Beethoven & Dinosaur described its genre-expanding debut as a "narrative-driven action/adventure, music-sampling, platforming, rhythm laser-light guitar solo kind of game for PC and Mac."
So how does it play, you ask? You see, Francis is fitted out with a "Luminous Flux Suit" that records sounds and images from around him then amplifies them based on his arrangements. By toying around with all the sights and sounds you've archived along the way you can write your own music, interact with aliens, unlock areas, alter landscapes, or just rock out.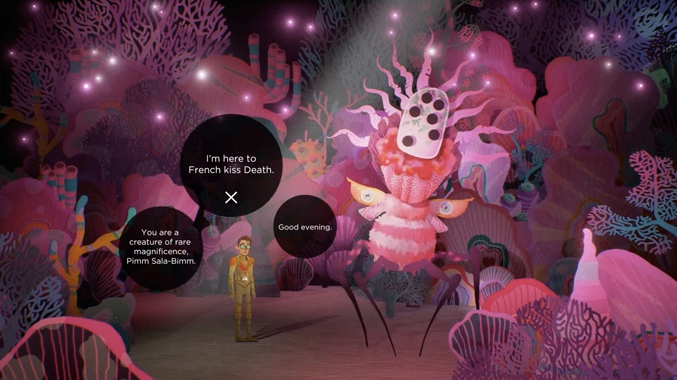 "The suit can project instruments and wailing amplifiers - but it can also field-record the sounds and vision of alien animalia. Each portion of the multidimensional roadway is populated with a new set of sounds to record and arrange," the developer explained. "You can use these samples to gain access to new areas, hypnotise creatures, obtain more samples, or just create your own music. When approaching the giant monsters that guard the stations of the Trans-Dimensional Roadway, Francis can fill the stage with the holographic images and music he's encountered in his flights of adventure, creating blinding, visceral performances."
You can get a glimpse at how this sampling system will work in this in-browser teaser.
Beyond that, The Artful Escape of Francis Vendetti will feature the usual platforming fare like double-jumping, and conversations will influence how the story plays out.
The Melbourne-based developer has a lot of clout with creative lead Johnny Galvatron having played shows with the Police, Kiss, Tame Impala, Def Leppard and Cheap Trick in his musical career, while also studying 3D animation and game design in his uni days. Josh Abrahams has written and produced international chart-topping hits (The Sunscreen Song, Addicted To Bass, Lovesong) as well as worked on soundtracks for various films like Moulin Rouge and One Perfect Day. There's also a couple of trained programmers on board with Justin Blackwell and Sean Slevin handling the technical wizardry of game development. Meanwhile, the part of Johnson Vendetti will be played by Australian artist Luke Legs.
Beethoven & Dinosaur is looking for $35,631 to fund The Artful Escape of Francis Vendetti. So far it's raised $6,874, but the Kickstarter has only been live for a couple of days and it has until 31st March to make the rest.
The developer is targeting an August 2017 release on PC and Mac. You can reserve a copy for $20 Australian dollars, which is about £10.4 or $14.2 US dollars.