Here's a closer look at Annapurna's surreal rock opera adventure The Artful Escape
Coming to Xbox One, PC, and Apple Arcade "soon".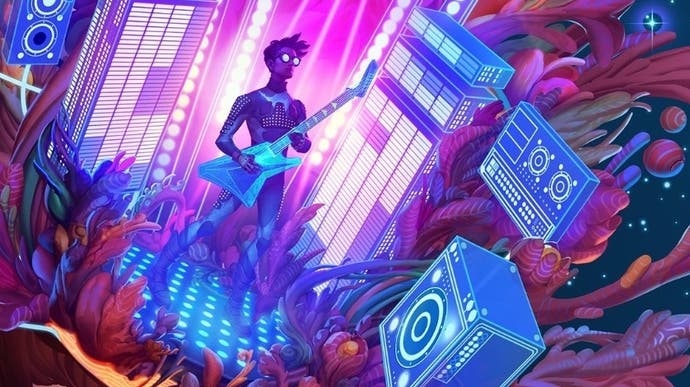 Developer Beethoven & Dinosaur has offered a fresh look at its striking rock music platform adventure The Artful Escape, which is being published by the ever-reliable Annapurna Interactive and is heading to Xbox One, PC, and Apple Arcade later this year.
As Beethoven & Dinosaur explains in its new gameplay walkthrough below, The Artful Escape tells the story of teenage guitar prodigy Francis Vendetti - the nephew of legendary folk icon Johnson Vendetti (said to be the equivalent of Bob Dylan in-game) - who embarks on a cosmic journey to craft his stage persona.
The Artful Escape begins on Earth - in the town of Calypso, Colorado to be more precise - on the eve of Francis' first live performance. Beethoven & Dinosaur says its opening chapters are designed to introduce players to Francis' hometown and the legacy of his uncle, with the townsfolk he talks to along the way offering advice, history, as well as some ill-omens.
Francis begins to suspect things are not as they initially seemed, and proceedings quickly take a more fanciful "cosmic" turn as our hero - as shown in the walkthrough - is whisked away from the normalcy of Earth to the psychedelic world of Glimmerdim.
As Francis attempts to find a mysterious jazz club that never appears in the same location twice, a quest that sees him exploring a strange, alien landscape, we're offered a look at some of the musical abilities he can wield out in the so-called Cosmic Extraordinary. Players are able to jam on Francis' guitar at any time to perform various moves, such as knee-sliding down slopes, hovering in the air, interacting with the world, and more.
According to Beethoven & Dinosaur, creatures and foliage will harmonise with Francis' guitar - we see flora bursting to life, fauna rearing up, and water geysers exploding in unison as Francis simultaneously strums and navigates the gorgeously weird world - and there are sequences where he's able to communicate with characters in a musical back and forth, sometimes with truly spectacular visual results.
Players can customise Francis' stage name, home planet, backstory, and costume in order to nudge ever-closer to their perfect musical persona, and the end result is an experience its developer calls "a loving mish-mash of rock operas, adventure games, and guitar solos".
Annapurna Interactive says The Artful Escape will be heading to Xbox One, PC (its Steam page is now live), and Apple Arcade "soon".