Tearaway Unfolded gets a September release date
Various editions detailed.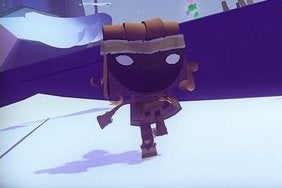 Tearaway Unfolded, the PS4 conversion of the fourth wall-breaking Vita adventure, will arrive on 11th September in the UK.
The rest of Europe will receive it on 9th September, while North Americans will get it on the 8th.
As detailed on the PlayStation Blog, pre-orders come with one of two bonus content packs. The Pop-Up Pack includes a Journey-themed costume and gold headband for your messenger, Sackboy and Baby Wendigo papercraft plans, custom decoration from Lemmings, Gravity Rush, No Man's Sky and The Order: 1886, and the game's official soundtrack.
The game's Messenger Edition comes with alternate cover art anf the Torn Away Pack, which includes a God of War costume, a Pig Crown and gold stamp on your avatar's headband, the Sackboy and Baby Wendigo papercraft plans, and five decorations from God of War, Infamous, The Last of Us and Killzone.
There will also be a Tearaway Unfolded: Special Edition that comes with the Tom Away Pack and an atoi plushie.